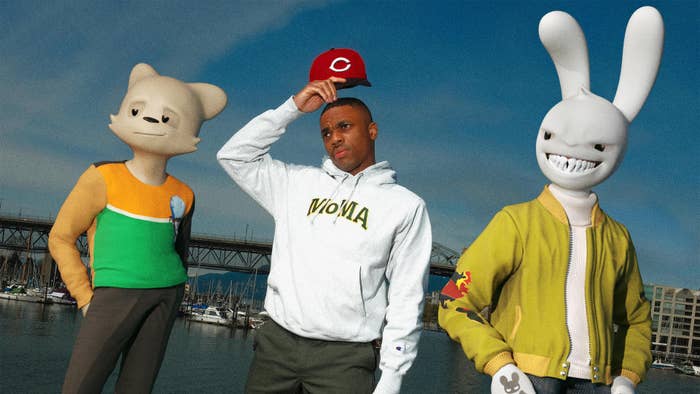 Vince Staples has joined forces with SUPERPLASTIC.
The Long Beach rapper and high-end toymaker have officially launched the Heartbreaker capsule, a playful collection inspired by Vince's latest album, Ramona Park Broke My Heart. Launching this Saturday at 2022 ComplexCon, the range centers on a brokenhearted Guggimon, the rabbit-looking virtual influencer owned by SUPERPLASTIC.  
The collection includes short-sleeve tees and crewneck sweatshirts emblazoned with a Guggimon graphic. There's also a Heartbreaker letterman jacket that features full-grain leather sleeves, a melton stand collar, and an "LBC" patch that nods to Vince's hometown roots. And it wouldn't be a proper SUPERPLASTIC range without vinyl figurines: two 10" sculptures of Guggimon rocking a varsity jacket and LB cap while holding a bouquet of flowers.
The Heartbreaker capsule is also available at SUPERPLASTIC's online shop and Manhattan flagship store, located on 15 Prince St. Tees are selling for $44, crewnecks for $90, the varsity letterman for $500, and the figurines for $110.
"It's been an amazing experience collaborating with Vince on the 'Heartbreaker' collection," Galen McKamy, who is the Chief Creative Officer at SUPERPLASTIC, said. "He's one of the most creative and talented friends we've worked with, and the 'Heartbreaker' collection brings his RPBMH body of work to life. The toys are immaculate and we're so stoked to drop this capsule in his hometown of Long Beach with the Complex family."
Vince himself stopped by ComplexCon on Saturday, tickets for which you can purchase by heading here. 
You can get a closer look at the pieces in the images below.