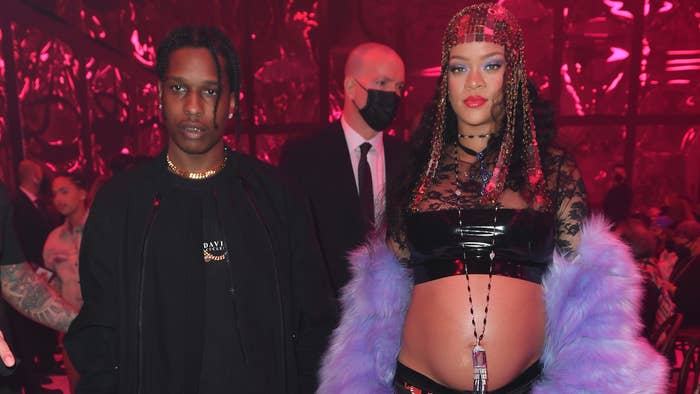 Rihanna has fully embraced her baby bump.
On Friday, the 34-year-old singer attended Gucci's fall/winter 2022 show alongside her boyfriend, ASAP Rocky, with whom she is expecting her first child. Rihanna, who confirmed her pregnancy last month, rocked another head-turning look that included a silver headdress, dragon-printed satin trousers, a furry lavender coat, and a black latex crop top.
Rocky was seen in an all-black 'fit, that included a bomber jacket, graphic shirt, leather pants, and a pair of the new Gucci x Adidas three-stripe gloves.
RiRi, who received the 2014 CFDA Fashion Icon Award, has continued to nab headlines for her eye-catching maternity style. Since announcing her pregnancy, she has been photographed in a number of belly-baring looks, including a black lace-up sweater, an opened leopard coat, and a shredded green top that stole the show at last week's Fenty Beauty Universe event.
During a recent interview with People magazine, Rihanna spoke about her decision to proudly display her baby bump, as well as the ways clothing can completely transform her mood.
"I'm enjoying not having to worry about covering up my tummy. If I feel a little chubby, it's like, whatever! It's a baby!" she explained. "Right now, being pregnant, some days you just feel like, 'Ugh, I just want to lay here on this couch all day.' But when you put on a little face and a little lipstick, you transform. You put some clothes on, and it's like, when you look good, you feel good. I've heard that for a very long time, but it's true. It really can get you up off that couch and make you feel like a bad bitch."
Relationship rumors began swirling around Rihanna and ASAP back in 2020; however, it wasn't until May 2021 when ASAP confirmed he and RiRi were dating. The couple have yet to reveal any details about the pregnancy, including Rihanna's due date or the baby's sex.