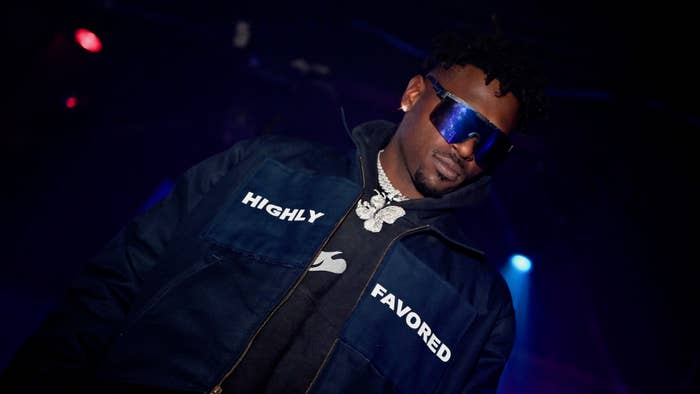 According to TMZ, Antonio Brown, the NFL free agent, is being sued for allegedly selling a fake Richard Mille watch for six figures.

The plaintiff, identified as Florida resident Ryan Kane, filed the complaint in Broward County earlier this week, more than two months after the transaction went down. Kane alleges the defendant presented the watch—an RM 011 model—as authentic, and claimed it was worth more than $400,000. Kane ultimately took Brown's word and copped the timepiece for $160,000; however, it was long before he learned the watch was a fake.
Several weeks after purchasing the watch, Kane allegedly took it to an appraiser for insurance purposes. It was at that time, according to Kane, he was informed that the watch was only worth about $200.

Kane proceeded to do some digging, and allegedly learned that Brown had purchased the knockoff, and a few others like it, for less than $500 apiece in Dubai. It's unclear how the defendant came across the information, but it's worth pointing out Brown was recently accused of stealing $122,000 worth of jewelry in Dubai.
Kane is seeking to get his $160,000 back, plus interest. Brown has yet to publicly comment on the lawsuit.
The news comes just days after Brown was accused of exposing himself to guests at the Armani Hotel Dubai. The embattled athlete defended himself in a series of tweets, claiming the NFL was using the allegations—and supporting surveillance video footage—to distract from the league's concussion controversies.
"Every chance they get to sway the heat off themselves they use me. In the video you can clearly see she runs off with my swim trunks. If roles were reversed the headlines would read 'AB having a wild night with nude female.' Yet when it's me it automatically becomes a hate crime." He continued, "It's crazy to me that even after I retire there is disinformation coming out about me. Ironically, during a time when the NFL is getting heat for allowing players to play when they're clearly concussed. They've been using black men as guinea pigs."