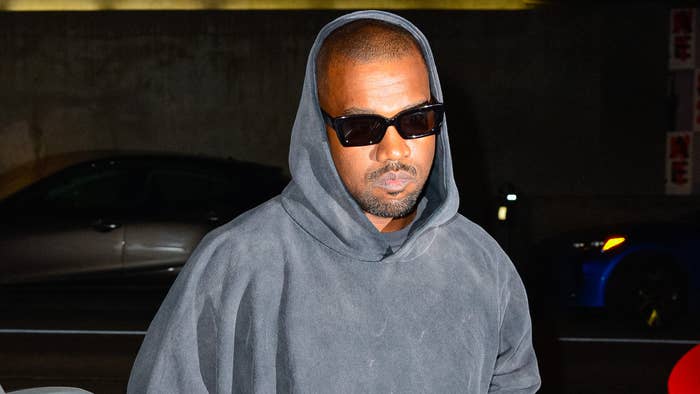 UPDATED 9/21, 4:35 p.m. ET: Kanye West has filed five new trademarks applications for his YZY SHDZ sunglasses, which were originally intended to be launched as part of his Yeezy Gap collection.
The filings were made just one day after he announced his plans to terminate the deal with Gap. He's trademarking YZY SHDZ for eyewear, an online retail store, clothing, athletic bags and backpacks, and jewelry.
During his CNBC interview where he first confirmed he didn't want to work with Gap, he sported the flashy shades.
There was some confusion about Ye's plans with the sunglasses after he announced he was parting ways with Gap, as the company is still permitted to sell any products produced as part of the Yeezy Gap brand name. However, it appears as though the multi-hyphenate is eager to take his design independent. 
Earlier this year, West filed a series of trademark applications for potential new logos.
See original story below.
In an interview with Forbes, the artists formerly known as Kanye West revealed that he plans to sell his highly-anticipated YZY SHDZ sunglasses for $20 at his Ye Supply store.
Following the dissolution of his 10-year partnership with Gap, Ye has reiterated his desire to produce affordable clothing and revealed the intended price point for his signature reflective visor. "When it's sold in America, it'll be made in America, and when it's sold in China, it'll be manufactured in China," he said. "So the glasses will cost $20, and everything in the Ye Supply store will be $20. And, we're working on how to make clothing free. Because life is free." 
The SHDZ made their public debut as part of a preview of a then-upcoming Yeezy Gap collection, and per the announcement of the end of his partnership with the company it was revealed Gap still had the right to sell any products created under the collab brand name. It's not clear if the SHDZ will arrive as part of Yeezy Gap, or if he's going to take the design as part of his plans for an independent venture into fashion.
It's not the first time Ye has expressed his intention to sell products at prices as low as $20. In a recent interview with CNBC, as noted by Fortune, he revealed he wanted some pieces to retail at the low price point. When his most recent collection with Gap debuted, prices ranged from $60 to over $300. "Our agenda wasn't aligned," he said. Back in 2020, he also suggested that the Yeezy Foam Runner, which was produced with his footwear partner Adidas, should retail for $20.
Elsewhere in his Forbes chat, Ye touched upon his future with Adidas, with whom his relationship has soured as of late. "This is where Adidas and I are… There's a possibility [we] can co-parent products that we make, but not in a way where I'm not getting say-so over colorways, and where they're treating me like I'm dead."
In a message shared on Instagram on Monday, Ye expressed his frustration over restrictions placed on Yeezy standalone activities following the breakdown of his relationship with Gap and Adidas. As of right now, he's still in business with Adidas, but he has expressed his intention to move beyond the German sportswear brand in the future.
"Welp I guess the war's not over," he said alongside a screenshot of a drafted document that stated in part that "neither Yeezy nor Ye may use, wear, sponsor, promote, market, advertise, endorse, design, manufacture, license, sell, or provide consulting services with respect to any of the following products under the Yeezy Trademarks or Ye's likeness or any other identifiable attribute, feature, or indica of Ye."
The subsequent list included a wide range of products, from casual footwear to lifestyle accessories.