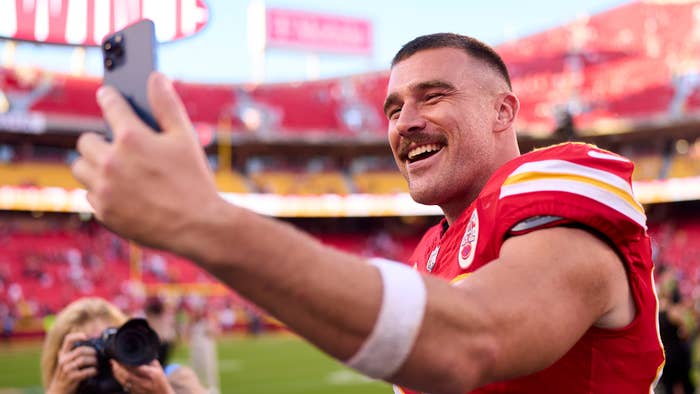 Travis Kelce sported a bold outfit from KidSuper after of the Kansas City Chiefs game on Sunday, Sept. 24, and now the fashion brand has renamed it after Taylor Swift showed up to the game in what became an internet-breaking moment.
Swift showed up to Sunday's game alongisde Kelce's mother, and was seen leaving the Stadium with the Chiefs star, who was sporting the matching cream and blue ll denim jacket and pants designed by by KidSuper.
Joe Pompliano pointed out that KidSuper actually slyly altered the name of the jacket and pants after Swift and Kelce's big night together. "The company that made Travis Kelce's outfit changed the name from 'Bedroom Painting' to '1989 Bedroom Painting' when they found out Taylor Swift was at the game," he tweeted, pointing out the obvious reference to Swift's album 1989. "No one knew the original name & they got millions of impressions because people thought Travis planned it. Genius."
It's also worth pointing out that the blue and cream combo resembles the color scheme of Swift'1989 era, which was reflected in her Eras tour.
In a tweet, KidSuper wrote that they did, in fact, change the name after Sunday's game. "Wow we made it to Joe Pomp!" the company's account wrote. "That's awesome. We really didn't think this was gonna work as well as it did haha."

Earlier this month, sources claimed that Swift and Kelce had been "quietly hanging out" recently. The appearance at Sunday's game from Swift, however, is as close as we've gotten to a confirmation of their relationship so far. Video also emerged of them leaving the stadium together, first by foot, and then by car, which sent everyone into a frenzy.