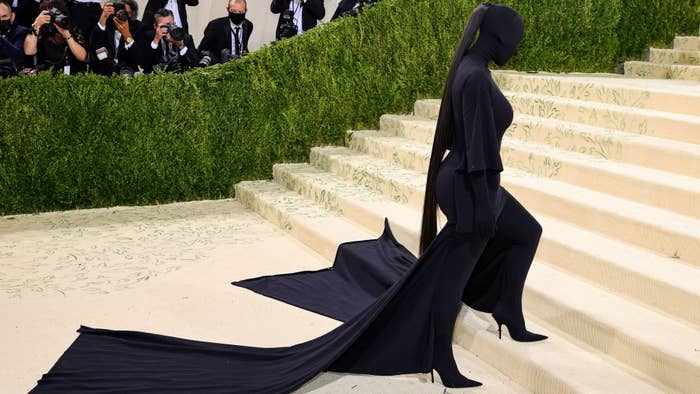 Arguably the spookiest look at this year's Met Gala can now be your go-to Halloween costume. 
Kim Kardashian's Balenciaga Met Gala Look has been transformed into a trick-or-treater's dream thanks to online fashion retailer Yandy. 
The company launched a $99.99 costume inspired by Kim's all-black ensemble called "Mystery Guest Gala Costume," which comes with a black mask to match. The "breathable" black hood is sold with a tube dress, floor-length cape, opaque tights and long gloves.
"Glimmering gowns had their fashion moment, and we're here for it, but look who paved the way for statement-making avant-garde," a description from the Yandy site reads. "Heart eyes for dress code perfection with all black everything from this concealed, Calabasas queen. Dark, dramatic, and ever so obscure, flaunt your couture-kissed curves like an A-list celeb in this exclusive Mystery Gala Guest costume."
The website also sells several other pop-culture inspired looks, which you can check out online here. 
Of course, Kim's Met Gala Balenciaga look inspired plenty of memes during the star-studded event, from Harry Potter comparisons to fans comparing her to the "women bathroom sign," but all in all, it's likely going to be a pretty popular get-up during this year's spooky festivities.