"He would come to me like this, 'I need my robe to look like a fax machine,'" says Monica Morrow, referring to Ghostface Killah. "So I had to try to figure that shit out."
Morrow is a stylist who keeps a low profile, but she's responsible for dressing some of hip-hop's most stylish men including Ghostface Killah, Raekwon, Cam'ron, and Jay-Z, and she styled many of them when they were at their (or one of their) peaks. 
She worked directly with Ghostface Killah to bring his conceptual robe ideas to life during his "Supreme Clientele" era. She held down all of Roc-A-Fella around the time when "The Dynasty: Roc La Familia" was released and Rocawear and State Property clothing lines were flooding the market. And she dressed Cam'ron—she's the person who suggested he wear pink—Juelz Santana, and Jim Jones when Dipset's influence and flashy Harlem bravado was at an all-time high. 
"There were times when I was doing three to four videos a week," says Morrow, whose team included Christina Won and Boz Bradshaw. "I remember Cam would do so much stuff that we had to hire two guys who would make stuff for just them every week. I had them on retainer so that I could be priority when they needed stuff. I remember sleeping on the tailor's couch.  If he had a question and it's 3:00 in the morning, I may not get the call, so it's better for me just to stay here."
Morrow, a Queens native who attended the Fashion Institute of Technology, got her start interning at YSB magazine, a now defunct publication that was owned by BET,  and then in the fashion department at The Source magazine, where she worked under Roger McKenzie and styled Biggie for his last cover. After that she freelanced and assisted other stylists before moving on to work with artists including Dr. Dre, Twista, The Game, Three 6 Mafia, and more.
While her name isn't regularly mentioned—she says she's purposefully kept quiet and let her work speak for itself—she's one of the stylists who was pushing hip-hop's aesthetics forward during a time when luxury brands didn't want anything to do with rappers. But through her persistence, hard work, and ingenuity, she made things happen, helping her clients establish an image that people still reference (or copy) today.
Here, we speak with Morrow about navigating big egos, the challenges that came with dressing hip-hop artists, and the extreme lengths she went to to ensure her clients got what they wanted—one story involves hunting down Dapper Dan when he went underground and delivering a flatbed of Air Force 1s to the Roc-A-Fella offices.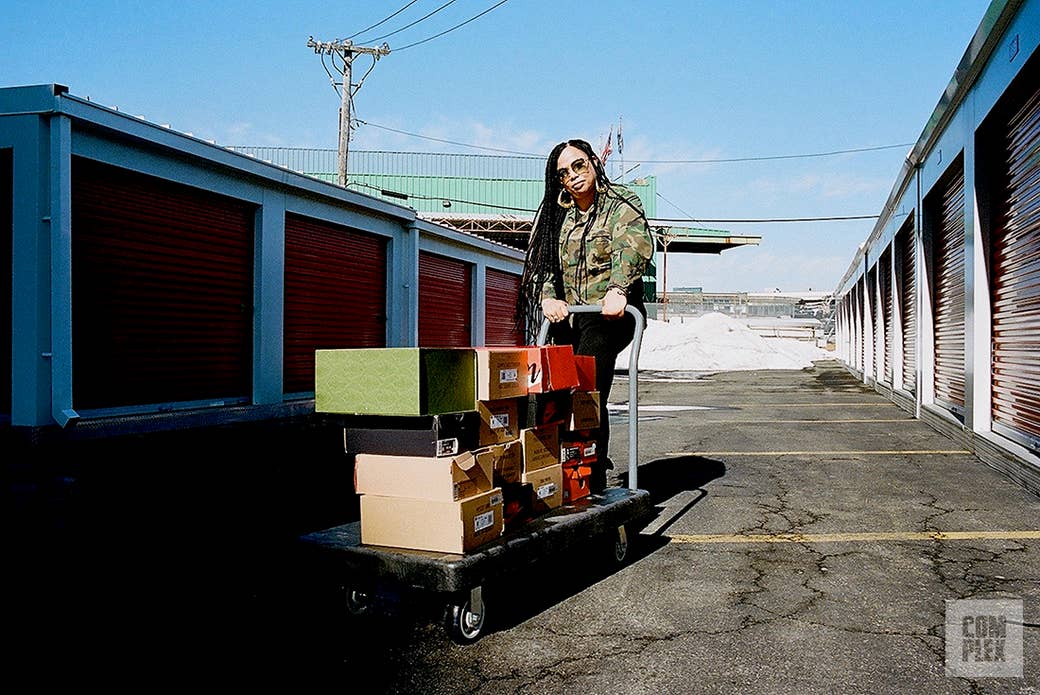 What was one of your first big jobs?
When I was at The Source in the fashion department, I begged to do the Biggie cover. Because I was such a big fan, and they let me. I know 5001 Flavors did most of Biggie's stuff, but this particular photo shoot we had two days to do it, so I pulled this from Big & Tall company. And this was the last cover he did before he died. But, man, just to be a part of this. I also did the "Sky's The Limit" video. My friend [Groovy Lou] was the in-house stylist at Bad Boy, he worked with Biggie and he knew how much I loved him. And, I mean, when I tell you there wasn't a dry eye in the room. You could feel his presence.
Talk about styling all of the Wu-Tang Clan. That must have been a lot to juggle? 
I mean, listen. When you work with that many different people, that many different personalities, and then you have some people who are, I guess, more recognized than other people, it's hard. Because, maybe one person did get more money than the other person got. Maybe they do have more looks; but you have to find a way to be diplomatic and do it all.
Can you talk about the Wu-Tang "Gravel Pit" video? 
Oh, my God. Now that video almost took us out. That video took about three months to do and… Whoa. I believe that Nija Battle had passed and her sister came and I flew her on set with us, because it was over 100 degrees. We were shooting in the desert and them furs were dying. They smelled. And she was spraying them and having fans to fluff the fur back up. But that video was probably the biggest budget that I've ever worked with. I used over $100,000 for that video.
You also worked a lot with Ghostface, right?
I was the executer so I'm not going to take any responsibility for his style. I just executed his ideas because Ghost knew what he wanted and he knew what he didn't want, so you better come with the right shit. I remember, I think he called me and he was like, "Yo. I'm wanting some glasses that look like I'm looking out the window in Paris." I was like, "OK, here we go with the bullshit again." So what I did is I went to four different eyeglass companies and got every pair of glasses that they had. He was like, "You got it right." I'm thinking to myself how could I not? I got like, 300 pair of glasses. I knew I couldn't lose if I brought the whole store. I know he didn't want to wear a beret, I know he didn't want to be an ascot. So, let me think. I'm not exactly sure, so I'm going to bring every pair of glasses that I could find. He was like, "Damn, you nailed it." I did, because I have 300 pair of shades.
Can we talk about Ghostface's robes? I know you handled most of them. 
I mean, those robes. I remember one day I was doing a robe when I was in Harlem, and I rang Dapper Dan, because me and him are really good friends. So I just rang his bell, sat at the table with him and I just bawled. I was so stressed out because it was last minute and he's very particular and the robes had to be a certain way, and trying to find fabric, and then trying to find the right person to do it, and it was just… Because he would have an idea. He would come to me like this, "I need my robe to look like a fax machine." What the fuck is that? So I had to try to figure that shit out. Like, "What does he mean by that?" So I go to my fax machine, I print something out. OK. So he's talking about consistency, it is everything exactly that's printed right, and it's perfectly done, and the colors are brilliant. So, you got to break that shit down, because I'm not going to stand in front of him and go, "What do you mean by that?" So I mean, I always got it right. It was crazy, but I had to put on my crazy hat and try to figure it out. Because if you try to get him to explain it, he would get mad like, "What do you mean you don't understand? I just told you!" So I was like, "OK, I got you."
But he has such an amazing sense of style that I fed off of him and his creativity. Amazing sense of style. Always unique and most of all his things were custom. And it was fun, because you'll be on set thinking about the next thing, you just get a spark by something that he said in rhyme or something that he did would set it off, and I would just start creating the next thing. But yeah, he's an amazing, very creative guy, especially back then. And when he started doing the robes, then that just took us to a whole other level.
Where were you getting these robes made?
Ah, man. All over California, here, just everywhere. I had designers make them. I mean, shit, we did some of them shits by hand. I mean, it was all different type of stuff. Furriers, everything.
"Cherchez LaGhost," from a style perspective, is one of my favorite videos. Can you talk about the styling for that?
That was my favorite and that's when we brought Dap in. He did those outfits, he did those Gucci ones. And I'm going to tell you a crazy story. Nobody knew where Dapper Dan was. He was underground, no phone number. And I was like, "OK, I'll get it made," because there was a couple little underground people making custom designer stuff. He was like, "Nah, fuck that. I want my shit official. I want it from Dap." So I found out what street Dap lived on, but I didn't know where he lived and nobody knew where he lived. So then I found this guy and he was like, "He lives over there, but they not even going to come to the door unless you know the special code." I'm like, "Are you fucking serious?" So I went to the door and we're knocking and using all these different codes. But I knew one of the tailors in there, so I guess they peeked through the door and he saw me, and he opened the door for me. And that's how we get that done. It was crazy. The green fur was by Nija Battle, who passed away.  I think the wardrobe budget on that video was like $30,000. Who does that anymore? Now you can't even do a whole video for $30,000.
What about the red and white robe Ghostface wore in the video?
Oh, my God. Now, that's the one I think I broke down because he was like, "I want my shit to look like a barbershop." So then, my assistant at the time, he was like, "Yo, Mo, he talking about the shit that spins around." I'm like, "Got you!" So I got a copy of the barbershop thing that spins around, and I took it to the tailor. So, that was the language that we spoke. He would throw out a word and then we had to figure that shit out. 
What about all of the Wallabees in the "Apollo Kids" video?
I don't remember the wardrobe off the top of my head, but the Wallabees were a big deal. And there was this one little spot in Staten Island and he would dye the Wallabees, print on the Wallabees. It was like a neighborhood spot, but he just had it right. He just did everything in terms of Wallabees: coloring it, two-tones. This was before they were making them like that. Now you can go get a pair of bandana-print Wallabees. But back then, it wasn't like that. So this guy was doing everything for them. We were constantly there getting Wallabees dyed and colored and two-toned and customized in any way you needed it to be.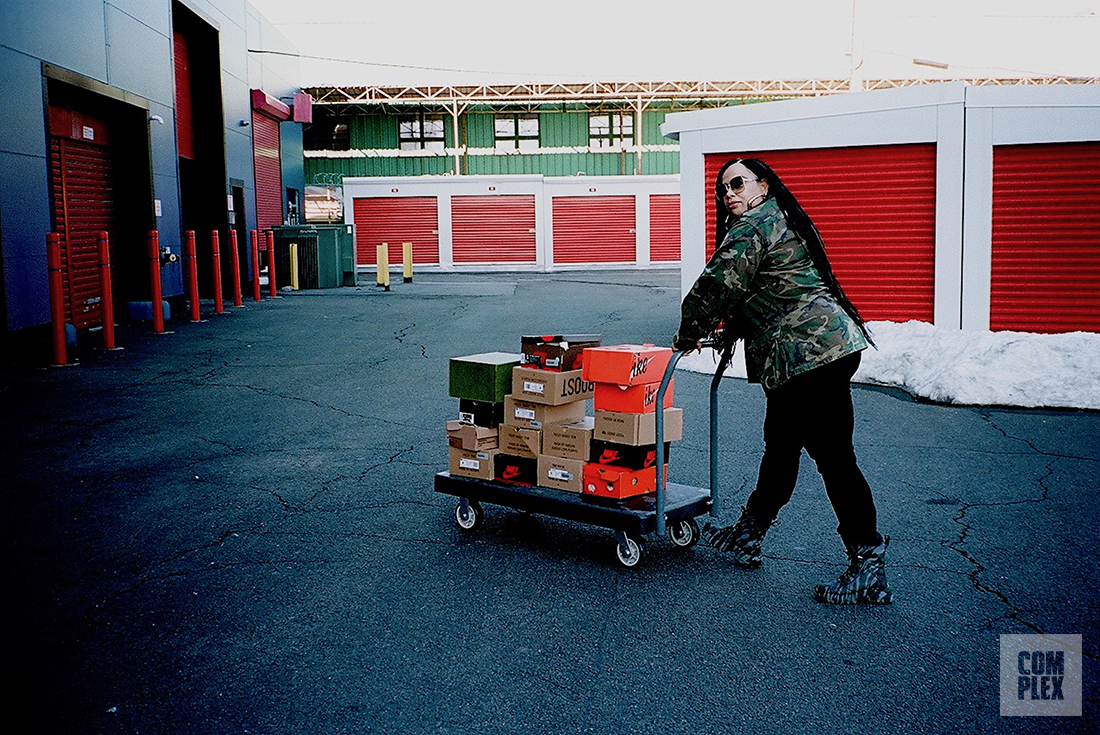 How do you think the fashion industry viewed "hip-hop style" and how rappers dressed during this time period?
I feel like they knew what was happening, but they weren't a part of it so they were watching it from the bleachers. I'll never forget, for Raekwon's "100 Rounds" video, I went to Gucci and I was with my sales person there and I had a bought a bunch of Gucci belts and a bunch of accessories and I ran to Dap for him to make something. Two months after the video came out, my friend at Gucci who was the salesperson called me. She was like, "Yo, Monica, if I get one more call about the outfit that Dapper Dan made for these guys." She was like, "They blowing up the phone here. Everybody wants it." And it wasn't made by Gucci, it was made by Dapper Dan. So Gucci had their whole line out across three floors on Fifth Avenue, but people are calling for something made by a man working in Harlem out of his little tiny basement. So I think that they weren't a part of it at the time. And what Ghost and Rae have on, and that's something that we created together, all from some shit we cut up and sewed up at the last minute and made in 24 hours. But it hit and it hit hard, and that's what the culture wanted.
I went to a dinner Raekwon threw right before the pandemic. And he stood up in front of everybody and told that story. And we laughed because it was the beginning of people recognizing that the designers weren't making it quick enough to accommodate streets. 
Now, they're all in, but at that time we were ahead of the game, the streets were dictating what the culture wore, not these designers, because they were watching us do it. You know what I'm saying? I feel like they learned from the artists.
You were styling Roc-A-fella when Rocawear was at its peak. Can you talk about that?
Absolutely. It was a lot of Rocawear. It was amazing to work with Jay at the height of Roc-A-Fella. And it was, again, it was like, 24 hours a day getting a call, you have to have stuff on standby. And that's when everybody was in the Air Force 1s. So, I remember I ordered so much Air Force 1s, we had to get a flatbed tow truck to deliver to the office at Roc-A-Fella. Yeah, it was that many. And I had my storage at the time but all of those sneakers didn't fit in it. And I was like, "What am I going to do?" And the guy was like, "You got to pick them up. So the label had a tow truck bring them in on a flatbed to Roc-A-Fella.
Did you work directly with Nike when you were getting those AF1s for Roc-A-fella?
No, I was working directly with store managers. And, Nike would send you one pair. They're not about to send you that many pair. I mean, these guys were paying for their shit. They weren't getting it for free. They can't send each person 25 pairs. So, it was getting on the list. So, whenever I knew I could get them, I would buy 100 pairs because I knew I was going to get the money back, because it was a must-have.
Getting Air Force 1s back then was the equivalent of trying to get a pair of Travis Scotts right now. It's like, "OK, good luck sis, unless you got $2,500." If you didn't get them the second that they came out, you're waiting on line or sleeping outside, that was the equivalent of an Air Force 1 back then.
You styled him for the "Give It To Me" video. Did you provide those Chloé sunglasses?
I want to say those were Jay's. And it was like, back then they planned the video in three days. You have no time to really locate anything  because you have three days to get everything done. But, I do believe that he broke those out of his archives. I can't take credit for those, but that was a really fun video.
This is a time when Jay was starting to wear smaller pendants. Did you handle his jewelry? 
No. For somebody like him, you bought the clothes and he did the rest. He had his own jeweler, and jewelry was always so big. The jewelry was always there on set. So everybody had their Roc-A-Fella piece. Dipset had their Diplomat piece. State Property had their piece. Everybody brought their own shit.
OK Because at that point, Jay-Z had pretty much established an image for himself, but he was becoming more and more high profile. Did you say, "OK, Jay, now we need to start thinking about dressing in this way," or was the strategy like, "OK, no, we need to always use Rocawear because that's your brand." Was there a strategy per se?
Jay always knew what he wanted. When it's time to change, he'll be like, "Yo, I need a suit for this." He won't show you exactly which one, but he'll dictate what the vibe is. Most of these guys, I'm going to tell you, you don't have a director or anybody there. They know what they want. And you can't question it, you know what I'm saying? "This is what I want." And you know what I must say, most of the time, if not pretty much 99 percent of the time, they were right. Because they know their audience, or they know who their fan base is. So, they know what the look is, and they may go, you know, "I want to try something different," and then you talk about it. 
Yeah. I mean, you talked about Air Force 1s, was there maybe a certain brand of T's that they like?
You know what? At one point it varies. Because, when I work with Jay in LA, it was Proclivities in LA, and New York, it was City Lab and it was Footlocker. So, with the Proclivities in LA, like Dr. Dre would wear and The Game would wear, the necks came all the way up. But in New York theirs was lower. So, it did make a difference. 
What's your process?
Well, you have some artists, like a Ghostface and Cam'ron, and can't nobody tell them what to do. So, they dictate what it is that they want. So, the director will just set the tone of the video, and what the scenario is, but they're absolutely not taking any direction from anybody on what it is that they're going to wear.
I remember as we sit here talking about Cam'ron. I remember Cam would do so much stuff that we had to hire two guys who would make stuff just for them every week. I had them on retainer so that I could be priority when they needed stuff. I remember sleeping on his couch. His name was Shareef Sohn. I got so close to the tailor that he asked me to be the godmother to his kid when his kid was born. It was nights of just taking turns between Boz and I, just spending the night there just to oversee it. If he had a question, it's 3:00 in the morning, I may not get the call, so it's better for me just to stay here. I still would just make some stuff just in case I got a call like, "Yo, they doing an appearance tonight." OK. I'm good. Because you never want to be in a spot where you have nothing. The looks that they wanted had to be built, they weren't really in stores. It was before all of these designers got to be really what they are now.
Talk about your time styling Dipset and how you influenced Cam'ron to wear pink? 
Well, I had known Cam as a solo artist.  So when he came with his group and signed to Roc-A-fella and I was basically styling that entire roster, it just made sense. We started off with fur, because he's a straight Harlem dude. Me and my team looked at what old Harlem was like back in the day. Like the Cotton Club and hustlers and Alpo [Martinez], and looking at what their style was and what that influence was. And of course, he's a lot younger than them, but we played off of that old Harlem street culture and brought it into what Cam was trying to do, just to make it more his. So we incorporated some of the old elements with new. 
What brands was he wearing?
We did cut a lot of custom stuff. And then he was just like, "I just want to do something different. I want to do something different." So these guys don't ever really know what they want. They know it when they see it, but they don't know what to really tell you. And then it was just, "Let me try something pink." I felt if anybody could pull that shit off, it was Cam. Because Cam is definitely handsome. He's a pretty boy, but you don't get more masculine than Cam. So, we tried the pink and he really loved it and he got a good response from it. And then, he started doing that a lot. And you had a lot of designers at the time, like Pelle Pelle, started making pink jackets. And all of the street brands incorporated something pink in their line. It was really amazing to see, you know what I mean? The influence that he had on the street culture.
Can you talk about his look for the Grammys in 2003?
Jeff Hamilton made this jacket. And this is the one I had waiting in advance, but just in case he called. So when they called that night and said that they needed something, I had this already.
And the look at the Baby Phat fashion show?
We had that headband and coat made by Daniels Leather. But Cam'ron has an amazing sense of style. He is one of my favorite people to work with because he never questions you. I knew what his style was and he let me do my thing. And I love it. I loved it because he was just like a blank canvas. I just knew what his style was. It was kind of like we worked together kind of to create it. And he's just so dope. He could just pull anything off. So it was definitely fun. He was really, really a lot of fun to work with.
Did you immediately see the influence of him wearing pink?
I felt the influence everywhere. And it's so crazy because I'm so behind the scenes. That's just my personality. I let the work speak for itself. So nobody kind of really knew what the team was. They would just see the work, but they didn't really know where it was coming from. And I loved it. Cam's the star. I'm not. I never was looking for the accolades. I just wanted to get my check and see the rewards of my work and seeing them blow up and have such an influence in the streets.  And it wasn't just the New York hood, it was everywhere. I would go to the South, or I would be in Maryland and they were all pinked out. It would just bring me joy.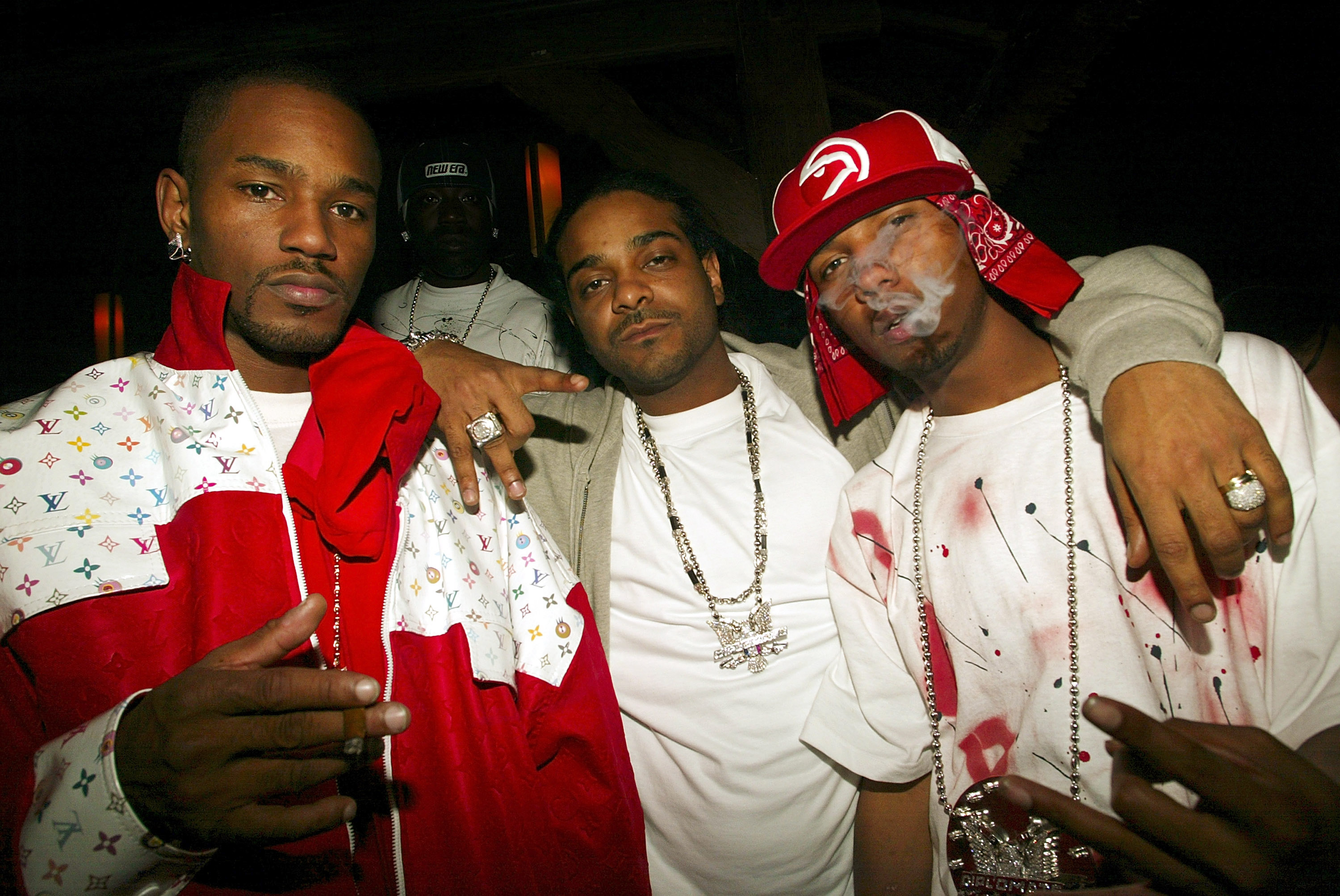 What did you think about Dipset being in that Kith x Knicks commercial?
It just touches my heart. Like Jimmy is somebody who I've worked with for 25 years. So, seeing him evolve to that, those are proud moments. It's like, I've been there with you, I know what it is. I was going to his house in Harlem back in the day and dressing him, and getting something for his mother, too. You see them now and you just can't help but to be proud because I see where we started. I saw Juelz's wife gifted him a Rolls-Royce the other day for his birthday. I remember coming to Harlem when Cam'ron signed him and dressing him, and he had a little store on 140-something street, 143rd in Harlem. And you just get to see the elevation, and it just makes me smile. 
I feel like during the 2000s is when there is a shift and the aesthetic is elevated and there's more luxury.
Right. But then you'll have an artist like Dr. Dre who's like, "I only do cashmere sweatsuits." So, you're going into a Loro Piana to look for a sweatsuit, and I pull a tag off, I'm like, "This shit is $9,000." And nobody's saying no to it. I was like, "Yo, shit has elevated and changed." You start to work with different people, and according to the moves that they make, you start to do different things, and then I started to learn more about luxury brands. I was coming from a place where I was making furs, which was amazing, but now I'm at a place where somebody wants a $9,000 sweatsuit. Like this guy came from wearing Dickies. He was in all black and now I'm in Loro Piana, or I'm on Bottega Veneta, or Hermes. I go from making Black Wall Street hoodies for The Game to now I'm looking for scarfs for him at Hermes.
And you have to be on the list to get certain things. And they only want to sell to certain people even to this day. You have to know somebody to get certain things. So, that became difficult. Me feeling like I have to chase a sales person around, or kiss ass to get on a list, to be able to get him this buckle that he wants. I was just calling all day. It's just draining. It is not easy. But when it all comes together, it is the most rewarding thing.
At one point you were working with artists who had beef with each other. How did they not know you were working with them? Like, I know at one point Cam and Jay were beefing. 
I mean, you just try to keep it as quiet and hope that nobody knows who you are working with. I'll tell you another story. I won't say the artist's name. But I did a video and it was the beginning of this new line that came out, and it was so suitable to this artist. And I was like, "Oh, my God, I'm so happy." Like, I went through so much to get it for him. About two months later, another video came out and somebody else wore it. Yo, he called me and went off on me. And I let him curse me out and I said, "You know I didn't work on that video, right?" So, it was like, "Oh, you did something so dope for me, but then you gave it to somebody else." But I'm like, "Now this is available for everybody, but at least we can say that you were the first." So it's a lot of egos. A lot of people being territorial over their look. And I understand that because you look at images, and those images make the artist who they are. But if you wore some hot shit people going buy it, it is what it is. They want to be hot too. Like if it worked for you, it may work for me. That sort of thing.
What would you say was the biggest challenge of your career?
Being able to get stuff from designers who at the time really didn't respect hip-hop because it was only associated with negativity, and it wasn't associated with anything positive. Even Jay-Z at the time. It wasn't easy. It was just different. Also, being in these high end stores before people knew me. Now I can walk in and take anything from anybody, no problem. But, doing it early on and I would come home crying. I would cry, I just felt so beaten up by my day, being followed around the store.
It was breaking down walls. And I'm sure if you talk to anybody who's been in the game for a minute, they will have their own stories. It was a lot of being nervous, like, "Please don't let them ask for lyrics. Because if they ask for the lyrics, I can't get it." And a lot of times you do a job and it's not always a budget associated with that job. So, you're depending on the brands to get it for free and borrow it. 
How did you get all these different clients to trust you?
It's not an easy thing. And I think the trust comes beyond the clothing. They have to trust you as a person. They have to trust your character. If you say you're going to do something, do it. If you say you're going to have something for them, have it. And, if you say this is what the budget is, let it be what the budget is. You need somebody else to vouch. You need somebody else to go, "Yeah, she did the job, and she brought this. And she gave me the receipts, and I didn't have a problem." And you have to have a store to back you up and go, "Yes, she's honorable." 
Once I did a Dr. Dre job and a vest got stolen for $4,800, and guess what? When production said they wasn't paying for it, I paid for it because that is the way that you have to keep your relationships. Obviously I made nothing on this job, but you know what? It was bigger than that. It was about my reputation. I think people only think about that one time. So, I could have blew them off and be like, "Shit, I didn't take it. I'm not paying for it. Production is not paying for it." But guess what, it's my name, it's Christina's name. You know what I mean? It was Boz's name, so I have to be responsible and pay for it. So, that's how you get people to trust you, by doing stuff like that.
You were working with men with very big egos who obviously care about their image. How did you navigate all of that? 
It's because I don't have a big ego. I'll play the back. So I'm not trying to be the star. So it was fine. I like to have fun. We do a job that's important because we're looking for style and we're excited when we see our favorite artists bring something new to the table and add to the culture. But we're not saving lives. I'm not Dr. Fauci. It's not that serious. I want to have fun. And I always thank God every day that he allowed me to do something to make a living on, something that's fun, something I enjoy. But at the same time, it's not that serious.
I mean you were working with so many clients, which I'm sure was a lot to balance. 
Yeah. I used to always get mad because I never really got a lot of women. It was bothering me. I was like, "I want to work with women." I did work with Amil, and I styled Lil Kim for "It's All About the Benjamins," but I usually got the men. But one day I looked back and I'm like, "I'm dressing every popular man right now that's influential in this culture. What the fuck am I stressing about not doing any women for?" Men are difficult too, but I've been lucky. I've worked with some amazing men, and just to be able to help them with their style and to help create so much art together, it's been a dope, dope journey. I'm not mad at nothing. I'm grateful. I'm grateful they entrusted me with such a big part of their career. I'm thankful for all of that. You know?
And now you work with LL Cool J, right? When did you all start working together?
That's my big brother, for real, forever. We started working together around the "G.O.A.T." album I would say. But dressing him and his entire family for the Kennedy Center Honors was probably my most proud moment. He was the first rapper to get that award.
But I felt like, "Damn, you could really say my man made it. It's real now and this music isn't going anywhere." But to see a Black man who just does so much for community and for the culture and added so much, he just deserved it. I worked with Giorgio Armani on the suit. And someone from the team flew out from Italy and we picked the fabric together and designed it together. It was a whole weekend of events, so once it was made they flew back in to make sure everything fit. It just felt so good to be a part of that moment with him. Everything from picking the diamonds for his mother and his wife.
This was completely different from how things were in the past with brands, right?
Absolutely. In the late '90s, unless you were Lil' Kim or Foxy, if you requested something from a brand they would be like, "No, they don't fit our brand." They wanted to send them song lyrics before they said yes. And a lot of times they would say, no, they didn't like the lyrics. I remember working with Kris Kross and I called Polo back then. And listen, I love Polo. It's one of my favorite brands, personally. But  I remember they were like, "Nah." They saw the lyrics, and they were like, "Nah, we'll pass." It was a lot of that back then. Because the music wasn't respected. Like I said, now you have LL with a Kennedy Center Honors. So they aren't going to say no to us anymore. 

How do you feel when you look back on all that you've achieved?
So, you get to work with all of these different personalities. And I'm just proud to be a part of their careers, proud to be a part of the elevation, proud to be a part of the story of hip-hop. And just being able to travel the world, and work with Three 6 Mafia, go to Memphis, you know what I'm saying? And to see them win an Oscar, and be a part of that. As I'm teaching, I'm learning from them. And to be a part of their growth, and work with artists that are getting Oscars, that Kennedy Center honors, man, I'm blessed. I feel good about that. And to able to still be here, it feels great. I'm proud of it. People say hip-hop saved their life, hip-hop truly saved my life, you know what I mean?