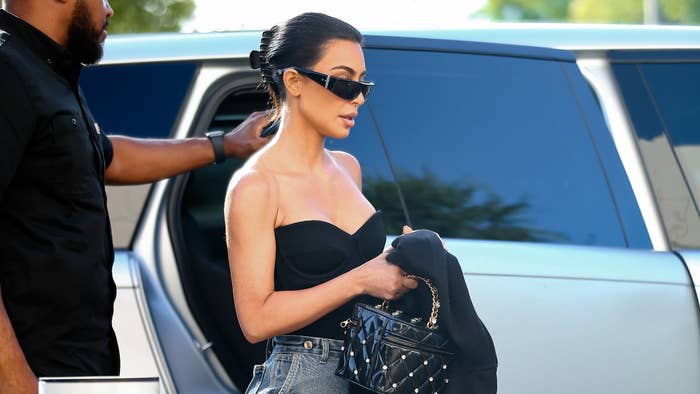 Kim Kardashian's latest look is turning heads.
On Monday, the mogul appeared as CR Fashion Book's cover star in honor of its 10th anniversary feature. For the special "Muses" issue, Kardashian, 42, is virtually unrecognizable as she trades her famous long wavy locks for a buzz cut. Her soft gaze, thick glasses, and stained white tank top complete one of Kim K's most dramatic transformations to date.
The Skims founder didn't actually chop off her hair for the editorial spread. Hairstylist Matt Benns went for a cropped wig to put over her scalp. Makeup artist Yadim Carranza completed the look with the throwback pencil-thin eyebrows.
CR Fashion Book knew it had a surprise on its hand, teasing the issue with a photo from behind asking, "Who is this CR23 Muse?⁠"
The cover story also provided glimpses into Kim's life, including a list of her favorite icons such as Elizabeth Taylor and Marilyn Monroe. Kardashian also names family members Khloé Kardashian, Kourtney Kardashian, Kendall Jenner, Kylie Jenner, and their mom, Kris Jenner, among the icons she loves. She also names John F. Kennedy Jr. as her "ultimate celebrity crush."
"An icon to me is someone who fights for what they want and goes after their dreams and makes them happen. Someone who is so unapologetically themselves but maintains the kindness and warmth I connect to," she said.
Despite her absence from both New York and Milan Fashion Week, Kim will be starring opposite Emma Roberts in American Horror Story: Delicate and appeared in Usher's Super Bowl Halftime Show announcement. In addition to being a mother, reality star, makeup mogul, and advocate for incarcerated people, Kardashian also teased that she has more in the pipeline.
"There are a few big projects I want to work on—ones that I feel called to do. And I will definitely do them when the time is right," she told the outlet.