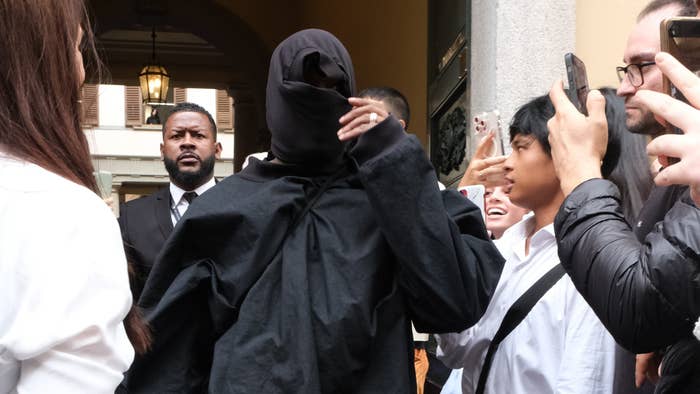 Kanye West's extended Italy vacation with "wife" Bianca Censori just got even more controversial.
West is reportedly facing legal trouble in the country for wearing a face mask in public, according to The Daily Mail.
Italian anti-terror and public order laws allegedly prohibit wearing items that "hampers an individual's identification" and are punishable by a fine of up to 2000 Euros. The law, article 533, was introduced in 1977 to combat domestic terrorism, and restricts face coverings in public unless for religious reasons with prior authorization.
"Obviously there are exceptions, wearing a scarf or balaclava over your face during the winter would be tolerated," says lawyer Angelo Russo to The Daily Mail.
Although the publication says the rapper might be breaching the law, it's not clear if West is actively being investigated for his use of face coverings. Ye has been seen wearing masks around Italy in cities like Venice, Florence, and Milan, where the couple was on site for Fashion Week.
Their six-week stay in Italy has been met with controversy. Venice officials are investigating whether the couple committed "indecent exposure" after West's bare butt was photographed on a water taxi earlier this month.
In a separate incident in Florence, the couple were once again caught exposing their bodies with West's butt crack making an encore appearance and Censori's nipples fully visible.
Ye's ex-wife Kim Kardashian, with whom he shares four children, is reportedly "not worried" about the photos and is likening it to a wardrobe malfunction.