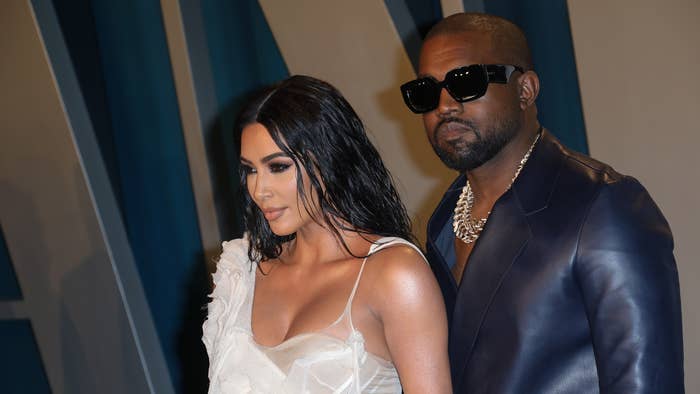 Despite an outlet claiming Kim was "desperately embarrassed and worried" about her ex-husband after photos showed his exposed butt in Venice, Italy, sources say Kim Kardashian is unbothered by the latest goings on with the artist formerly known as Kanye West.
TMZ reports that sources close to Kardashian say that she's paying much mind to Ye's antics in Venice with his wife Bianca Censori. She apparently sees the moment, which some perceived as Ye and Censori getting caught in an indecent act, as nothing more than a wardrobe malfunction. The comments from sources directly contradict a report from British tabloid The Sun, which claimed sources said she was "so worried about the new pics that have come out with Bianca."
The source told the tabloid that she was worried about how she would explain the photos to the four children she shares with Ye. "It's like every time Kanye and Bianca pull these nearly-naked stunts, it reminds everyone that Kim dressed up in skintight nude outfits during the marriage," the source reportedly said. "She'd rather put it behind her and forget about it."
In a series of photos and videos that surfaced earlier this week, Ye's exposed butt was seen while he joined his wife on a boat in Venice. He didn't appear to be all that interested in adjusting his trousers, either. The moment arrived not long after Censori supposedly worried Italian locals when she was seen walking around braless in a skintight, tan jumpsuit. At some points, she was forced to cover her nipples with a black cross-body bag.
Ye and Censori reportedly tied the knot during a private ceremony earlier this year, although they haven't filed a marriage certificate to make it legal yet. "Kanye and Bianca did have a small wedding ceremony," a source told Us Weekly in January. "Friends don't know if it's legal, but it's very real to them." Kim and Ye finalized their divorce last year.