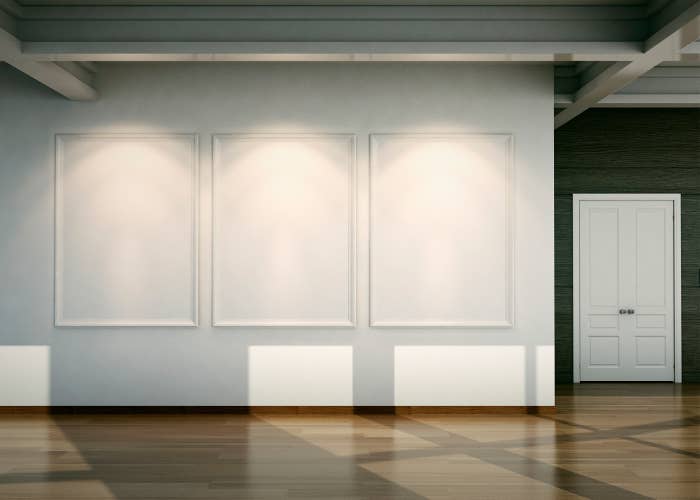 A Danish artist lost a legal battle with a museum after allegedly handing them blank canvases and running off with cash.
Jens Haaning was commissioned by the Kunsten Museum of Modern Art in Aalborg, Denmark to recreate two of his earlier artworks, "An Average Austrian Annual Income" (2007) and "An Average Danish Annual Income" (2010). The pieces featured banknotes totaling the respective average salaries of Danish and Austrian workers. The museum had commissioned these works as part of a special exhibition, with the intent of displaying 534,000 Danish kroner (roughly $76,500 USD) inside them.
Although Haaning took out a bank loan for the amount of money to be displayed on the recreated pieces, the museum offered to lend him the full amount, according to a 2021 report by The Art Newspaper.
That's when Haaning reportedly strayed from the original plan and instead submitted blank canvases titled "Take the Money and Run."
Despite the agreement with the museum stating that the money loaned would be returned at the end of the exhibition, Haaning allegedly made it clear he had no intentions of giving it back. "The work is that I have taken their money," he told local media, adding that the commissioned pieces still would have left him with a deficit of 25,000 kroner ($3,575 USD).
Museum director Lasse Andersson argued Haaning was not entitled to keep that money, and that their agreement only included artist fees and expenses. "We are not a wealthy museum," she said. "We have to think carefully about how we spend our funds, and we don't spend more than we can afford."
Haaning argued that in the wake of the controversy, the museum generated more than the loan's amount from the publicity of the blank pieces in the two years since its debut.
A Copenhagen court ultimately sided with the museum and ordered Haaning to pay the museum back the amount he ran off with, according to Fortune. However, the court deducted the artist's fee and other expenses from the sum. Despite the reduction, the amount owed still has Haaning in serious debt.
"It has been good for my work, but it also puts me in an unmanageable situation where I don't really know what to do," said Haaning.