Kim Jones Is Making Dior Fun Again
Kim Jones moved seamless from Louis Vuitton to Dior and put the French label back in the menswear conversation.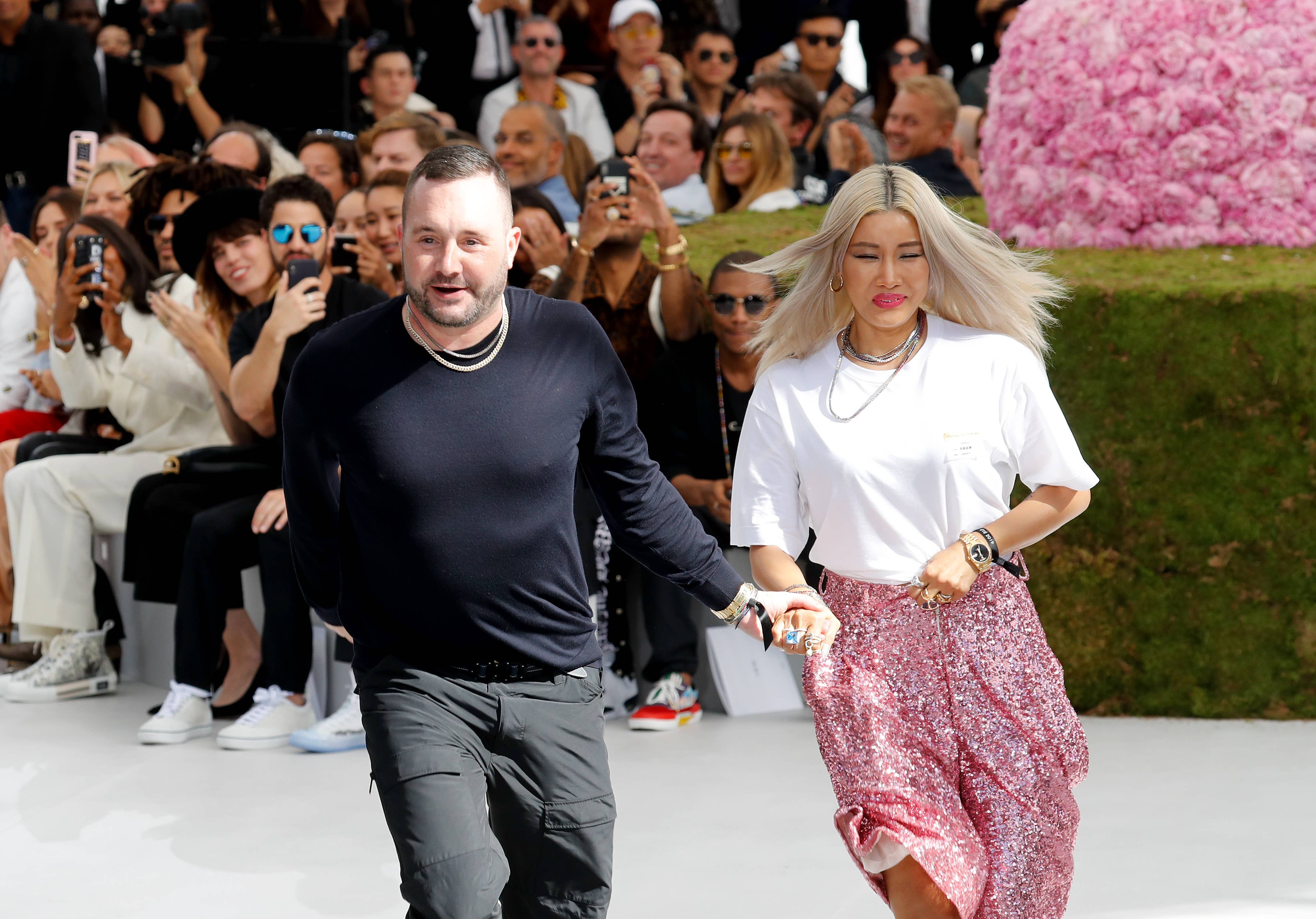 Getty
Kim Jones Dior Men's show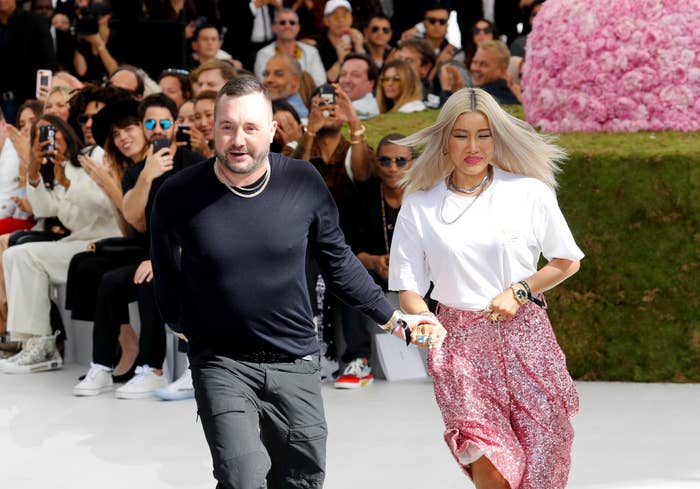 The first signal that Kim Jones' debut show as artistic director of Dior Men's today was going to look quite different from those of his predecessor's was hard to miss. Jones invited the street artist KAWS to create a giant sculpture of Christian Dior himself, made from 70,000 flowers, rendered in the style of KAWS' recognizable BFF character. He then plunked it down at the center of the circular runway under a canopy at the Garde Républicaine in Paris. Whereas previous Dior Men's collections—which had been released prior to today under the label Dior Homme, most recently by Kris Van Assche and by Hedi Slimane before him—were often dark and sometimes even dour, the floral KAWS Dior was a bit of an exhale, permission to have fun even as the clothes presented are part of a fashion legacy that runs deep and is taken very seriously.
Working with KAWS is also a way to show that Jones, like Virgil Abloh at Louis Vuitton earlier in the week, is not about to abandon the streetwear flourishes and influences that have been a throughline in his own work, from his last job as creative director at Vuitton (where he spearheaded the Supreme collaboration), to his projects with brands like Nike and Umbro. If Jones' move from one fashion house to another didn't pack the same emotional wallop as Abloh's "we made it" moment at Vuitton, it was still a highly-anticipated show from the man British Vogue editor Edward Enninful deemed, "one of the most revered designers of his generation."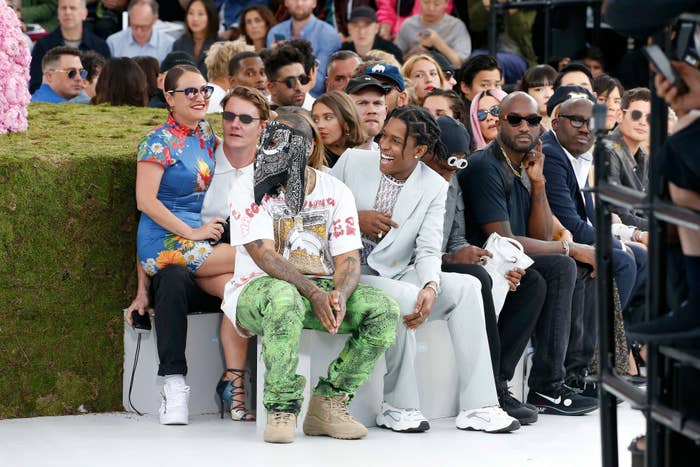 The list of bold-faced names in attendance today is also a barometer of just how well-liked Jones is inside the industry and outside of it: Abloh was there, along with Lenny Kravitz, who arrived with Naomi Campbell and Kate Moss. Also seated beneath the towering KAWS Dior sculpture were Robert Pattinson, Kid Cudi, Bella Hadid, Takashi Murakami, Victoria and Brooklyn Beckham, Blondey McCoy, Rita Ora, Luka Sabbat, The XX, Victor Cruz, A$AP Rocky, Kelly Osbourne, Christina Ricci, Skepta, Joe Jonas, Karl Lagerfeld, Darren Criss, Alexandre Arnault, Winnie Harlow, Call Me By Your Name director Luca Guadagnino… the list goes on.
Once the soundtrack (by Diplo) began, Jones opened the show with a celebrity of sorts, although one who likely wasn't recognized by everyone at the venue or who watched the livestream online: Prince Nikolai of Denmark, who wore a cream and blue, double-breasted suit. Jones said on Instagram it was a tribute to his mother, who was Danish. Like other pieces in the collection, the suit, decidedly not making use of the dark color palette found in earlier iterations of Dior Homme, was roomy and generously cut. This was another clear divergence from previous men's tailoring at Dior, which was often skintight—famously so under the direction of Slimane. Nothing about this collection felt restricting or difficult to wear. The biggest accessibility gap at play will probably be price. Jones told The New York Times before the show that he wanted his collection to "look rich," and it definitely did.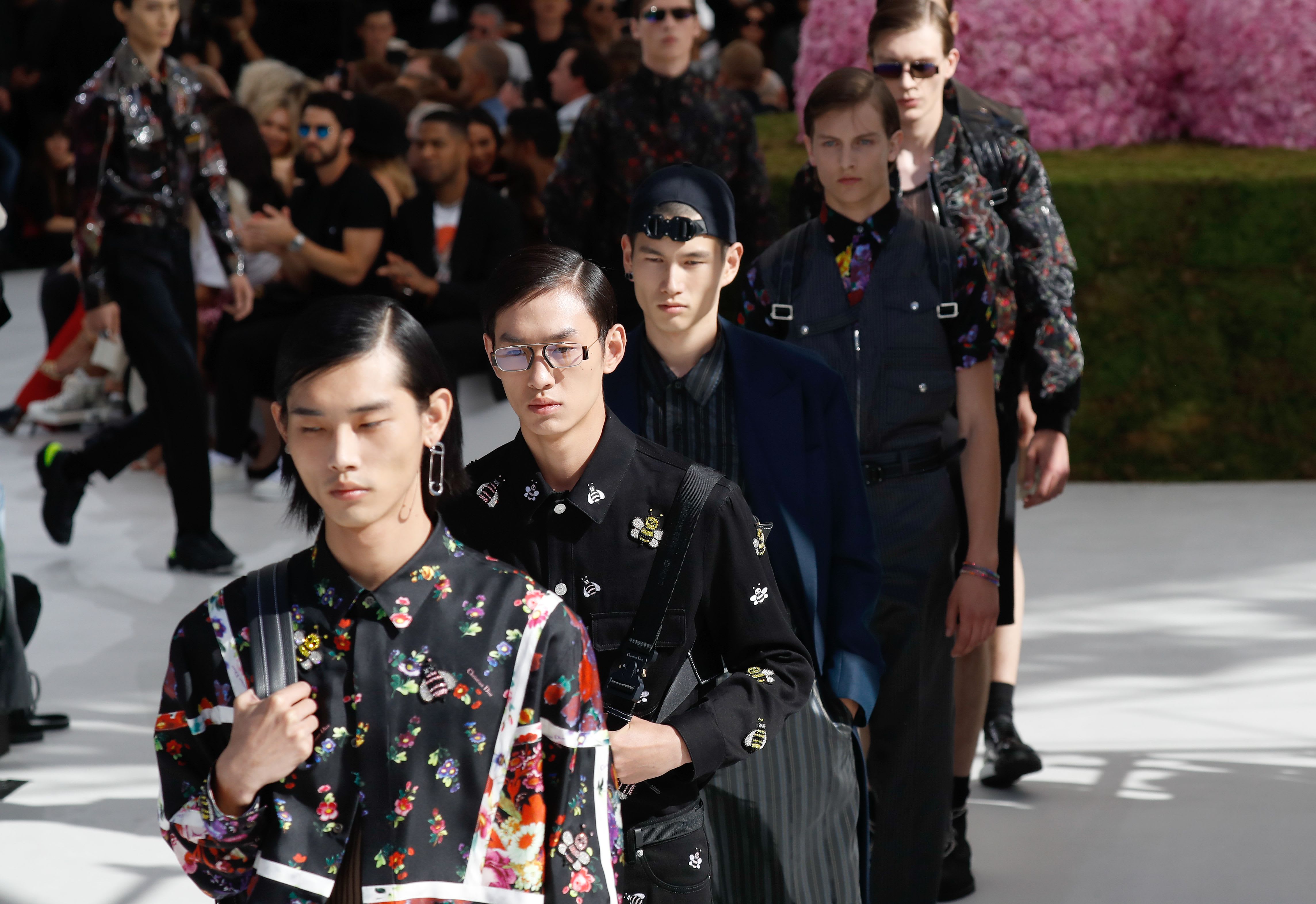 This was the Spring 2019 collection, so the clothes often looked light. You could do a lot worse than to splurge on a Dior suit, and the ones shown today, many of which had a single, kimono-style button on the side, including one in a dusty pink and another in black, were breezy and instantly appealing. There were also florals for spring, which while not a groundbreaking concept, were gorgeously executed, particularly when applied to a sparkling bomber jacket and on shirting worn beneath a transparent coat.
There was a healthy serving of sheer pieces for guys with the confidence to wear them, including the aforementioned coat, but also lace shirts, some done up in the repeated Dior monogram. There were a few short shorts, but also some longer versions if you've been skipping leg day. Regardless of the length, they helped show off Jones' new Dior sneakers. Here, Jones provided a first look at cross-trainers with bungee clips securing the laces, as well as a Converse-esque hi-top in the Dior logo print. Leather lace-ups were designed with sneaker elements, too, like pops of neon, thick padded soles, and contrasting laces.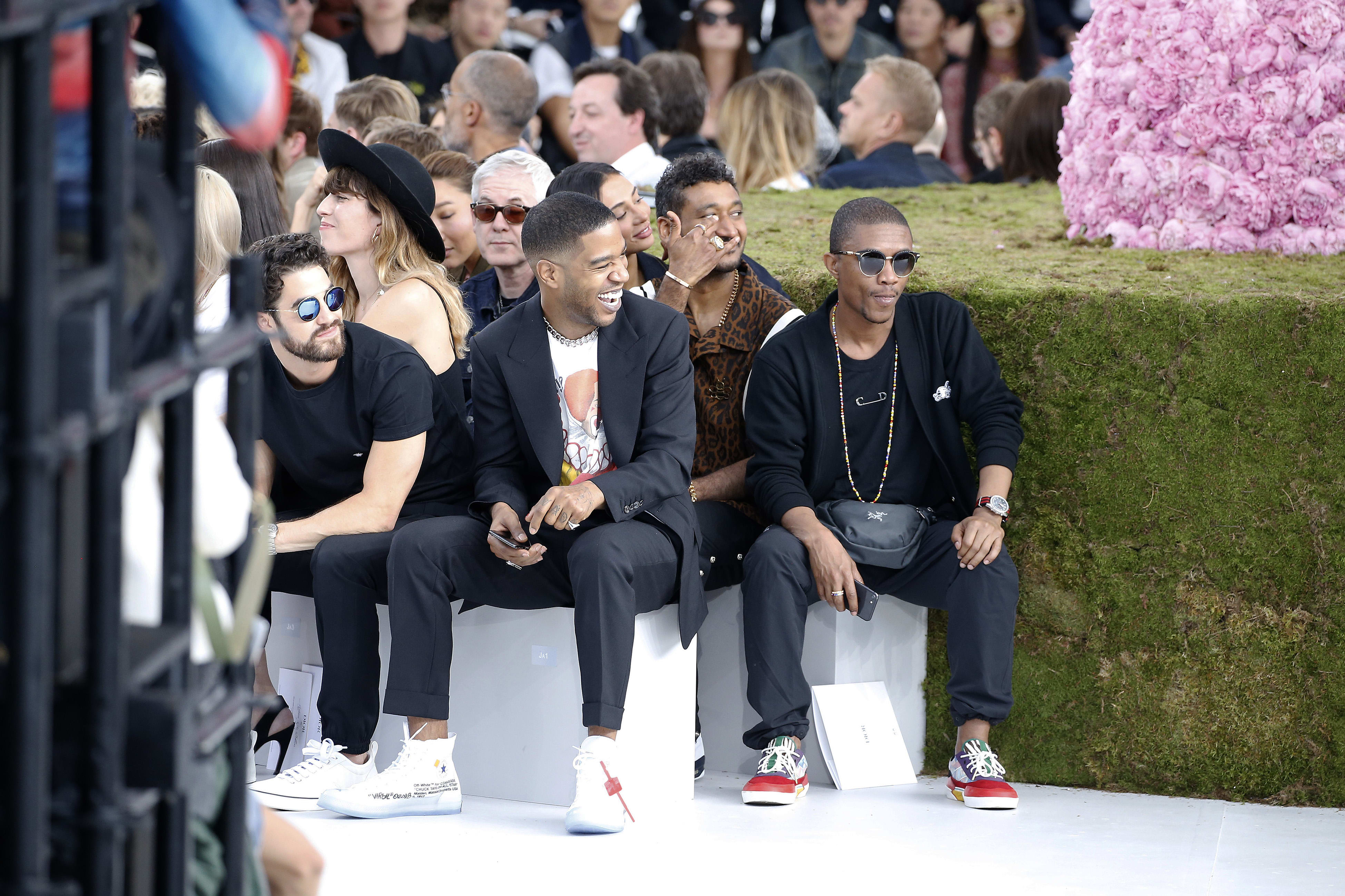 Jewelry created by Yoon Ahn, who also has her own line called Ambush, provided an ample dose of swagger to the collection. Models wore thick, heavy silver chains, and a cartoonish version of the Dior bumble bee, reimagined by KAWS, that was given a multicolored crystal treatment and pinned to various tops. Jones also brought in Matthew Williams, of Alyx and Been Trill fame, to design closures made from the Dior initials that were affixed to the front of belts and repeated on baseball caps, here worn backwards. That "CD" was used on Ahn's rings and keychains, too.
At the culmination of the show, Jones emerged, jogged around the runway loop, then grabbed Ahn's hand and brought her backstage. (God bless her for running alongside him while she was wearing heels.) It was a friendly gesture from a man with a reputation for being friendly, and it reinforced the lighthearted nature of the collection. Fashion, even when it's executed under the immaculate expertise and formidable history of the House of Dior, doesn't need to feel heavy and dark to feel significant or worthy of the name on the label. Jones, in fact, made a pretty good argument today for fashion that is exactly the opposite.