When Steph Curry racked up the NBA's first-ever unanimous regular season MVP vote this year, Under Armour knew it needed to celebrate its golden boy's record-shattering season in a big way. But Under Armour's SVP of Footwear, Peter Ruppe, had one major hurdle standing in his way: How do you properly commemorate an athlete who's only been on your roster for a few years? "We don't have a legacy business," says Ruppe. "We can't do retro sneakers because we don't have any."
Instead, Under Armour re-released the Curry One MVP, a limited edition colorway of Curry's first Under Armour sneaker, alongside a newly designed MVP colorway of his best-selling Curry 2's. Ruppe needn't have worried; the pre-orders for Under Armour's Back 2 Back sold out in under a day. What should concern Ruppe, though, was the story on Curry's feet during Game 2 of the Golden State Warriors' recent series against the Portland Trailbalzers—namely, the low top perforated white street shoes designed by Filling Pieces, not Under Armour, that Curry wore while sidelined with a knee injury. While one Curry appearance out of Under Armour gear likely won't do much damage to the brand—Curry's shoes alone are projected to bring in $160 million for the brand this year, putting him well above both Lebron James and Kobe Bryant in signature shoe sales—it does signal a significant pain point for Under Armour: its relative lack of presence in the fashion and lifestyle space.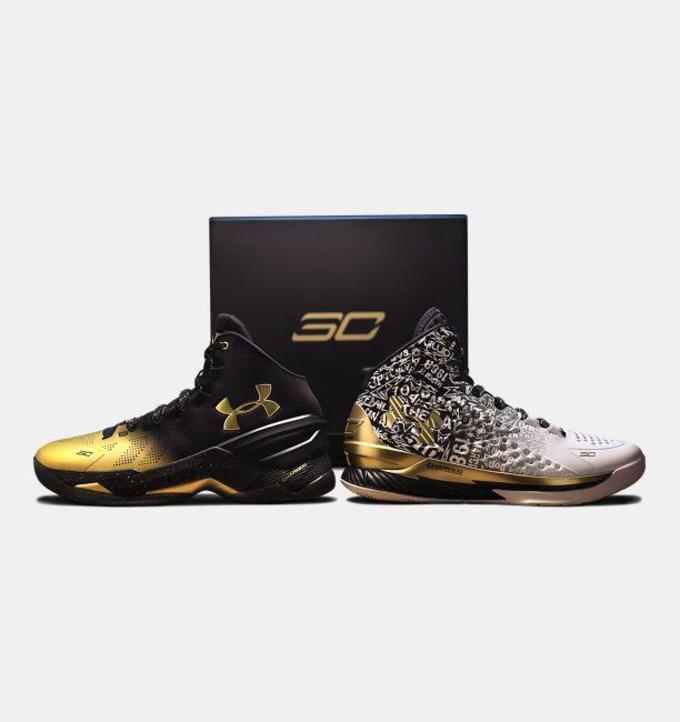 Despite its relative nascency in the fitness market, Under Armour's 20-year history and grassroots success has been nothing short of impressive; its footwear sales alone increased by 95% in 2015, largely due to Curry's signature shoe line with the brand, as well as a newly released line of running trainers. But even with explosive growth, Under Armour still only commands a fraction of the business competitors such as Nike and adidas do. And with more and more brands populating the fashion and athleisure space, competition has never been stiffer. So how does a brand known primarily for its high-performance athletic wear and college athlete uniforms start being taken seriously as a 360 degree company—one that can dress an athlete from head to toe?
You start with some shoes. While most sports brands start with footwear and splinter outward, Under Armour had started with compression shirts for football players. It was only 10 years after their initial launch that the company even began making shoes, starting with a line of football cleats released in 2006. But football cleats alone aren't how you move product—especially on a global scale, where Under Armour's core business of football doesn't translate quite so well. This is where Curry comes in. Swooped up by Under Armour in 2013, during the now-infamous story of how Nike let the future MVP slip through their fingers by not trying very hard to re-sign him (or pronounce his name correctly), Curry quickly became the key to Under Armour gaining access to the immensely profitable global basketball market.
Though not the first basketball player signed to Under Armour, the brand wasted no time in developing a signature shoe line around Curry. Having lost out on signing Kevin Durant, who re-upped a 10-year contract with Nike to the tune of $300 million during the 2014 off-season, Under Armour commanded only 0.35% of the basketball market share at the time they took a gamble on the then-unproven Curry. The Curry Ones, Under Armour's first signature basketball shoe, was released during the 2015 All-Star game—​smack in the middle of Curry's improbable season. By the time Under Armour was releasing the MVP Curry One's, just four months after their initial debut, the One's were consistently sold out on pre-order alone.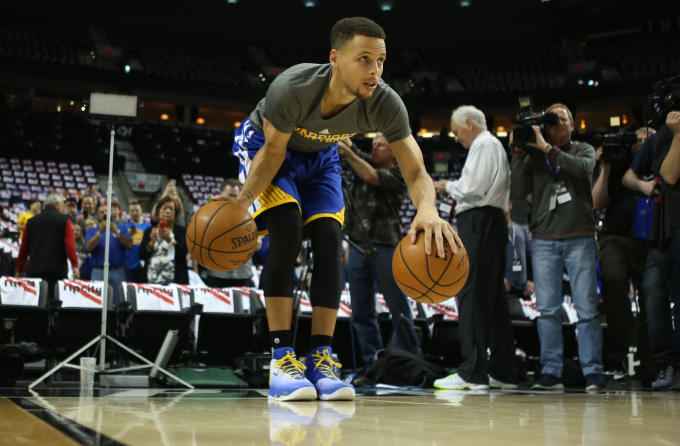 Make no mistake: Under Armour's success with the Curry Ones and this season's multiple colorways for the Curry Twos isn't to be overlooked—especially not when a company that never had a signature shoe line to speak of less than a year prior is currently on pace to outsell Nike's two biggest current signature shoe lines. But what the Curry signature shoes brought to Under Armour in terms of credibility hasn't necessarily translated into a winning aesthetic. While kicks blogs breathlessly anticipated the October 2015 release of the Curry Twos, even fans were quick to point out that what the sneakers delivered in function and name recognition, didn't necessarily live up in style.
Sneaker News docked the Curry Two's "gaudy midsole," while fans flocked to Twitter to point out that, yet again, Curry's signature shoe seemed to value function significantly more than it did style. Even Curry fans at Golden State's fifth playoff game against the Blazers noted that the blue-and-yellow Curry Twos that Steph changed into, after starting the game in his MVP-edition Curry Ones, weren't exactly the best looking shoe on the market. "I mean, when it comes to [Kevin Durant], I buy the shoes because they look dope as hell," said Marco, a 28-year old self-proclaimed sneakerhead who attended every playoff game thus far in his original Curry Ones. "For Steph, I'm just buying them to support my dude. I don't know that I'd throw down for these shoes for anyone else."
And therein lies the rub: Under Armour's shoe business, though astronomically successful, is still closely tied to Steph Curry's on-court performance—a little too closely, perhaps. If all their eggs are in Curry's basket, just two performance shoes with a third on the way may not be enough to cut it. "How has Under Armour not released a Steph Curry casual shoe yet? I know these things take time, but man," tweeted Complex editor Russ Bengtson a few weeks ago. While signature shoes remain big sellers for Nike, adidas, and Under Armour, casual, fashion lines remain major draws for both athlete and consumer. And for Under Armour, a brand whose sole mission of late has been to "dress the athlete from head to toe," having a stronger hand in lifestyle, off-court wear has become a major priority, especially as brands like Nike quickly become a major presence at events like New York Fashion Week.
Ruppe, the SVP of Footwear, insists that Under Armour isn't far off. "We're deep into finishing work for some new products for next season [for Curry]. You'll see performance products for the summer, as well as some lifestyle products for this summer. We're doing a lot of things around him to try to dimensionalize him, and you will start to see that soon. Going to runway as a brand under Steph is honestly one of the biggest things we're concentrating on."
If Ruppe's goals sound lofty, he may not be far off. "[We're seeing] increasingly that these two streams of sportswear, performance wear and fashion wear, are no longer running on two parallel routes, but are actually sort of bending toward each other and reaching points of convergence. The fashion world sees this and they're starting to do performance clothing, so now the performance guys are [getting in on this, too]," says Vanessa Friedman, fashion director and chief fashion critic at The New York Times. "It's not to say that Under Armour is going to…start putting people in trench coats, but they likely will do something in the same way that Puma is doing with Rihanna, they will start making clothing that is performance-based, but can be worn on the street."
The latter point is of particular import to a group of athletes Under Armour has had the foresight to court heavily: women. Despite signing the world's highest paid super model as the face of Under Armour women in 2014, it wasn't just Gisele Bundchen that helped the brand make inroads into the highly lucrative women's market. Recent pickups of ballerina Misty Copeland, as well as US Women's Soccer team defender Kelley O'Hara, and alpine skier Lindsey Vonn, among a cadre of other female athletes, haven't just been great PR for a young brand hoping to expand into fashion; instead, Under Armour's new women's line, marketed through its #IWillWhatIWant campaign, also has a heavy emphasis on performance pieces, so as not to diminish the accomplishments of its female stars.
"When it comes to sports marketing, women actually get the opportunity to do the coolest stuff," explains Relativity Sports director of marketing, Tiffany Shine, who also represents U.S. Women's soccer player Hope Solo. (Solo is currently under contract with Nike.) "Often it's because they don't get paid as much as men, which is hard to swallow sometimes, but it does allow for more creative opportunities. The #IWillWhatIWant campaign was tough, it was gritty, it showed the women as athletes."
Though Under Armour's women's line is catching on—a recent Instagram from Taylor Swift shows the singer flaunting an Under Armour sports bra aside model Karlie Kloss after both women attended dance class—it too will require further expansion into streetwear fashion if it wants to continue competing with Nike and adidas, as well as Lululemon and other athletic apparel brands. "With the women, it's interesting. They care about this stuff, and it's actually hard for them when the [clothing] isn't really good off the field," says Shine. "The women are very responsive to that stuff, because in addition to being athletes, a lot of them have a deep interest in the fashion space."
While much of Under Armour's recent success has been attributed to increasingly lucky signings of players who would all go on to championships around the same time—with Curry, Under Armour currently reps four reigning MVPs, including Cam Newton, Bryce Harper, and golfer Jordan Spieth—it's actually the brand's willingness to color outside of the lines that stand to have the largest potential impact. If signature basketball kicks and diversifying your female slate are sure bets for increased market share, being the first company to bring back signature baseball cleats is decidedly less so. And yet Under Armour is doing exactly that for Washington Nationals' Harper, despite the fact that only one player in MLB history, Mike Trout of the Angels, has had signature cleats with any brand since Ken Griffey Jr.  
Around Spieth, Under Armour takes another risky bet—going after the largely insular golf market in a way competing brands adidas and Nikes haven't dared to. The brand released a signature golf cleat around Spieth in April 2016—it's first signature shoe release of the year, and its first foray into golf footwear entirely. In addition to shoes, Under Armour has released an entire line of casual, breathable golf attire—arguably the closest iteration of a casual streetwear line we've seen yet from Under Armour.
It seems that Under Armour's dimensionalization of Curry simply telegraphs what the brand is doing itself: diversifying in as many ways as possible, both traditional and outside the box. While the brand is still finding its footing as it crosses over into the realm of fashion performance wear, all signs indicate that we won't be seeing Curry, or other Under Armor athletes, wearing other brands' apparel courtside much longer. A recent issue of Parents Magazine featuring the Curry family offered a rare sneak peek at what looks to be the first offering from Under Armour's casual Curry shoe line. If that's the direction Under Armour plans to keep trending, they may have little to worry about. As for debuting in Parents magazine? If you're going to march to the beat of your own drum, that's definitely one way to do it.