The Under Armour Curry 2.5 sneakers that Stephen Curry wore last night aren't out yet, but nickname possibilities already abound. Will they be the "I'm Backs," "The Overtimes," what? There are two kinds of event-related basketball shoes in the world—those that commemorate events and those that are worn while creating them—and over the past two seasons Steph Curry has provided plenty of both.
His unanimous MVP selection was worthy of sneaker-related celebration, and got it in the form of a two-pack of Curry Ones and Curry Twos that sold out immediately. But that's collector stuff. It's the everyday legacy-making that really matters, and Curry has been doing that as well, building a sneaker history for Under Armour in real time.  A couple of years ago, they retroed a previously unavailable shoe to honor then-rookie Brandon Jennings's 55-point game. In the future, they'll have a lot more to look back on.
Right now, Curry is the everything of Under Armour, despite the presence of other MVPs and champions on the roster, including Bryce Harper, Cam Newton, and Jordan Spieth (and even The Rock). Those other guys provide prestige to the brand, but, among them, only Curry gives an inroad into the basketball shoe market—one which, if the numbers are to be believed, he'll dominate this year. Projections have him as the leading basketball signature shoe seller, period, for 2016, with $160 million to LeBron's $150 million. (Jordan is a brand moreso than a signature model at this point.) Not bad for a company that wasn't even selling basketball sneakers 10 years ago.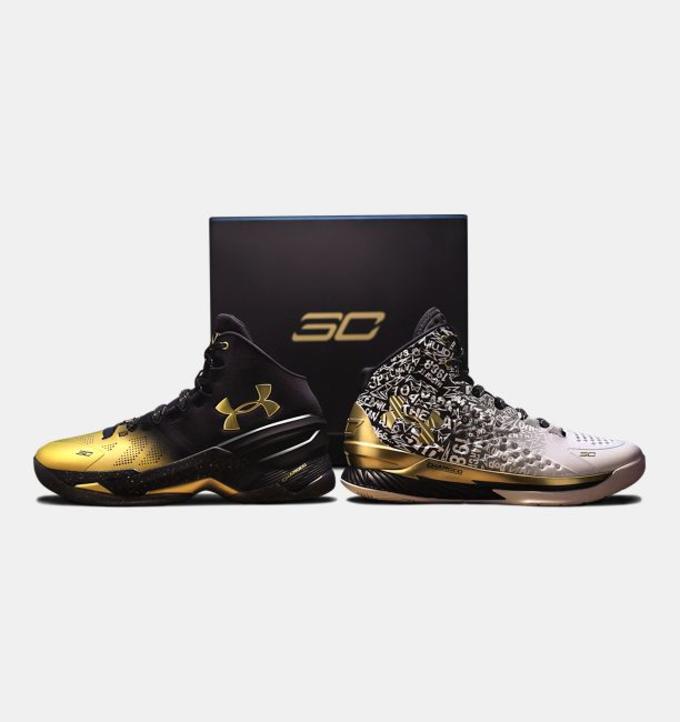 Just as Curry's own leap to superstardom was unprecedented, so was Under Armour's. Curry is their Jordan, their Allen Iverson, but even bigger in some ways. Imagine if Stephon Marbury had been able to do this for And1. Since Under Armour signed Curry in 2013, their annual revenue has gone from $2.3 billion to $3 billion to $3.96 billion. Who knows where they'll be when Curry's deal expires in 2024? Morgan Stanley, for one, placed Curry's potential value to Under Armour at $14 billion. It's entirely possible that he's underpaid.
That $14 billion figure depends on a lot, of course. Curry's continued health and success for one, as well as the love of a decidedly fickle basketball fanbase. As huge as Curry is now, there is always the search for the next guy. After all, as many back-to-back MVPs as there have been in recent years, the last guy to win three in a row was Larry Bird, and that was 30 years ago.
In the meantime, though, Curry is building a brand along with a legacy. With every three-pointer the legend grows, and with every pair of Currys sold, that interlocking "UA" becomes a more familiar sight, which makes it progressively easier to sell that next pair. Remember, the Swoosh was new and strange once, too. And in this retro-driven sneaker culture—assuming it lasts—Curry's impact is doubled, once for the present and once for the future. Under Armour's sneaker history is being made right now.