The fashion world is rarely kind to women above a size 0. The sports world is rarely kind to women, period. For many fashion-forward female athletes, the space they occupy makes them feel underrepresented and, quite literally, unfit.  
But the recent athleisure trend and fashion's proclivity for highlighting women's wear should be looking at these women: Serena Williams, Ronda Rousey, Track & Field hammer thrower Amanda Bingson. Women built for sport, to sport sportswear. Instead, here's a quick look at a Google image search of "athleisure women"—fashion-skinny and runway-ready: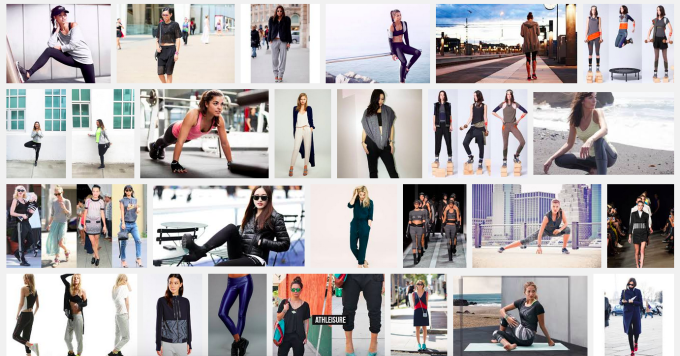 In a Reddit AMA Monday night, UFC Bantamweight Champion Ronda Rousey opened up with a message about femininity and body image: "Women are constantly being made to feel the need to conform to an almost unattainable standard of what's considered attractive so they can support a multitude of industries buying shit in the pursuit of reaching the standard." 
For clothing supposedly catered to athletic women, there sure as hell aren't enough athletic body types—or women athletes (despite that celebrity endorsement opp!)—modeling it. Whereas Victor Cruz can land a campaign as the new face of Givenchy, or LeBron James can turn a pre-game outfit into a lookbook, famous women with athletic bodies are far less likely to capitalize on their hard-earned assets, or their personal style. In New York Mag's latest Serena Williams cover (for their Fashion Issue), writer Kerry Howley points out that Serena (and her sister Venus) are often called "masculine" as an insult, and are subjects of constant speculation: Were they born male? Are they taking steroids?, etc. 
it takes years of training to think outside media's tiny box of beauty standards, and learning to love yourself. Which is why we can use more athletically-built women to be fashion ambassadors. 

 
Howley continues: "This impulse may also explain why Serena Williams, who has prevailed over Maria Sharapova 18 times and fallen to her only twice, makes less in endorsements than her blonde Russian counterpart." Sharapova is closer to the fashion ideal of a woman's body, but what about the many other women athletes who aren't? What about sporty women who are bigger and more muscular than the ones seen in the pages of magazines? 
In an inspiring ESPN Body Issue last month, Olympic hammer thrower Amanda Bingson opened up about her body, too: "Athletes come in all shapes and sizes." "I'll be honest, I like everything about my body," she says, before recalling learning the meaning of "fat" in middle school. "Everybody wants to fit that skinny ideal picture that we see on billboards all the time, and people would always remind me that that wasn't me. So you just grow a thick skin." But it's not easy to grow that thick skin—it takes years of training yourself to think outside media's tiny box of beauty standards, and learning to love yourself. Which is why we can use more athletically built women to be fashion ambassadors. While adidas and Nike readily court runway designers like Stella McCartney and Chitose Abe of Sacai for chic-yet-sporty collaborations, Williams and Rousey have both expressed interest in fashion. Serena Williams already has an entire athletic fashion line: EleVen. "We brought fashion back to tennis," Serena says in the New York piece. It's not that Serena should necessarily be in campaigns—who knows? maybe she doesn't want to—but why is it that Roger Federer has several signature sneakers conceived by legendary Nike designer Tinker Hatfield, while Serena's Nike Court Flare, ostensibly made for one of the best athletes of our time, borrows heavily from technology originally engineered for Kobe Bryant?
Rousey, on the other hand, has been promoting her "No D.N.Bs" apparel (which stands for Do Nothing Bitch), of which a portion of the proceeds go to Didi Hirsch for their work on women's mental health and body image issues. The "Don't Be a D.N.B" refers to the fact that there's not a single muscle on her body that isn't for a purpose. Of her muscular body, Rousey has said, "I think it's femininely badass as fuck." 
Aside from her famous, record-breaking, 34-second fight, Rousey is also known as an ambassador for healthy body image, inspiring New York Times' Vanessa Friedman to write a piece titled "When Will Fashion Discover Ronda Rousey?" She makes a point that designers have yet to line up to dress these women, adding "athletes have body types that don't lend themselves to the coat-hanger look that designers favor." She also states that a Rousey-starring campaign would be smart, seeing as brands love unexpected celebrity collaborations. She does, however, name Victoria Beckham, Miley Cyrus, and Kendall Jenner as these "unexpected" choices—women who more or less still fit the coat-hanger type. But Ronda has more than proven herself to look killer in high-fashion looks—hello, have you seen her in Furious 7?!—and would make a stunning fashion campaign star:
Friedman does make a good point at the end: The fashion industry would benefit from showcasing how their clothing looks good on everyone—likely the women who are actually sporting these looks in real life. Even in conversations regarding fashion's need for more plus-size women, athletic body types get largely ignored. Greater plus-size exposure is definitely a win in an industry notorious for championing petite bodies, but why embrace the whole spectrum of sizes? With the athletic fashion trend at its peak—there hasn't been a better time for the fashion world to embrace muscular female bodies, and recognize their fire 'fits. 
It's a shame that in this year's Vanity Fair best-dressed list, boasting 52 fashionistas, not a single female athlete made the cut. One male athlete did (Russell Wilson), but not many women are looked at through the lens of that It Factor. But with women like Rousey and Williams putting their athletically fashionable foot forward, there's hope yet. Ladies, werk.