ComplexCon returns to Long Beach Nov. 6 - 7 with hosts J. Balvin and Kristen Noel Crawley, performances by A$AP Rocky and Turnstile, and more shopping and drops.
Secure your spot while tickets last!
Jammer, a skilled producer and MC aka Murkle Man, is a don and in many ways one of the first godfathers of grime. His legendary dungeon (a small room in his basement) will, thanks to the battle raps featured on the Lord Of The Mics DVDs and all over YouTube, go down in British history as a crucible of creative talent, raw brain power, and musical innovation. The LOTM battles featured and to some extent nurtured the greatest talents in grime, and now Jammer is launching a fully fledged LOTM-themed capsule streetwear collection, featuring the signatures and messages that grime's greatest left on Jammer's basement walls. 
Lord Of The Mics not only excited and educated a generation on grime's rawest form, but also became an excellent, tension-filled, leave-them-wanting-more method of marketing the brains behind grime. Always filmed in his parents' modest and narrow, maybe even claustrophobic basement space—with an inherent tension, in that one contestant stands above the other on the steps—the architecture adds to the intensity, and the graffiti to the sense of greatness.
Jammer's LOTM capsule collection celebrates not only being part of the people, moment, space and time that is/was the basement, but also a spate of artistic and musical creation unknown for a generation. And now you can wear your respect to that as a jacket, T-shirt, vest or hat. Complex UK speaks to Jahmek "Jammer" Power to find out more.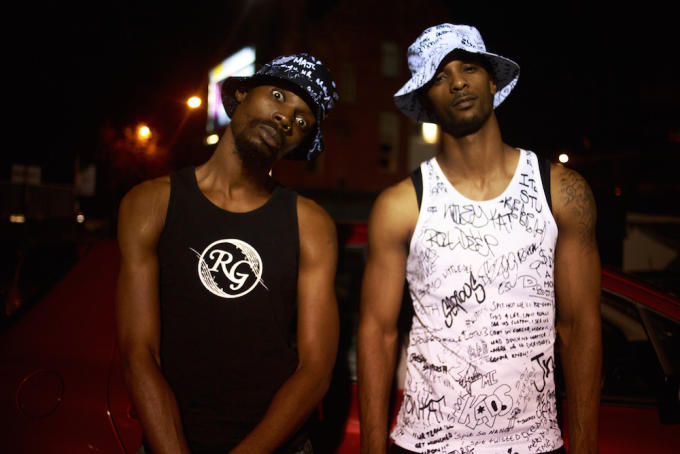 Maybe it was you I saw wearing one of the jackets at London Collections Men? I wanted one so bad. It's the history book nature of Jammer's basement in a jacket, and wanting to be part of the legend and the people who have battled in the basement. 
We were making merchandise for the Lord Of The Mics brand around the launch of the DVDs. And we'd done a Boiler Room collaboration and we done a little jacket and stuff like that. I was thinking of other ways to incorporate history into the clothing. For 15 years, MCs have been tagging up the walls of the basement—every time someone does a battle rap or every time someone does a studio session, they tag the place up; from Wiley to Kano, Skepta and all the big producers like Rude Kid and Terror Danjah. So I used all the signatures from the basement. You know when you leave school and everybody signs your shirt? I thought that would be sick if everybody had signed the shirt or jacket or whatever. Then it just went on everything; it wasn't even to make clothes, it was something to wear for me but people were really feeling it when they saw it. 
You're a big fashion fan, right? I've seen you on those front rows. I've seen you around... 
To be honest, I've always loved dressing up and clothes. And being in the music game, I get passes for shows and I support a lot of the street designers. At the same time, it's kinda me learning and educating myself and gaining  all the knowledge that I can.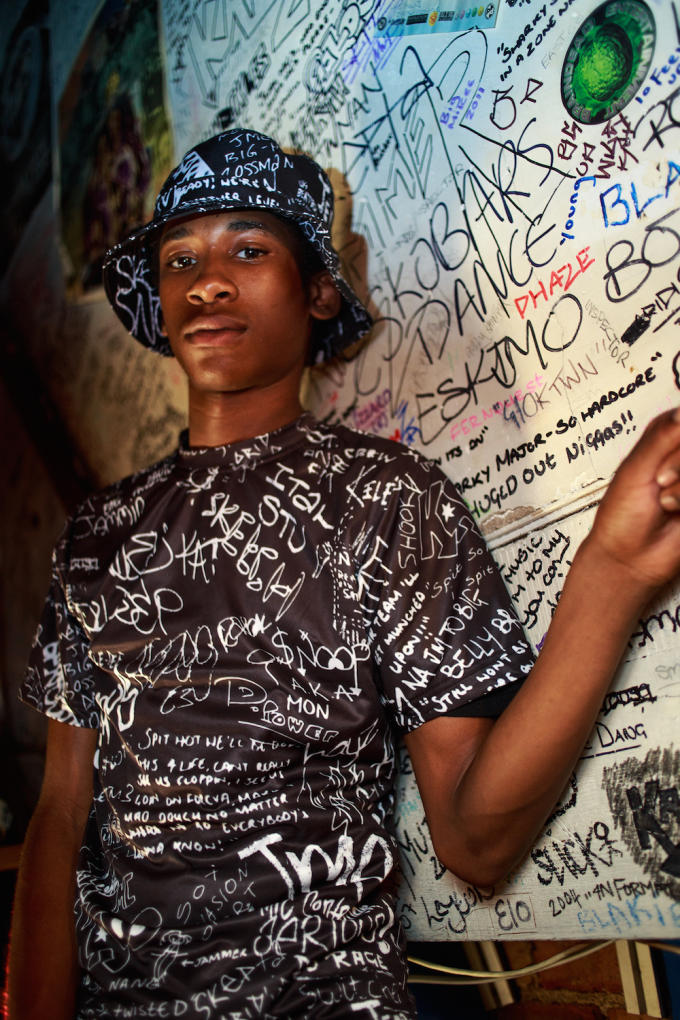 So to an extent, with this LOTM capsule, ​you're burnishing the myth and legend of the basement?
I think it's also worth remembering the era we was born in—we got the best of the old school style, and we got the best of the new school style. It's a lot to do with the timeframe. A lot of the old school guys, I respect them, but they wasn't thinking out of the box enough. Just cos of the way we speak, the way we look, there's loads of people out there that we represent. We have a cult following and that is very important. Not only do people like our music, they talk like us and they dress like us. 
It's interesting that you call LOTM a cult. At the moment, if somebody has one of the basement prints on they probably know you; it really is like being part of the gang.
Yeah, you wanna be a part of it. Even Skepta said to me: "That white jacket, man—that basement wall, white jacket—let me champion it." So even the most fashionable guy in the UK, on seeing the jacket, wanted to be the first to rep it on Instagram. I can only be happy with the way it's being perceived. 
People use hype as an abusive word but as with the original LOTM videos seem, you're quite good at creating these sacred things. Making people want stuff and creating a cult. Do you do that consciously? 
People gravitate towards authenticity. There was no thought behind the marketing. I did not market LOTM. I just made something and thought it was sick. And just the reaction from everybody was amazing! When I'm making something, I know it's special to me and my friends, but I don't know how it's going to be perceived in the outside world. There's other stuff I do that I think is amazing, but only me and my mates like it. 
What made you record the battle raps in the first place? 
At that time, a lot of battles were taking place on pirate radio stations and I used to have a lot of sessions at my house. You know back in school, that cussing you used to do with your friend, like "you're mum's so big she's..."? One of my friends was leaving my house and we were having a cussing match and I told him to grab the camera and film it. As I watched the film, I thought it would be a genius idea to get people to battle on these steps.
So then I asked Kano how he'd feel about clashing Wiley. Wiley jumped off the plane and phoned asking what I was doing, and I told him I was at the studio and that he should come over. Kano was in my front room and Wiley came through the front door and I pulled out my camera. I said to him, "How would you feel about clashing Kano?" and knowing Wiley, he doesn't turn down a battle, he was like: "Lets do it, lets do it!" So, we walked out to his car and he shouted "I'll be back in a second." With Wiley, "back in a second" can mean he's not coming back [laughs]. He went out to his car, got some CDs and stuff, because he'd met Damon Dash while he was in America and was just overwhelmed with showing us. Might not have been that much of a thing, but basically Wiley came back and he felt somebody from Roc-A-Fella had actually spoken to him with respect and he wanted to bring that energy back to us. He brought the energy back, and he done the battle. 
Did you know you had a church full of geniuses? Where you aware of this?
Yep—and that's why I was facilitating and feeding them and letting them hang out in my house smoking weed all day. I knew that there was no one around that would let so many people be in their surroundings and facilitate them and pay for the equipment, so we had a kind of hub.
What are some of your favourite clashes to date?  
Wiley and Kano, obviously Skepta and Devilman. I'd say the P Money and Big H clash as well, because by then, there weren't that many MCs from the golden era still battling, so to have Big H involved was a big deal and he approaches MCing in a classic way. Jaykae and Discarda had you on the edge of the seat as well. Sox and Kozzie's clash was crazy too; with Sox choking on his lyrics, that had never happened in the history of clashes before so they had to come back and do it again. The Grimmy Mob and Grim Sickers clash was also very hilarious.
Your dad ran a sound system, so do you feel you have entrepreneurial as well as musical blood?
Yes, and yes. My dad ran a sound system, and a band. He also ran a community organisation to keep kids off the street called ELRICS; it stood for the East London Rastafarian Information Community Services—helping single mothers, providing activities, finding sponsors for facilities, and organising sports teams. A lot of guys from the area where getting into trouble and stuff like that and that orginasation helped the community a lot. So you can see where a lot of my family-orientated, crew nature comes from.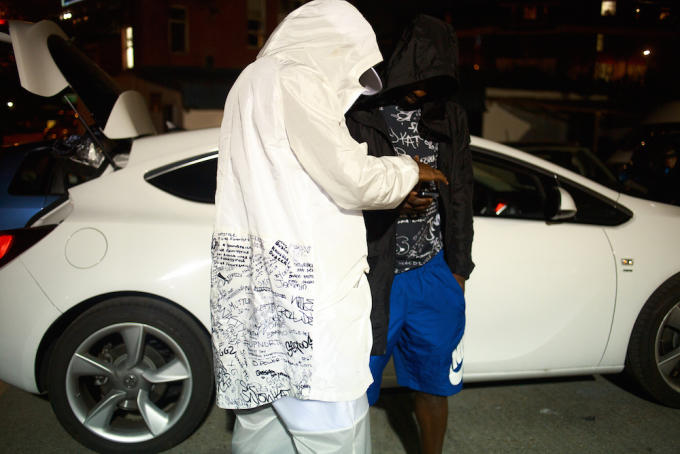 I often think, in life—the better the people around you, the better you get. It must have been quite a hothouse, with the competition between people.
Competition, always! I feel with so many musicians around each other, it made everybody drive to go harder. Everybody was from the same areas; because it started in East London, you never really had that many people from out of the area. But yeah, it was just like loads of us getting together and kind of starting something new. It took time to get to this stage of understanding the actual level we were operating on. 
Yeah, I found this quote: "When they look back at grime, I'm definitely up for being spoken about. I know I did something while I'm on this planet." That's the point of life, right? 
Definitely! 100%. Thing is I've got more amazing things to do. At the moment, I'm planning a grime exhibition and talking with some good people; it's gonna include documents, visuals, artifacts, 3D virtual experiences, and a rebuild of the basement. It's about going further than just the MCing and being a musician. It's also about making history.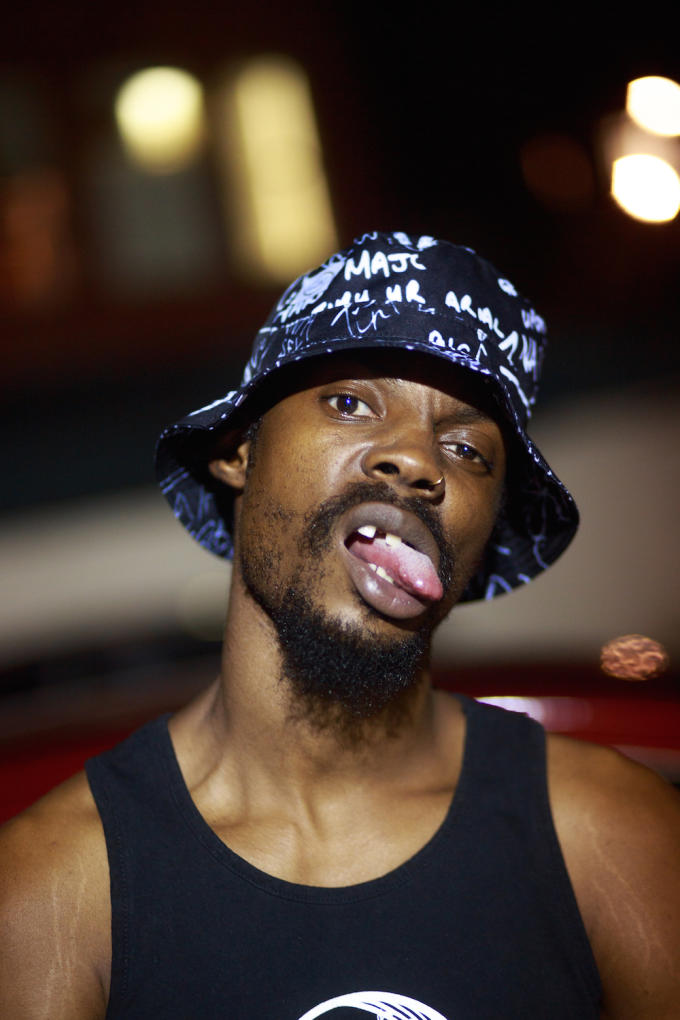 The collection will be available to buy on the 'Lord Of The Mics' website soon.