It's still hella cold in London, and last week it was still snowing in New York. So while we should be thinking about shorts, and flossing our favourite tees, coats are still on our mind and our backs. London based Christopher Raeburn is widely cited as one of the best outerwear designers working today. Unlike the other viable contenders for world's best coat specialist, Raeburn also has much watched mens and womens runway shows. Here we talk all things outerwear with one of the masters of the game from who the coat gawds are, through to Raeburn's love for functional design and hyper advanced fabrications.
What's the questions you ask yourself when you either want to purchase or design a new jacket?
The first question for me is what's the function? What do I need the jacket for? Is it spring, summer, autumn or winter? You immediately think about different fabrications, the fabric or silhouette's provenance and where a coat sits within a collection. Each function demands a different fabrication, we do everything from heavy wool jackets through to pieces using four-way stretch technical Swiss fabrics. When I think about our clients, the like Harrods, Mr Porter, and Liberty, they're always really interested in where the fabrics come from and where the garments come from as well. I always come back to the function, when and what for. In winter you're looking at warmth, water repelling qualities, breathability, and having all these functioning aspects working together. In the summer it can be about hybrid pieces, mixing mesh with technological fabrics and we'll be thinking about layering. The other really important thing is fit, when thinking about function you need to think about the fit. If we can combine those two qualities with a bit of a story and a bit of an emotional element to the piece we're designing, touch wood we will have a customer that's really going to want that piece.
Good pockets always make me want to buy a coat, I'm currently hyped on the marsupial pocket, although I don't actually ever want to ruin the lines of my coats by placing anything in the pockets... 
I don't think you're alone there pockets are definitely a menswear thing. If I come back to my inspirations and think military functionality, everything has a reason, generally speaking I try to consider what's ultimately going in those pockets and if we really each one.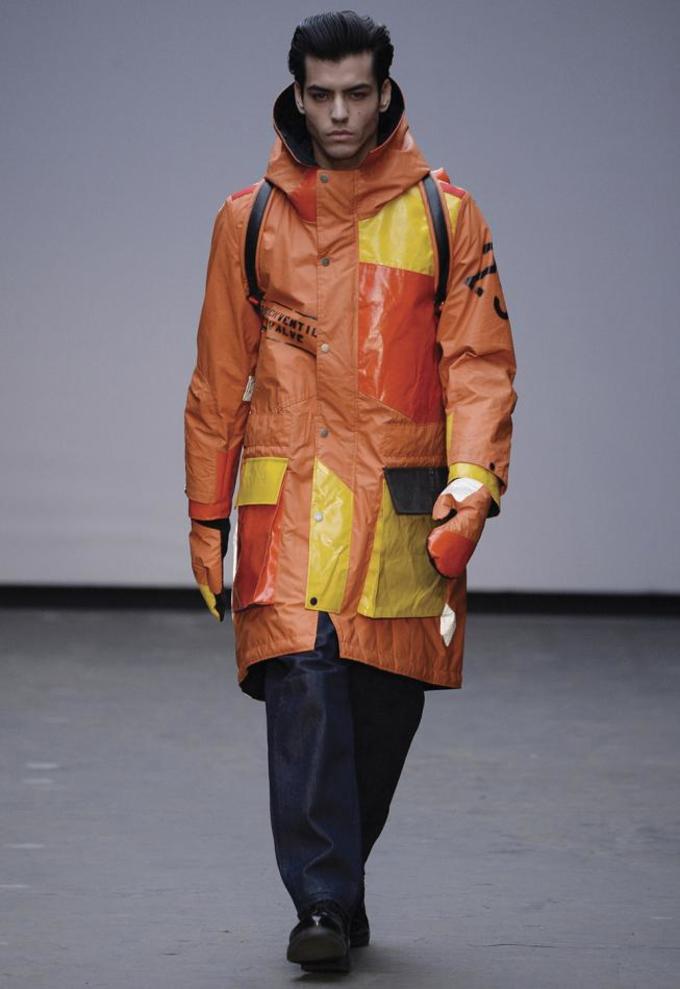 <span></span>
Everyone wears Bomber jackets all the time and it feels like every designer offers one. Is the style getting old? What will replace the bomber?
Well our bestseller is still the bomber, I think the way things are in general with the crossover between sportswear and tailoring and military functionality I'm super excited about experimenting with hybrid pieces. We're talking tech fabrics and a mix of mesh as well and drawcords on tailored jackets.
Who are the jacket or coat gawds?
When I was growing-up; Vexed Generation,  and Griffin to a certain degree. The film Quadrophenia was a really big thing, so a lot of that parka style has combined with the influenced of a childhood trip to an Inuit museum, and the seal gut parkas and other mad stuff I saw. Later the Puma 96 Hours collaboration with Neil Barrett, and currently Arc'Teryx, and White Mountaineering, Jun Takahashi's Undercover particularly his Gyakusou line for Nike, and I'd be crazy not to have Moncler in there, in terms of true innovation those I've listed are really smashing it. 
Last time I saw Oasis at Glastonbury Liam Gallagher wore a white parker. Even though it was one of those really rainy and really muddy years it just looked so good so super arrogant. When I think beyond that, there's Steve McQueen's leather flight jacket in The Great Escape, it's a classic. References for me can be quite historical  for fall/winter 2014 we did sheepskins. I'd seen this amazing photography of these guys in the first world war in the trenches wearing these massive, oversized, beautiful, sculptural coats, that if they were on the catwalk today you'd be like wow that's incredible. 
That's quite funny because I don't think of you as a retro designer.
No our designs are about recontextualising the inspiration and making it modern, many of our designs are either remade from an original or referencing something from the past, but the really important dynamic is the modernity that turns a piece into something people will hopefully want to wear.
What's the relationship between a man and his coat?
I never look forward to bad weather but it is good when you can wear a great coat again. I've got a Vivienne Westwood bomber and in fact the more I wear it the greater my attachment grows, and of course on a basic level man and coat is quite a primeval thing about protection and warmth. You've got what you need to survive the winter, but you're also projecting out a fashion message, when you roll all that together; it's your top layer, your comfort blanket and everything else.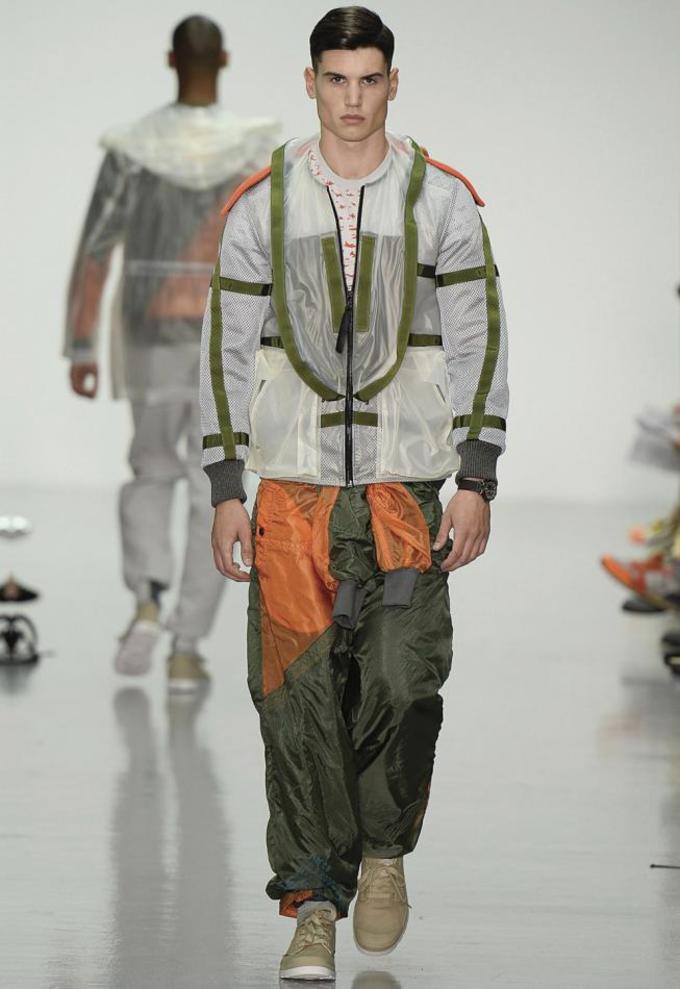 <span></span>
Which of your jackets are you most proud of?
We've just done a five year retrospective at Liberty featuring everything from beautiful parkers made from kilt fabric to fire-resistant pieces but it tends to be the remade pieces I'm most proud of because they're a labour of love you know. We've used waterproof sleeping bag material used by the British military and military-grade mesh, with remades we run to a maximum of only 50 pieces worldwide, we make them in our own studio and it tends to be those pieces that I'm most proud of.
I don't feel like main fashion houses sell outerwear in the right way, there's little emphasis on it considering how important coats and jackets are in the average man's wardrobe.
Our first collection we ever made commercially was just five pieces of outerwear all from one military parachute and it's part of the DNA of the brand today Barneys specifically came to us because they knew it was our specialism. 
Why is function so important as a designer? Why is it not just about the look?
For me it's about validation in design and knowing a design has been considered all the way through. I don't profess to be an archetypal high-fashion designer but for me it's very much about the product, understanding the commercial product, finding that niche and then introducing those ideas in other areas. Having a product that really works is at the center of what we do. I suppose it comes back to function, people can understand the need for something super lightweight or weather proofed. That they can understand what an item can bring to their life as a consumer or user is really important. Breathable fabrics are something that really works for the customer. Bags and carry is another area that features a lot of technical innovation too.
What are your top fabrics? 
I make a lot of use of a Japanese recycled fabric created through the reprocessing of plastic bottles. We also work with companies like the Action Sports Fabric group or ASF. If I'm being really honest for us it's more the technical qualities we've been able to achieve through the fabrics themselves rather than innovation in the construction of our pieces that elevates our designs. The Schoeller fabric we used for Spring/Summer 2014 is a four way stretch fabric, breathable, incredibly comfortable and has the functionality as well. There are limitations inherent in manufacturing in the UK in terms of construction, it's not like we're sitting atop a factory in the Far East and have the latest laser bonding techniques to hand. We're still small in the big scheme of things, so developing new tech and new methods can be very difficult. I've been proud of our work with Hiroshi Fujiwara's accessories brand Head Porter. It's amazing having all that Japanese technical expertise in bag making become part of our world, we ended up with a unique product, working with Moncler was another huge endorsement for the Raeburn brand.
You've had a weird relationship with the whole fashion thing. It feels like everyone else gets screamed about as soon as they leave the fashion college womb. With you it feels like you came up and then people got you. Yet your brand does have that fashion seal of approval now.
On a personal level I'm not a person to get on my soap box, we grew to 70-80 stockists worldwide almost under-the-radar. I read Patagonia's founder Yvon Chouinard's books The Responsible Company and Let My People Go Surfing, and he is honest and candid about how they started their business, what did and didn't work, their future plans, and thinking about his staff. What we've done has always been very clear, the concept is strong, press hype gets found out in fashion after a while, we tried to create a credible foundation and worked on growing step-by-step from there.