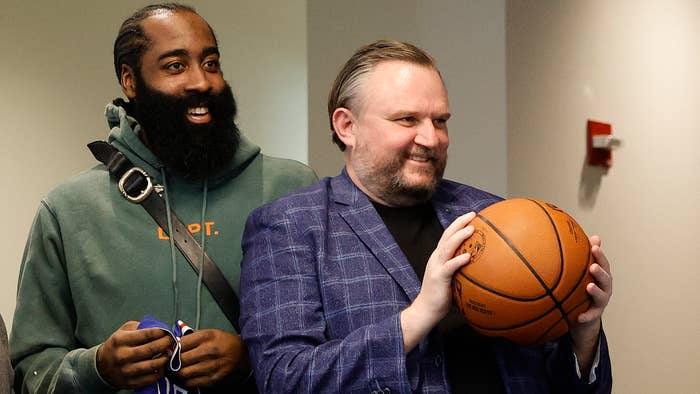 It looks like James Harden is done in Philly.
The perennial All-Star said he will "never be a part of an organization" that also includes Daryl Morey, current president of the Philadelphia 76ers.
As seen in footage shared by Shams Charania of The Athletic on Monday, Harden—speaking at an event in China—made certain that cameras caught his comments by repeating the sentiment.
"Daryl Morey is a liar and I will never be a part of an organization that he's a part of," Harden said, as seen below. "Let me say that again. Daryl Morey is a liar and I will never be a part of an organization that he's a part of."
While it's unclear what Harden is referring to, the statement is a jarring considering how far back these two go. Morey was Harden's GM during his time with the Houston Rockets, and was instrumental in bringing him to Philly. Morey even greeted Harden on the tarmac when the superstars private jet touched down in the Delaware Valley.
Harden's choice to make the comments while in China is also notable, considering Morey was a vocal critic of the country's complicated relationship with human rights.
In June, sources were cited in an ESPN report as stating that Harden, who joined the 76ers in 2022 after a Brooklyn Nets trade, had exercised a $35.6 million player option for the upcoming season. The move fueled trade speculation, including claims of both the Knicks and the Clippers having been interesred in acquiring him.
More recently, trade discussions involving Harden reportedly ended, and now Harden is not expected to show up for training camp in September.
Earlier this year, Harden reflected on his time with the Nets, notably pointing to "internal things" he didn't want to specify to reporters.
"Now, fast forward to today, I don't look like the crazy one," Harden told reporters in February, then fresh off beating the Nets 101-98 with the Sixers. "I don't look like the quitter or whatever the media wanna call me. I knew what was going on and I just decided I'm not built for this. I don't wanna deal with that. I wanna play basketball and have fun and enjoy doing it."
With his latest comments about Morey, Harden has made it quite clear where he stands when it comes to what's next for his career. What happens next is anyone's guess.