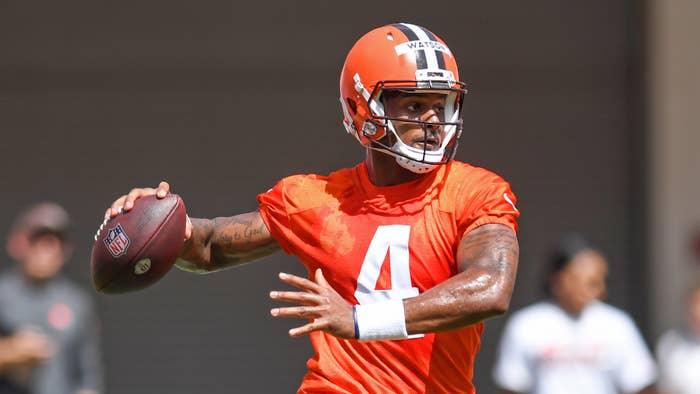 UPDATED 8/3, 4:05 pm ET:The NFL is appealing Judge Sue L. Robinson's decision to suspend Deshaun Watson for six games, ESPN reports.
"Under the 2020 NFL-NFLPA collective bargaining agreement, the factual findings of the disciplinary officer are binding and may not be appealed," the NFL said in a statement, per Yahoo Sports. "Judge Robinson found that Mr. Watson violated the NFL's personal conduct policy on multiple occasions and suspended him for six games. The CBA affords the NFL or NFLPA the right to appeal the discipline imposed by the disciplinary officer. Such an appeal must be filed within three days and would be heard by the commissioner or his designee."
Stay tuned as more details arrive. 

See original story below.
Deshaun Watson has been suspended for six games in connection with numerous sexual misconduct allegations, per multiple reports.
Monday, the Associated Press cited sources "familiar with the decision" as stating that the Cleveland Browns quarterback would be suspended for a total of six games due to having violated NFL policy. Per AP, Watson will be able to play games starting on Oct. 23.
A separate report from ESPN, meanwhile, adds that while Watson will be suspended, he will not be fined.
Accusations against Watson were detailed in civil suits filed by 25 women and are alleged to stem from massage therapy incidents between March 2020 and March 2021. At the time, Watson was playing for the Houston Texans. All told, per AP, Watson has since settled 23 such lawsuits. Watson has denied the allegations.
Over the weekend, the NFL Players Association and Watson shared a joint statement saying they would "stand by" the outcome of Monday's ruling. The statement also called on the NFL to support the ruling.
"In advance of Judge Robinson's decision, we wanted to reiterate the facts of this proceeding," the statement read, in part. "First, we have fully cooperated with every NFL inquiry and provided the NFL with the most comprehensive set of information for any personal conduct policy investigation. A former federal judge—appointed jointly by the NFLPA and NFL—held a full and fair hearing, has read thousands of pages of investigative documents, and reviewed arguments from both sides impartially."
See the full statement below.