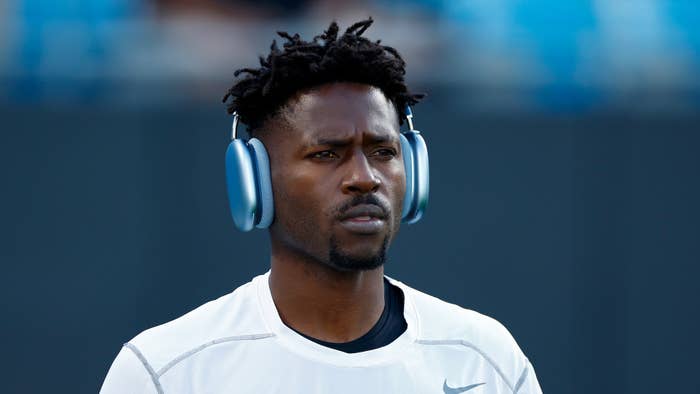 Antonio Brown's newly acquired ownership gig appears to be up in flames.
The ex-NFL star has been accused of threatening Albany Empire's coach, Damon Ware, leading to his departure. Allegations were also made against Brown regarding payment failure and misconduct among the National Arena League players. 
Ware took to his social media to announce that coaches and players haven't been paid since April 21—around the time Brown gained official ownership of the team—and that he has left the organization.
In a conversation with TMZ Sports, Ware and quarterback Sam Castronova spoke on the chaos surrounding the team. The former coach explained the turn of events as a "hostile takeover" and insinuated that the change was doomed from the start, as Brown forced owners out by depleting their money. 
The ex-coach then spoke on how the main issue was lack of payment. Ware said he would receive violent threats from the controversial Super Bowl champ when confronting him about the matter. He contended that working with Brown was a nightmarish experience driven by AB's ego.
"It became all about him, not the football team," Ware said. "We built a wonderful organization over three years—he came in and killed it."
Castronova provided details about the incident that led to Brown removing hotel keys from named players. After not being paid for the second week in a row, several star players began to confront team officials on the way home following a game in Greensboro, North Carolina.
Once they arrived at the hotel, Ware, Castronova, and other players say Brown deactivated their key cards. According to the report, the group engaged with the hotel staff to gain their belongings, leading to alleged suspicions of aggravated harassment. The event is still under investigation by local authorities. 
Later Tuesday, Brown announced in a now-deleted tweet that former Empire coach Tom Menas—who led the team to two championships—will return to the head coach position. Menas was initially fired days before the season.