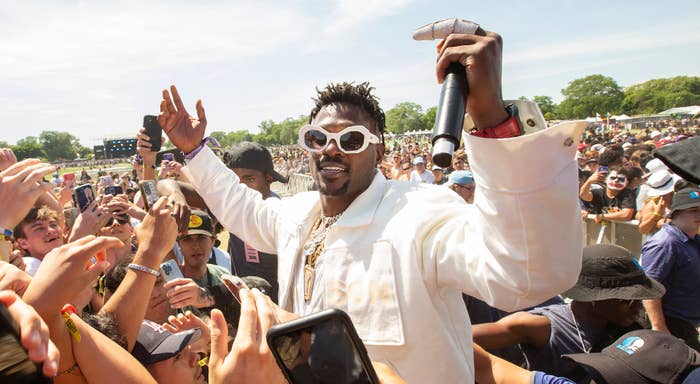 Antonio Brown has reportedly been ordered by a judge in Florida to be arrested over allegedly unpaid child support payments to a former girlfriend.
Per a report from TMZ on Friday, Brown is the subject of an April 14-dated order in the Miami-Dade County area in connection with the allegedly unpaid child support. The payments in question would be toward Wiltrice Jackson, Brown's former girlfriend with whom he shares a daughter.
Pointed out in the report is that Brown could be released from custody once arrested if he agrees to pay $30,000. This amount, the article adds, would be put toward the allegedly unpaid child support.
At the time of this writing, Brown had not publicly commented on the report. Earlier on Friday, he tweeted, in part, "Stop relying on my image to carry the media."
Mentioned in the TMZ piece is that the Broward County Sheriff's Office has received the order. Complex has reached out for comment. 
Also noted in the report is that Jackson previously alleged a "domestic dispute" involving Brown back in 2019. At the time, Brown was nearing the end of his time with the Pittsburgh Steelers. In response to the allegations in 2019, a lawyer representing Brown said the accusations against their client were "false."
More recently, Antonio Brown—who is now a co-owner of Albany Empire—appeared to get into an altercation with a security official at a National Arena League game. Brown was publicly critical of how the situation unfolded, saying he "maintained a level of professionalism" despite the ordeal.