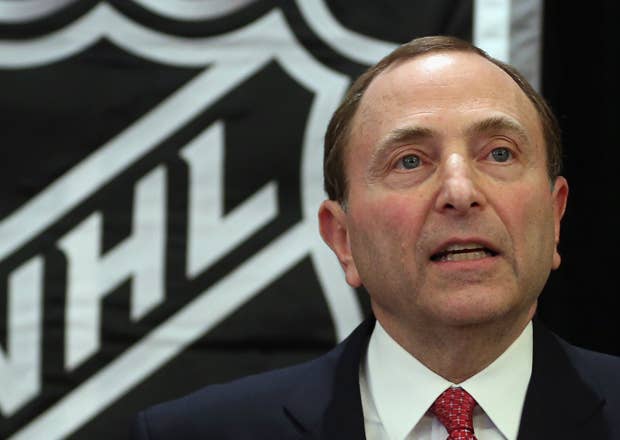 "I'm actually really not concerned about the Coyotes. If I was in Glendale, I would be concerned about my government because all this is about is an attempt to renegotiate a lease that was negotiated in good faith and validly adopted by the city council in Glendale two years ago."
Those were NHL commissioner Gary Bettman's words to Scott Oake between the second and third periods of Game 4 of the Stanley Cup Finals last night in Chicago. Not too long after, city council voted 5-2 in favour of terminating the 15-year, $225 million lease agreement signed by the City of Glendale and the owners of the Arizona Coyotes, IceArizona, shortly after the team was purchased from the NHL in 2013.
Now would probably be a good time for Bettman to start worrying. Actually, he should have been worrying all along, but that's not how he does things.
It's abundantly clear to anyone that has been paying attention over the last 20 years that Bettman's ambitious attempt to bring the NHL to several markets in the United States that he thought were under-serviced and would be profitable has failed, miserably.
Atlanta has already relocated to Winnipeg and now the team that used to play in Manitoba, the Arizona Coyotes, are once again dealing with financial woes stemming from their relationship with the City of Glendale.
This is a team that has struggled for more or less its entire time in the desert and though Bettman is always quick to say everything will be sorted out and this market can succeed, he said the same things about Atlanta three weeks before they shipped all their gear to Winnipeg, so sorry if no one believes you.
Conversely, when the Atlanta Thrashers relocated to Winnipeg to become the Jets, the franchise started making money; enough money that they didn't actually need revenue sharing in order to be successful. What a strange concept: professional hockey flourishing in markets that are bonkers about professional hockey.
What's interesting about Bettman's refusal to show concern and steadfast belief that the Coyotes can succeed in Arizona is that he should be leading the charge to get this team out of there and into a market that has a great shot at being profitable.
Every time this stuff bubbles up – and it happens every couple of years in Arizona and various other outposts outside of Canada from time-to-time – Bettman wants to double-down on those American locations that came into existence under his stewardship because… because…  because…
Yeah, no one is sure. No one understands why he wants to die on this particular hill. No one can figure out why he's so damn stubbornly tied to making sure that hockey in Arizona is a thing when everyone in Arizona has spent the last decade years telling him otherwise.
Atlanta was circling the drain for a couple years and he was fighting to keep them in place, but now that they're in Winnipeg, it's pretty damn clear that having this team in "The Peg" is way better than having them in Atlanta.
Guess what? The Coyotes would be better pretty much anyone else.
Move them to Las Vegas - you still get the desert hockey franchise of your dreams, but at least they're playing in a place where (a) you can recognize that there are people willing to invest large sums of money into the area and (b) millions of tourists flock each and every year actively looking to spend large sums of money.
Can you sell out 41 home games with the local fans and scads of people flying into "Sin City" for a weekend that think taking in a game is a better use of time than standing in line and popping bottles at Hakkasan or going to check out Cirque du Soliel? Probably not long-term, but it's not like you're drawing big crowds in Glendale either.
Investigate the potential of bringing them to Seattle. There may not be a fancy arena in place yet, but with talk of the NBA looking to bring a team back to the Pacific Northwest, a green-lighting a combo arena for the Sonics and this squad could probably get done pretty quick.
And if doing Arizona, Carolina and Florida doing less than 15,000 per home game is acceptable, how is doing similar numbers in a place where a new arena and greater interest exists doesn't measure up? Seattle's KeyArena – which is where a team would have to play before a new arena is built – holds 15,000 and change for hockey.
Like Winnipeg, Quebec City was once an NHL city and it now has a shiny new arena (The Videotron Centre) that would be the perfect home to a relocating franchise is currently under construction.
Which makes more sense: a fledgling team that has struggled to make ends meet since its arrival in the desert or a team in a hockey-mad province that has historically shown a willingness to support the game en masse at every level?
But does Bettman have Quebec City on his radar with all this Glendale turmoil bubbling up?
"We don't have a radar screen," he told Oake. "We listen to expressions of interest and if at some point there is a relocation – which I'm not anticipating at all – or we decide to expand, we'll take a look at it."
Look at it. Look closely at it. This Arizona experiment isn't working.