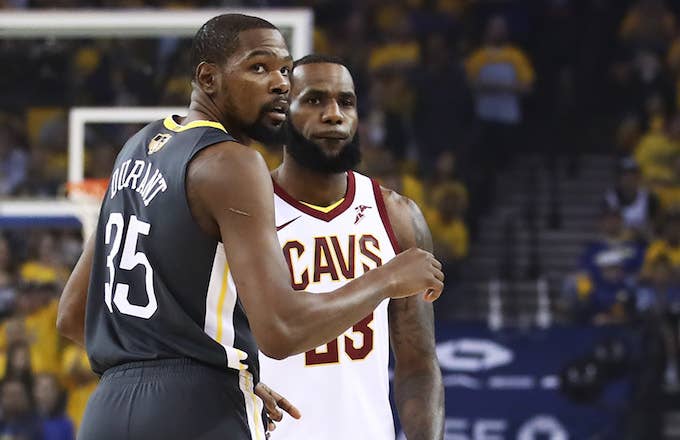 In the summer of 2011, the NBA was locked out, and LeBron James –– fresh off an embarrassing disappearance in the NBA Finals –– was working out with Kevin Durant. In between pickup runs and weight-room sessions, they decided to try and make some music together in an effort to pass time. It was at one of these recording sessions where they recorded a real rap song together. 
Since that time in NBA history, both have gone on to win MVPs and championships, and they're now considered the best two players in the world. Understandably, this has only ratcheted up the mystique surrounding the song.
After it became known such a song existed when a snippet of it leaked last summer, Complex spoke to the studio owner, Ben Schigel, who was at the session when they laid it down. But the whole track, entitled "It Ain't Easy," hadn't yet seen the light of today until now:
Some highlights from the track include Durant using a Jamaal Tinsley ––  a pass-first point guard out of Iowa State, who had some decent years with Indiana during an 11-year career in the Association, but is perhaps best known for a blown layup in the 2001 NCAA Tournament –– simile. It's time-appropriate diction from a track that was recorded at the end of the NBA aughts.
Durant has some flow and the most memorable line, which was actually in the snippet that leaked last summer –– "I feel like the world is Skip Bayless and I'm LeBron James." That line actually holds up these days after Durant became persona non grata when he signed in the Bay.
James sounds like MC Ren to me, just with lyrics sanded down to appeal to an audience James still wants to sell Big Macs to. James' contribution could best be summed up by a coworker, who said upon listening to the full track, "LeBron can definitely be more than an athlete, just not a rapper."