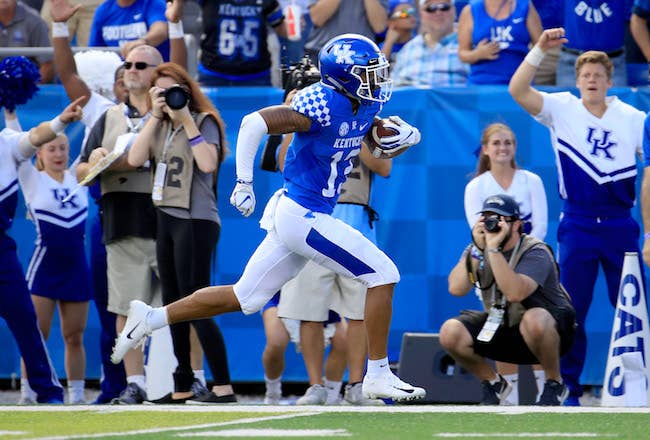 Kentucky sophomore Zy'Aire Hughes, who plays wideout for the Wildcats football team, was arrested and charged with fourth-degree misdemeanor assault on Sunday, Jon Hale of the Louisville-Courier Newsreports.
The arrest report said Hughes "intentionally caused physical injury to his girlfriend," who had bruises and scratches viewable to the officers who responded.
"We're aware of the situation," Kentucky coach Mark Stoops said in a statement. "We're in the process of gathering information. Proper behavior is an expectation of our program and we will address this as the facts are determined."
In seven games for the Wildcats this season, the 21-year-old Hughes—who was a redshirt during his freshman season—caught two passes for 63 yards and a touchdown. That lone TD came on a trick play that went for 49 yards against Murray State. In high school, Hughes was a 3-star recruit from McCracken County and considered one of the top five football players in all of Kentucky.