Here's Why Joel Embiid Performed 'Background Checks' on His Former Dates
Joel Embiid revealed in a recent GQ cover story the due diligence he'll perform to avoid providing fodder to his on-court rivals when it comes to his love life.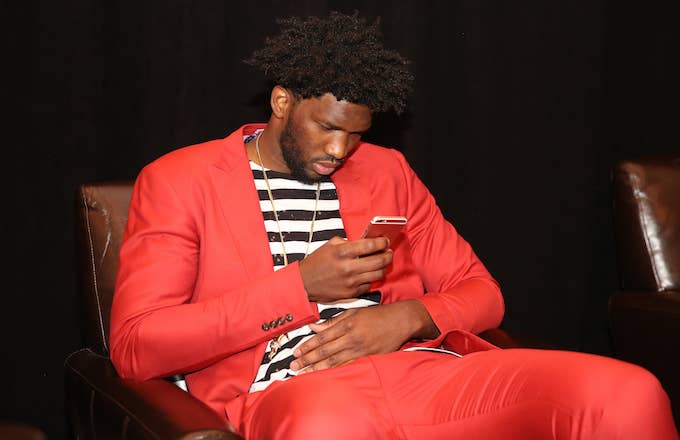 Getty
Image via Getty/Michael J. LeBrecht II/NBAE
Most NBA heads remember Joel Embiid's attempted online wooing of Rihanna. While a relationship never materialized, it cast the perpetually injured Sixers big in a youthful glow, one that helped the notoriously fickle Philly sports crowd grow to embrace the Process Truster. Once he finally did get on the court, that Philly love blossomed into outright adoration, and now—after his first all-star appearance and All-NBA selection last season—he's achieved true NBA superstardom with a team on the precipice of competing for a title. But the NBA's seminal social media champ has a reputation to protect, and that can clash with his love life, especially when considering how outspoken he is on the court.
Naturally, fame creates some landmines when you're trying to find that special someone. NBA players are on par with celebrities in how much attention they attract from possible partners, listen to TMZ's Van Lathan explain how they take over the LA club scene every summer if you don't believe us. But for Embiid, as he recently told GQ in their digital cover feature, it's more about protecting himself from the junk opposing players might talk. In a parenthetical, the author explains why Embiid's "gotta do your background check."
(Embiid admits that dating while in the NBA is not without its challenges. "You gotta do your background check," he says. "You don't want to be that guy marrying a girl that someone else in the NBA has been with.... I'm sure some guys end up getting married to women that have been around. And maybe on the court they also get told"—here he lowers his voice to a whisper—"Hey, I fucked your wife.")
There's a strong chance Embiid has whispered that line to an opponent just to mess with them. However, as alluded to in the article, Embiid's bachelor days may already be in the rearview. On Sunday, Sixers co-owner Michael Rubin posted this pic on IG, appearing to out Embiid's engagement to Brazilian SI swimsuit model Anne de Paula.
De Paula even appeared alongside Embiid and the Sixers when they went to China during the preseason:
A cursory Google search didn't reveal anything about past NBA boyfriends for de Paula, though she did previously date a supposed rock star. But Embiid already knew that.