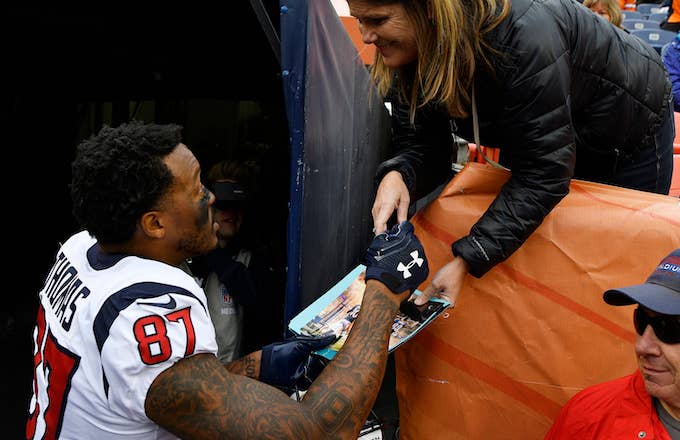 Demaryius Thomas played his first eight and a half seasons in the NFL with the Denver Broncos. That relationship was severed last week when he was dealt to the Houston Texans. He faced off against his old team on Sunday, and caught three balls for 61 yards in a 19-17 win. On Monday, he sounded off on Denver's coaching staff and GM John Elway on Orange & Blue radio (760 AM) and said coach Vance Joseph and other members of the coaching staff straight-up lied to him about the team shopping him around, despite ample reporting contradicting that assessment.
"Even leading up to the Kansas City game [Oct. 28] it was tough," said Thomas, "because that one day, I didn't say anything to anybody. I walk into the job and Vance Joseph walks up to me and says, 'Don't listen to the trade talks, it's not true.'" Thomas isn't a fool and he can read the reports like anyone, so he pushed back on the lie. "Before the season started, the trade talk was still going, and nobody said anything to me. Why come to me Monday when it's the same talk?" he asked. "When he said that to me, I said, 'How is it not true? My agent [Todd France] called me today and said Elway wanted a fifth-round pick for me.' So, we're telling stories to each other now? I thought we were going to be men about this."  
Later in the same radio appearance, Thomas alludes to other coaches lying about the trade discussions. "I played the game like I was going to be here, but I didn't know. Listening to that from him, and then another couple coaches coming up to me and saying, 'Oh yeah, it's all fake.' Then it really happens, it's like, 'Man, it is what it is.'"
Why did Denver's coaching staff lie so explicitly? Especially to a guy who has gone to four Pro Bowls and made two AP All-Pro Second Team squads during his eight seasons with the team? We're speculating here, but maybe it's because dishonesty is the default stance for the man at the head of the organization GM John Elway supports and compensates.