Browns Reportedly Fire Hue Jackson, Surprising No One
The Browns reportedly fired Hue Jackson, a day after they lost to the Steelers for the second time this season. Based on history, it was a foregone conclusion.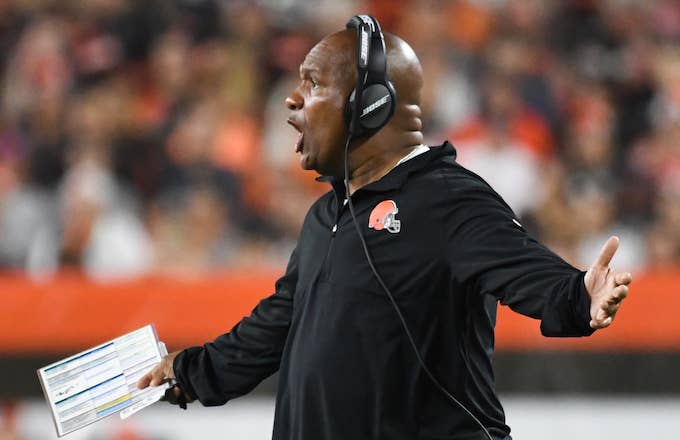 Getty
Image via Getty/Nick Cammett/Diamond Images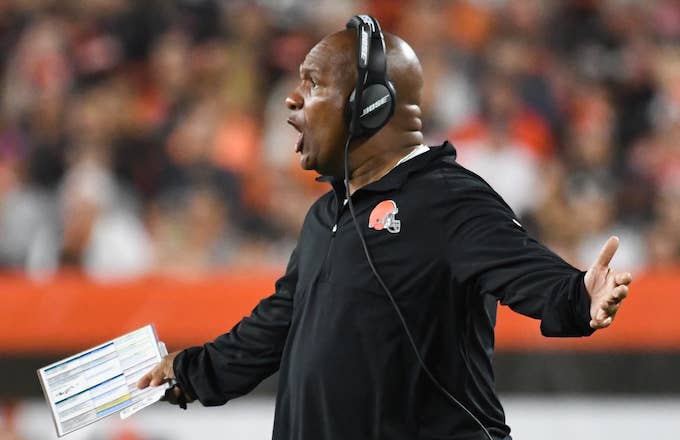 The Cleveland Browns have reportedly fired head coach Hue Jackson, a source told Adam Schefter on Monday.
It's not a surprising move, despite the fact Jackson had more than double the number of total wins this season—2-5-1—than his first two seasons combined, when the Browns went 1-15 and 0-16, respectively. On Sunday, the Steelers beat the Browns, 33-18, and Jackson's termination marks the sixth consecutive time a Browns coach has been let go after the second Steelers game of the season.
Six times. SIX! That's some seriously bad juju after every second Steelers game. Whomever the Browns hire next might want to think about a Lake Eerie talisman next season, though we doubt Bob Wylie believes in karma.
Aside from the historical precedent, Jackson's firing is not a huge surprise.
But who coaches the team next might be. 
Reports say there was friction between Jackson and offensive coordinator Todd Haley, but when you win one game over two seasons, the writing is already on the wall. Plus, Haley was also reportedly let go.
The interim coach is reportedly Gregg Williams, and the new offensive coordinator will be Freddie Kitchens.
Browns fans continue to be Browns fans, a Dawg Pound stereotype but if they also read a lot of Schopenhauer. Reactions on Twitter were tepid. We got the standard "this is fine" meme:
A joke about their next hire:
A few jokes at Jackson's expense, which weren't as prevalent as "LOL, Browns."
Jackson's reported dismissal comes less than a day after former Cavs coach Ty Lue was fired after starting his first season without LeBron 0-6. At least the Mistake on the Lake had Game 7 of the 2016 Finals.