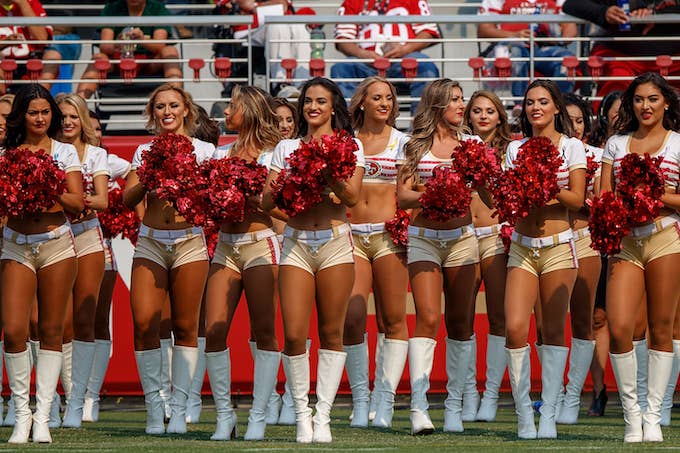 A 49ers cheerleader has joined Rihanna, Amy Schumer, Eric Reid, and of course, Colin Kaepernick in taking a knee during the national anthem to protest racial inequality in America. The as-yet-unidentified cheerleader knelt before Thursday night's matchup against the Raiders at Levy Stadium in San Francisco, the site of Kaepernick's initial protest.
Fan Lenny Herold, who snapped the below pic of the cheerleader taking a knee, told the Huffington Post, "No one else that I know of noticed or reacted." He also said she stayed with the cheerleading squad for the rest of the game, and "they appeared to support her."
According to former 49ers cheerleader Mariah Mendez, this is not the first time a cheerleader has taken a knee to support Kaepernick and bring attention to racial inequality. She told NBC News that some members of the Gold Rush cheer squad had actually begun taking a knee last season. "That's the crazy part of all this attention: These protests have been going for awhile," Mendez said. She claims those protests began during the Oct. 22, 2017, home game against Dallas as a message to Cowboys owner Jerry Jones, a vociferous detractor of anthem protests.
However, the Huffington Post reports it's the first instance of protest among cheerleaders. "Bottom line, cheerleaders are a little fish in a big pond," broadcast journalist and former Jaguars cheerleader Michele Wright toldElle in a piece about why cheerleaders haven't joined in the peaceful protest. "Although they are of great worth and value to the football experience and their respective communities, many are undervalued. So to remain neutral, they wouldn't take a knee."
The 49ers have not commented on the kneeling cheerleader or released the name of the woman who did so. Niners owner Jed York said the team abstained from voting on the policy prohibiting any form of protest during the anthem, despite the fact Jerry Jones said the vote was unanimous among all owners.