Pizza Hut Steps in to Replace Papa John's as NFL Sponsor
Out with the old, in with the new.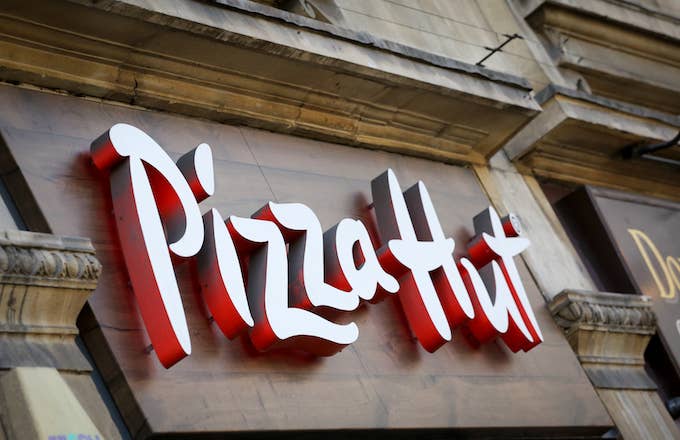 Getty
BRISTOL, ENGLAND - FEBRUARY 20: A branch of Pizza Hut is pictured on February 20, 2018 in Bristol, England. The number of takeaway restaurants has increased significantly in the last few years and this has raised concerns that this can lead to over-consumption in cheap, unhealthy high-fat nutrient-poor food and drink leading to higher body weight and greater risk of obesity. (Photo by Matt Cardy/Getty Images)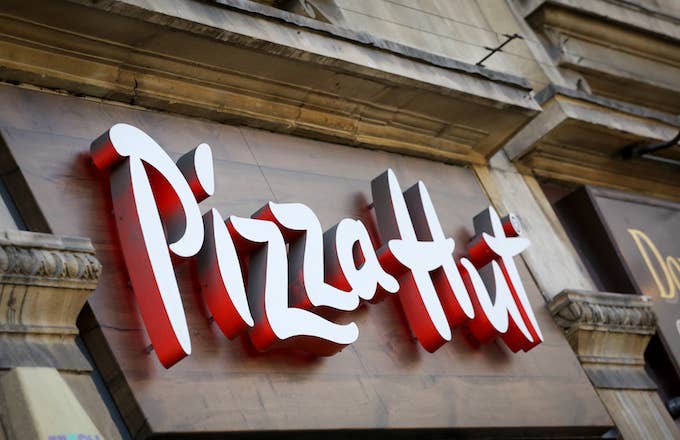 After Papa John's ended its eight-year sponsorship deal with the NFL this week, Pizza Hut has stepped right in to replace them as the official pizza of the most-watched league in the U.S., Bloomberg reports. Recently, Papa John's decided to end its relationship with the NFL in response to declining ratings as well as the league's refusal to discipline players who knelt during the national anthem as a form of silent protest. 
Pizza Hut now has the right to use any of the league's 32 team logos, and the league will work with various locations on more localized partnerships. "The capacity for what's possible is endless," said Pizza Hut's U.S. president Artie Starrs, "and that's going to make this league partnership great fun for Pizza Hut, the NFL and everyone who loves pizza and football."
Papa John's opted out of the NFL sponsorship and will instead work with only 22 specific teams and individual players. Following franchise founder and then-CEO John Schattner's harsh criticism of the NFL's "mishandling" of kneeling players and blaming his declining sales on the league, the relationship between the two entities has been rocky.  "While the NFL remains an important channel for us, we have determined that there are better ways to reach and activate this audience," said Papa John's current CEO Steve Ritchie.
Despite an undeniable decline in viewership, the league generated revenue to the tune of $14 billion in 2017.  It's also still the most-watched league in the country, which means Pizza Hut will be able to reach millions of Americans several days of the week leading up to and during the regular season. As the league's new official pizza, they're likely to see a sales boost after experiencing a bit of a slump in the past few years.