 Social media has implanted itself so deeply into the world of sports that we as fans wouldn't know what to do with ourselves if we were forced to go back to the way things were. "Hold up...I gotta sit though a 30-second ad on a website to see a highlight? Where's the Vine? And where's the player's post-game inspirational tweet or Instagram post of a quote about hustle with a lion in the picture? I'm lost and scared and wanna go home."
We don't even really remember how sports worked before social media, which is fine, since the interconnectedness between players, front offices, the media, and fans through these social networks isn't going anywhere. The NFL can knock down Twitter accounts, Major League Baseball can scrub all their highlights off Vine, and the NBA can keep stalling on making Da Real Lambo a central figure in LeBron James' online PR strategy, but to quote Jeff Goldblum from Jurassic Park—"Life, uh, finds a way."
Which is why we're excited to bring you most of our favorite social media moments from the past 12 months. Social media is so closely intertwined with how we watch, interpret, and react to sports that many of these things feel every bit as relevant to their respective games as wins and losses. And honestly, if you were some of these people you would've gladly taken a real-life loss than the internet-generated L of getting rejected in DMs or having Crying Jordan slapped over your face.
Luckily, though, you don't have to worry about either. All you have to do is sit back and enjoy The Most Important Sports Social Media Moments of 2015.
---
Person: Duke Williams
Incident: Adult star Mia Khalifa exposes Williams for sliding into her DMs
​If ChampagnePapi himself couldn't pull this off, what made the Bills safety think he ever had a chance? Come on, guy. —Adam Caparell
---
Person: Paul Pierce
Incident: While trying to join in on the social fun with his teammates, he attached clipart instead of using an emoji.
Pierce became the first athlete in the history to have his "washed" moment occur on Twitter and not on the hardwood. Can The Players' Tribune please hire him to be its social media editor? —Adam Caparell
---
Most Offensive Inoffensive Tweet
Person: Ayesha Curry, wife of Steph Curry
Incident:"Slut-shamed" the internet.
A classic "Can I Live" if we've ever seen one. Ayesha Curry opened the door to her personal life with the best basketball player on the planet and the Twitter police rushed her residence to tell her to cover up. —Adam Caparell
---
Best Use of the Crying Jordan Meme
Too many to choose just one. Easily the most dominant sports meme of 2015, Crying Jordan somehow kept going strong all year long. Doing 200 down the internet meme hill with cut brakes and no chill. And we're still not sick of it! Crying Jordan has displayed such remarkable longevity in the social media world that you have to believe it's only a matter of time before Jordan brand slaps it on a shoe and releases the Air Jordan 3 Black Cement Crying Jordan edition. —Maurice Peebles
---
Best Political Shade From a Team Account
Person: Philadelphia 76ers Social Media Team
Incident: The 76ers had a brief Twitter beef with Republican candidate John Kasich (At least we win more than 2% of the time).
There's a reason why businesses (sports teams) try to stay out of the political game—there's little to gain and lots to lose. Thankfully the Sixers didn't lose a whole lot by attempting to throw shade at one of the bland non-Trumps running for the GOP bid, but things could've gone much worse. Like, for example, if John Kasich had clapped back letting them know that's not how elections work. —Maurice Peebles
---
Most Offensive Prediction
Person: Colin Kaepernick
Incident: Used insensitive photo of a flood to make a statement about upcoming NFL season.
The only quarterback who took more Ls than RGIII this past season completely bricked his IG game, posting the above picture during the spring while Houston and the state of Texas dealt with torrential rainfall that killed scores of people. —Adam Caparell
---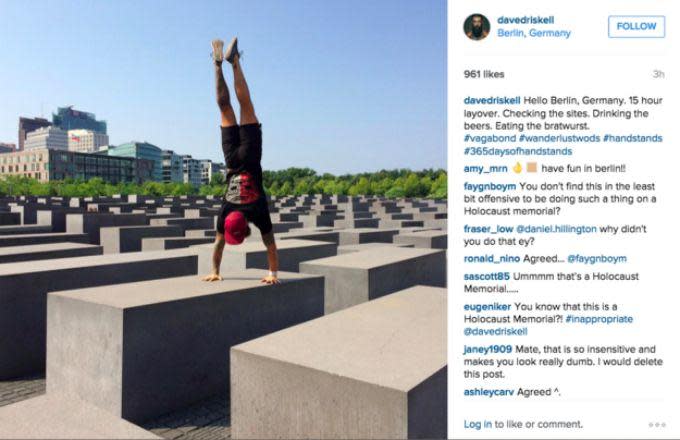 Person: Dave Driskell
Incident: Shows off some Cross-Fit yoga poses on the Holocaust Memorial.
When doin' it for the 'gram does horribly wrong. I think we can all agree that the P.C. police have more power than ever these days, but there's no way you can justify this. —Adam Caparell
---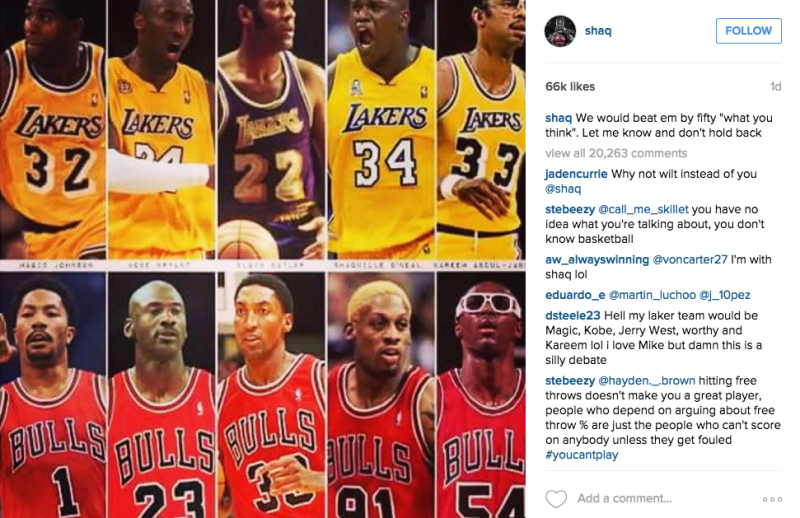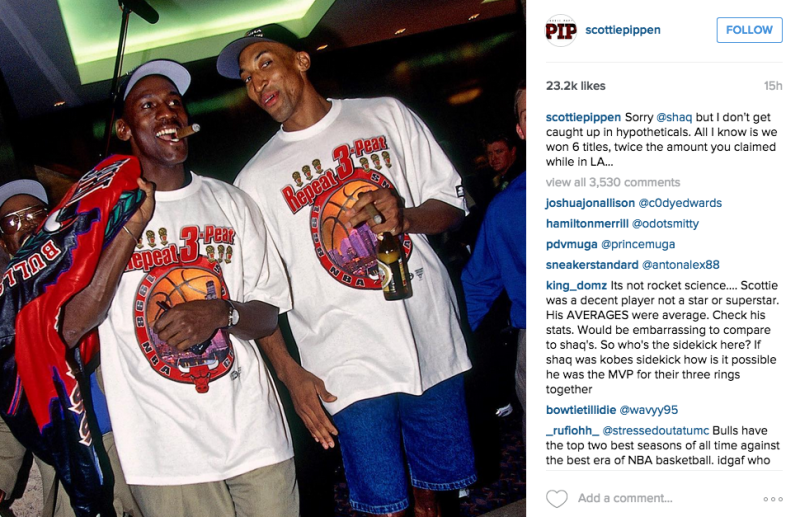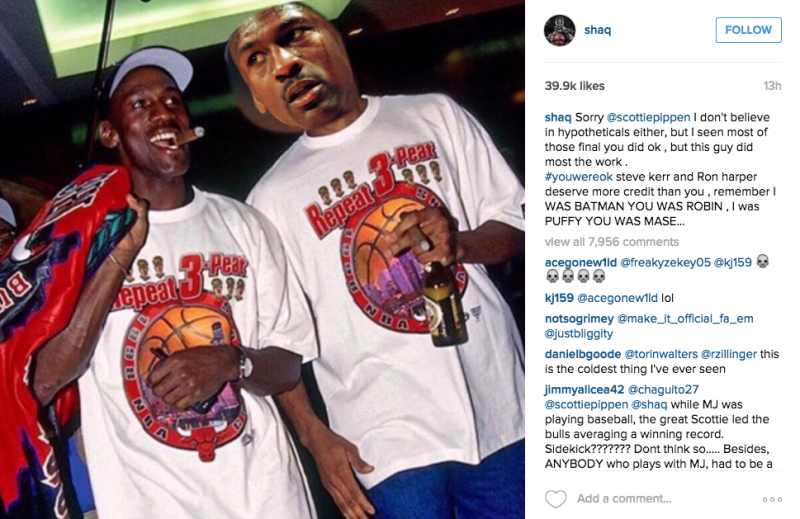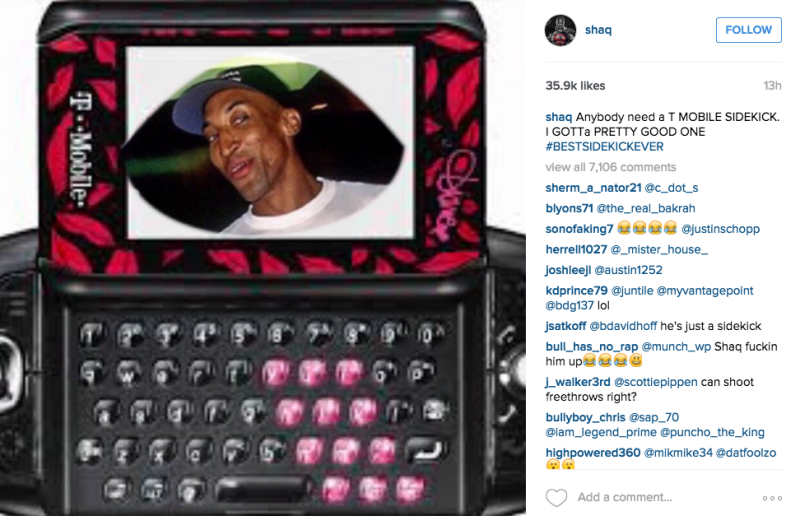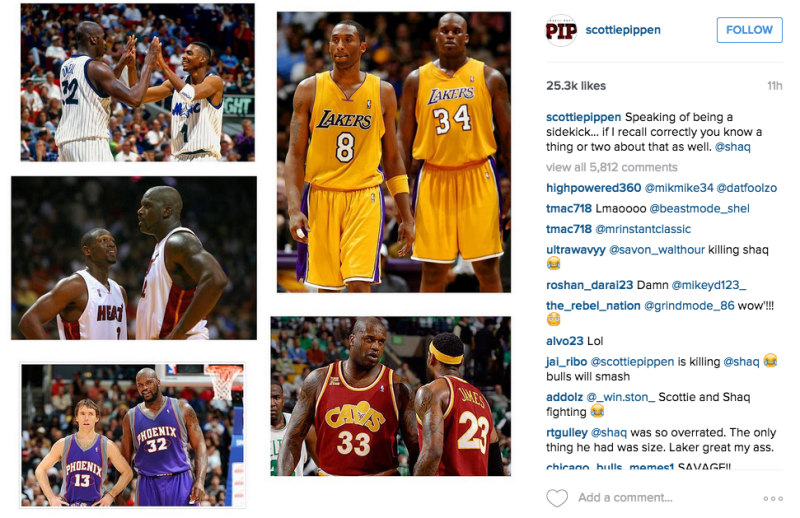 People: Shaquille O'Neal and Scottie Pippen
Incident: Shaq said all-time Lakers would beat all-time Bulls by 50. Then the pettiness began.
This feels like one of those feuds that would've easily been forgotten about had both of them not dragged it on for so long. Well, for that reason and the fact that Shaq photoshopped Scottie Pippen on a T-Mobile Sidekick. The thoughts of Shaq sitting at his laptop cropping Pippen's face or calling his social person to tell them to do it are both hilarious. —Maurice Peebles
---
Best Social Media Parenting
Person: Deion Sanders
Incident: Tells his son to stop claiming the hood on Twitter.
It's great that Deion's kid took this in stride, cause this would've been destructive to anyone with lower self-confidence. That one-word sentence "Son" from Deion, Sr. at the end? Cold. —Maurice Peebles
---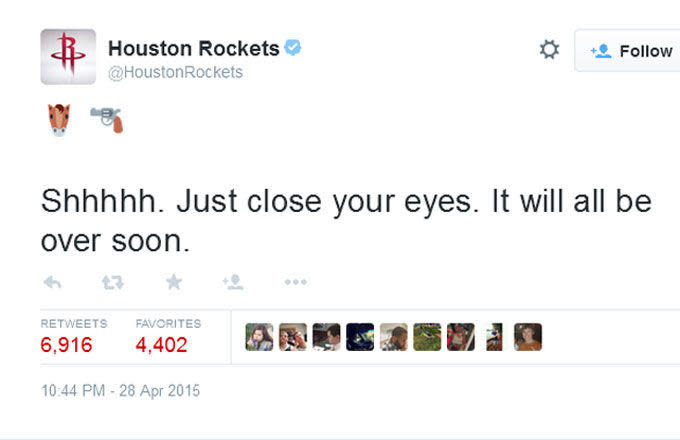 Person: Chad Shanks, (former) Houston Rockets Official Twitter person
Incident: Got fired after sending out tweet of emoji horse getting shot by emoji gun after the Rockets beat the Mavericks.
Everyone seemed caught up in the horse and gun emoji part of this tweet at the time, but looking back it has to be the actual words he used that got him fired, no? The emojis were a bad choice for a guy hired to keep things fun and light, but the "Shhhhh. Just close your eyes. It will all be over soon."? That's pretty dark, Chad. —Maurice Peebles
---
Best "Shoot Your Shot" Moment
Person: Cardale Jones
Incident: The (THE?) Ohio State University QB who led the Buckeyes to a national championship let his shots fly on Twitter the night of the ESPYs.
We're glad Jones took his shots back in the summer when he was still basking in the glory of winning a title because he barely played during the second half of this season. —Adam Caparell
---
Person: Floyd "Money" Mayweather
Incident: Floyd got a damn tiger for Christmas.
What do you get the man that has millions upon millions of dollars already invested in cars, planes, clothes, and jewelry? A pet that can murder people. Anyone who has seen Scarface knows that tigers are the ultimate pet flex. Horses, monkeys, rare dogs with their anuses bred out of them—who cares? Real alpha status is a big cat that can black out on your friends and family at any moment. —Maurice Peebles
---
Team: Washington, uh, the Washington team
Incident: Football team with Native American racial slur for a name wished us a Happy Thanksgiving.
The worst part of this sad episode? Washington did the same thing in 2014 and did not learn its lesson. "Let's have a toast for the douchebags..." —Adam Caparell
---
Most Sexist Social Moment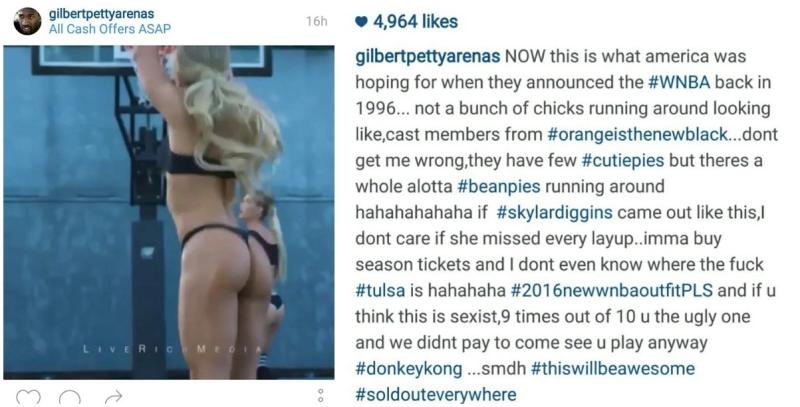 Person: Gilbert Arenas
Incident: Posted a video of women in thongs playing basketball, said it's what the WNBA should be. And worse.
Okay I'd be lying to myself if I didn't admit that the bean pies line was funny, but otherwise this post from Arenas is disgusting and disappointing. The disgust is obviously there because of the overt sexism and ignorance. The disappointment is more based on anyone in 2015 with a famous name thinking this was okay to post, even if it was only Gilbert Arenas. This isn't a drunk "What if?" cigarette break conversation outside of the bar with your buddies, this is a public forum. Grow up, Gil. —Maurice Peebles
---
Best Use of Instagram During Your Game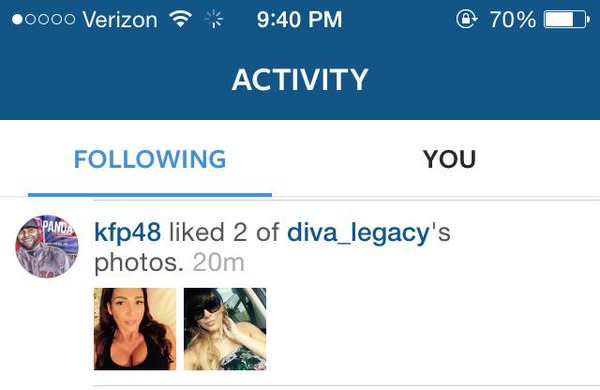 Person: Pablo Sandoval
Incident: Liking a woman's photo during a game. Was suspended one game by his team.
Sandoval gave us baseball's biggest TMI moment of the year when he admitted he was in the can when he was lurking on Instagram. At least he didn't use the lame excuse that he was hacked. —Adam Caparell
---
Worst "I Was Hacked" Excuse

Person: Robert Griffin III
Incident: Likes negative tweet about Redskins, blames intern.
Seems like "I got hacked" cover-ups were down this year, which is a very good thing to happen to a very bad excuse. But then there's Robert Griffin III. I'm not even sure RGIII knows whether or not he liked this photo, that's how lost in the sauce he probably was. He'll get his freedom from Washington soon enough, but hopefully—wherever he lands—he leaves the faux-inspirational social posts and lies about his IG likes in D.C. —Maurice Peebles
---