 It's 7 a.m. and we're standing in the building lobby of Roc Nation, a cold, clean room of white marble not unlike hundreds of other office lobbies in Midtown Manhattan. It's early. This part of the morning is usually reserved for construction workers, Starbucks employees, and supremely self-motivated shark-eyed business types, not writers and photographers. Who conducts an interview at 7 a.m.? Who could possibly hate their bed this much?
Enter Michael Yormark, the president and chief of branding and strategy for Roc Nation. Yormark—the former president and chief executive officer of the NHL's Florida Panthers and twin brother of Brooklyn Nets & Barclays Center CEO Brett Yormark—is the man tabbed with pushing Jay Z's Roc Nation enterprise toward the forefront of sports and entertainment. Whether it's lining up opportunities for Miguel Cotto and the rest of the Roc Nation Boxing roster, making sure Rihanna has all of her needs met while on tour, or closing deals with millions of dollars and countless necks on the line, Yormark is Jay's man.
In the corner of a 39th floor office filled with Basquiat paintings, floor-to-ceiling windows with multimillion dollar views, and any number of luxurious details that my brain probably failed to register, Yormark remains as focused and hungry as a start-up CEO working from a studio apartment. And why would we expect any less? This is Shawn Carter's guy.
Michael Yormark finishes a phone call and sits back in his chair, his tailored French cuffed shirt clearly letting me know I'm woefully underdressed. Any issues concerning the early start of our conversation are very quickly shown to be one-sided, as Michael Yormark has apparently been awake since 3:30 a.m.
I heard a rumor that you go to sleep at 11:30 p.m. and wake up at 3:30 a.m. every day.
I do. I get up at 3:30 every day. I work out for about an hour and 20 minutes, I walk to work and I usually get here about 5:20 or 5:25 every day.
How long have you been on that schedule?
Forever. I mean, forever. It fluctuates a little bit based on my job. I've been here for about 15 months, so you get into a certain routine. Before here, I was the CEO of the Florida Panthers for 11 years. I would leave my house at 3:30 in the morning and arrive to my team training facility, catch up on emails for about 20 minutes, hit the gym. Team trainer would come in and train me and I'd be at my office by about 6:15. So it's just my daily routine. Health, wellness, and fitness are really important to me. Getting to the office in the right frame of mind is critical for success. So, as I've told people in my career, the morning workout is the most important meeting of the day. And it's the only meeting you never cancel.
Interesting.
That's how I live my life, man.
It shows a level of drive and commitment to be able to maintain that sort of early morning workout routine.
It's not easy. Because we work late here. You know, the Roc Nation DNA is really going 100 percent every day. It's all about hard work and passion and helping to drive a business forward. So to be able to see people here early in the morning and here until 11, 12 o'clock at night [is great]. People will be here on the weekends. It's an incredible commitment to doing the things we need to do for our clients and our partners. As I said, being in the right frame of mind and, quite frankly, being physically fit to be able to provide that type of passion and energy every day, it's really critical.
You mentioned your time in the NHL. Could you talk a little bit about your career history and how you got to where you are now?
For a better part of the last 18 to 20 years, I've run professional sports teams. Most recently the Florida Panthers, the National Hockey League team in South Florida, as well as the BB&T Center, the arena we played in. I joined the Panthers in 2003 and I left the Panthers in 2014, so it was a terrific ride and I really enjoyed it. When I had completed the sale of the Panthers to the fourth owner in 11 years, I decided that I'd had enough and I needed to make a change. But I wanted something different, I wanted something that would enable me to work on a global platform. Not to mention the fact that my brother had had a long relationship with Jay and the principals of Roc Nation. Because of that relationship I was able to meet them, to get to know them. When the company decided to get involved in sports, they needed to continue to build out the infrastructure and they approached me and asked me if it was something I'd be interested in pursuing.
How big of a role did your brother play in that relationship? When I was researching your history, it stood out to me that your twin brother is currently working for the Barclays Center.
He played a significant role. There's no secret about it. You know, Jay was a partner of the Nets for many, many years. My brother and Jay worked very closely on development of the Barclays Center, obviously along with [Nets minority owner] Bruce Ratner. So, through his relationship, I was able to develop a relationship with Roc Nation as well. It has been without a doubt the best move I've ever made in my career. The principles here at Roc Nation, the culture that they've created, their commitment to truly being the best at whatever they do, their incredible passion and energy has been second to none. I've never seen anything like it in my career and it's contagious.
"Athletes feel that right away, they feel that camaraderie, they feel that support, they feel that family environment that really doesn't exist in other agencies."
Is that directive coming from the top, from Shawn Carter down to every employee?
I think it's Jay, but it's his partners, too. It's all the principals of the company. They share the same vision, they share the same mission, they all have the same DNA. We just go about doing our business. You know, if you work hard and you do great things, all the other stuff ultimately falls into place. We're not here for accolades, we're not here for recognition, we're not here to feed the media. We're here to do great things with the people we partner with.
Why boxing? I've read elsewhere that Jay is a fan of boxing and that [Roc Nation Sports President] Juan Perez is a fan of boxing, but I'm sure it goes deeper than that. It has to be financials. What financially did you guys see in boxing?
We weren't motivated by the financials. The reason we got into the space, number one, was because Jay and Juan are big boxing fans and they have a passion for the sport. When you look at boxing over the last 20 years, most of the fighters aren't recognizable. In the '70s and '80s you follow guys like Sugar Ray Leonard and Marvin Hagler and Roberto Durán and Larry Holmes and Lennox Lewis. These were huge brands, you know? You don't see that anymore and because of our ability to build brands, we thought we could help in that area. We saw that boxing had an aging demographic and we felt because of our relevancy in pop culture, that we could probably bring back a younger demographic. We also thought that we could change the live event experience. Because of our multiple platforms here at Roc Nation, we felt we could integrate music in a very unique way to change the live event experience. In our first fight at Madison Square Garden, we had Fabolous perform in between our two televised fights on Fox Sports One. He performed in the ring. We also had a celebrity DJ—DJ Mustard—and a host for the evening, Angie Martinez. You had never seen that before at a traditional fight. At our next fight up at Foxwoods we had Casey Veggies inside the ring. Those are things that, again, had never been seen before and we believe will ultimately change the live event experience. When Miguel Cotto fights on June 6 at the Barclays Center, Big Sean will be performing, which is really exciting for us. I think that we're off to a pretty good start.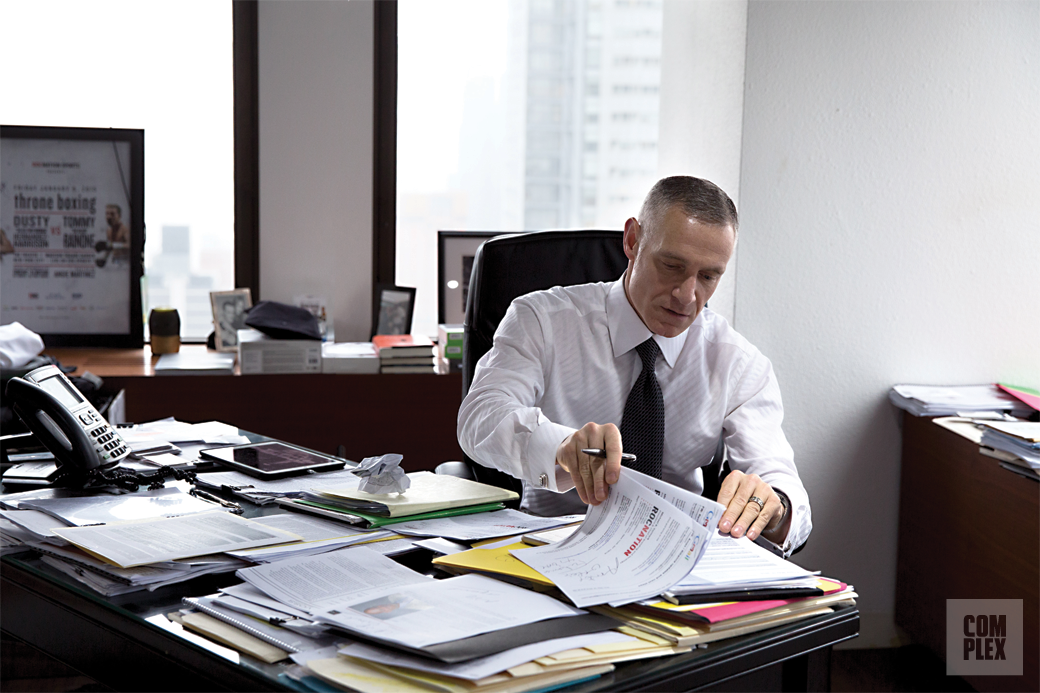 Why not UFC or MMA?
I think it goes back to Juan and Jay. Their love and passion was for boxing. This wasn't just about getting into combat sports. This was very specific. Juan and Jay are historians when it comes to boxing.
What is your pitch to new athletes? When you see, you know, a Kevin Durant or a Robinson Cano, what is the pitch? What makes you guys the place to go instead of an older agency?
The infrastructure that we have and what we've been able to accomplish as far as building brands is probably one of the first things to attract an athlete. We've been doing this for years and years and years with artists. Now we've taken our infrastructure that includes brand partnerships, social, digital, philanthropy, marketing and creative to support an athlete's goals and objectives as it relates to building their portfolio off the field. Every athlete today has ambitions about being an entrepreneur. It's not just about playing. Obviously, it's very, very important and their number one priority, but it's also preparing for the rest of their life and one of the ways you can do that, is starting to build that brand portfolio. When we went through our presentations for Willie Cauley-Stein and Justise Winslow, those are a lot of the things we talked about. We surround our athletes with 24/7 managers that quite frankly service every one of their needs, so when they wake up in the morning they focus on one thing: "How do I become the best player I can be today?"
We also do it in a family environment. The goal here has never been to be the biggest. It's been to be the best and this has been a very tight-knit family. Athletes feel that right away, they feel that camaraderie, they feel that support, they feel that family environment that really doesn't exist in other agencies.
"Fearless. The man is fearless. There's not a challenge jay z won't attack."
Is the goal to get a slice of the pie or the entire pie at some point?
We don't want a hundred athletes. We want to keep it small, we want to make sure we can service each athlete at the very best and highest level.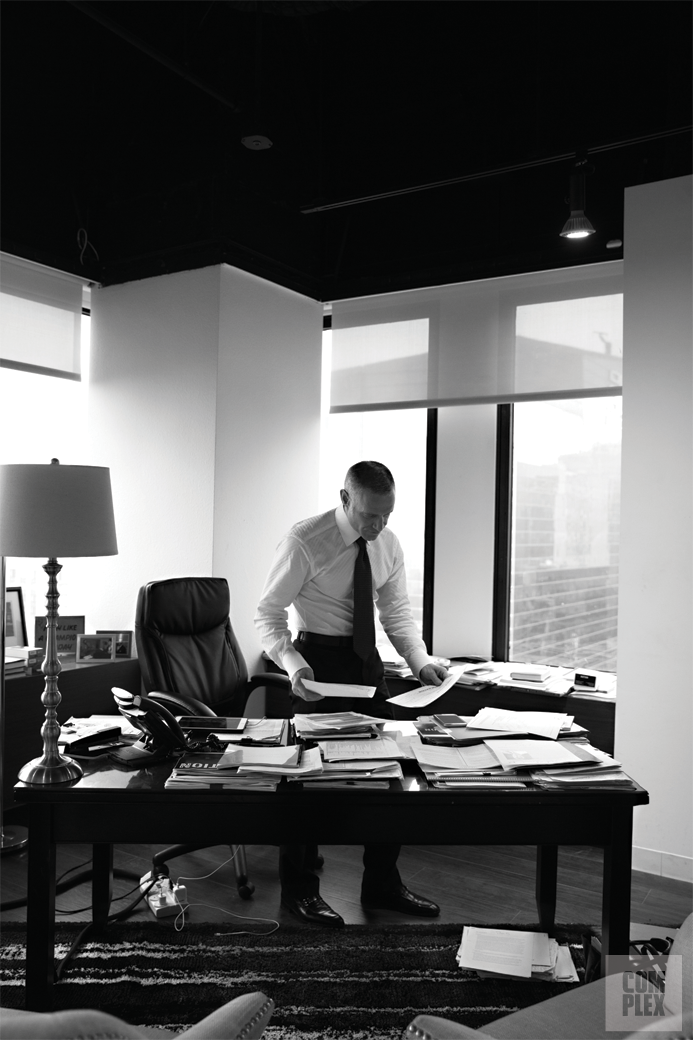 I saw somewhere that Juan and Jay are the ones who choose which athletes [Roc Nation Sports] goes after. Is there a bigger circle of people that decides?
No, they ultimately determine. They've obviously put together the criteria for the type of athlete that we want to pursue, the type that would be a great fit for Roc Nation. As you indicated, they sign off on every athlete that comes into the Roc Nation family. It's a selective process.
Has there ever been an athlete that has come to you guys that you have not been able to take on, that you've had to turn down because of a lack of on-field success?
We get a lot of calls, a ton of calls, from athletes that want to be a part of the family. You have to vet through all the opportunities and determine what are the opportunities that are best for the company and you have to stay true to that so you have consistency. There's been a lot of athletes. We could be at a hundred athletes if we wanted to.
If you had to describe Jay Z in one word from a business sense, how would you describe him?
Fearless. The man is fearless. There's not a challenge he won't attack. He and his partners, all of them, approach the business in a very fearless manner and I believe that that has been one of the keys to our success.
Jay's most recent venture, Tidal, has gotten off to a rocky start. Has that impacted your business at all?
No, I mean listen. First of all, Tidal is going to be extraordinarily successful. When you're building a brand you always have challenges. The progress that Tidal has made in a very short period of time has been absolutely incredible. The best has yet to come. Remember, in life everything is like a nine-inning ball game, to use a sports phrase. And we're still in the first inning with Tidal. The Tidal X: Jaÿ-Z B-sides concert was an amazing, amazing story for Tidal. The two concerts that Jay did for subscribers as part of our Tidal X were absolutely incredible. I was there on a Sunday night and I've never seen anything like it. That's just one small example of what Tidal will offer, that no one else can. The best has yet to come.