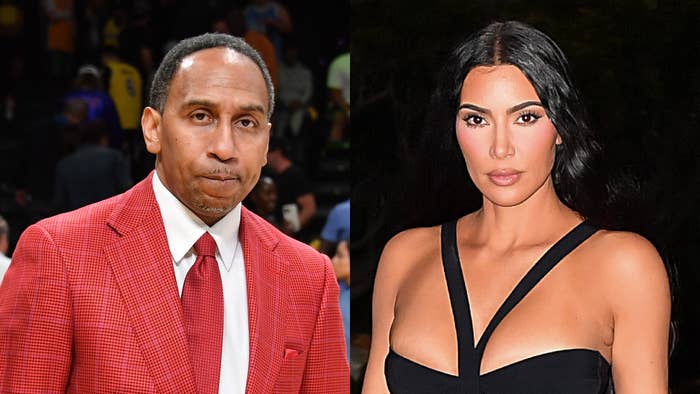 Stephen A. Smith has issued an apology to Kim Kardashian after he compared her to a prostitute on social media.
Earlier this week, the First Take host shared a tweet on Twitter that didn't sit right with fans given the nature of what he said. In his tweet, Smith wrote, "Is Kim Kardashian a 'prostitute'? Is Kris Jenner a 'pimp'?" referring to Kardashian's long dating history and fan theories that her mother, Kris, plays a part in orchestrating her daughter's relationships.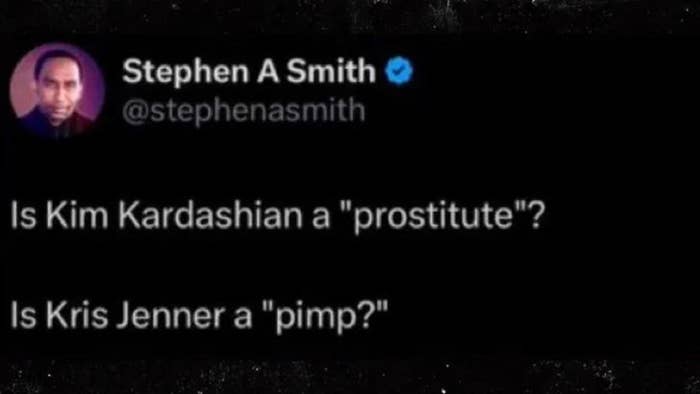 The since-deleted tweet seemed to be promo for the latest episode of his podcast show, where he spoke about Ray J's old claims that Kardashian and her mother were in on the infamous sex tape that was released in the mid-2000s. The idea for the tweet didn't turn out to be a good idea.
People were upset with Smith's controversial take. One of those people was NBA player Patrick Beverly who told the legendary sports journalist, "Not cool. She has kids. Should not be the tittle [sic] or topic."
Stephen A. Smith caught wind of Beverly's tweet and attempted to do a bit of damage control before the situation got out of hand. According to Smith, his tweet was a result of a "clerical error," and he doesn't think Kim K is a prostitute.
"Clerical error bro," Smith tweeted. "You are absolutely right. That is being corrected right now as we speak. And for the record, I don't think of @KimKardashian that way nor would I ever speak of her or any woman that way, which I've stated. That's for checking that issue."
Stephen A. Smith has been making good use of his podcast as he's said some things that have fans scratching their heads. Most recently, the New York native commented on the woman who threw her size 36G bra at Drake during a recent performance, subsequently being contacted by Playboy shortly after.
"Playboy gave her a new contract," Smith said. "Because she exposed her titties on a weekday afternoon. Now ladies and gentlemen, can we stop faulting men for this? He was minding his business on stage, fully clothed, spitting his lyrics."
He continued, "He didn't ask for that. But these women were taking off bras and panties – evidently, their breasts weren't the only things they were exposing in public. But men are at fault for noticing? I'd like you to consider that please."