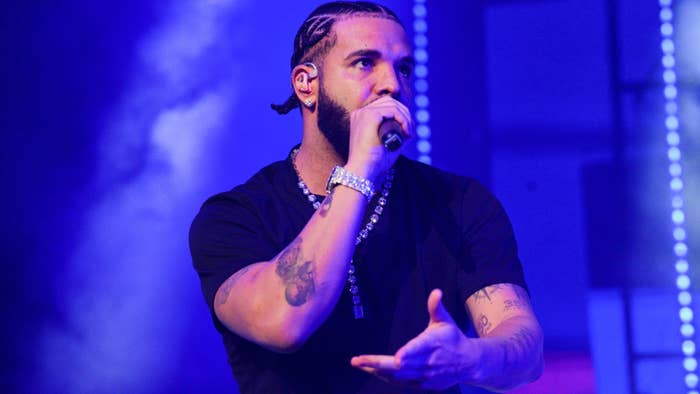 The woman who caught Drake's attention during a recent show after throwing him her 36G bra has reportedly gotten an offer from Playboy.
The incident transpired during one of Drake's It's All A Blur Tour stops at Brooklyn's Barclays Center, with a viral video showing Drizzy scooping up the bra and expressing genuine shock at the cup size.
"Damn, 36G?" he said upon seeing the size. "Locate this woman immediately!"
On Sunday, said woman was finally located, and her name is Veronica Correia.
"It's me!" Veronica said in a follow-up video while also showing a clip of her throwing it. "I threw it and he picked that shit up and said, "36G, find this girl immediately!'"
In an interview with TMZ, Veronica said it's been a total whirlwind since the viral incident, and added that Playboy sent her a follow-up DM asking her to do some work with them in some capacity. She added she plans to inquire further to see what they had in mind.
"I went to Drake's concert with no intention of really throwing my bra," Veronica told the outlet. "I had mentioned it but I was like, 'No, this is the one I'm gonna wear for the night. I'm gonna keep it on. Then I was having a little fun and he came past me and walked to the DJ booth where he was really singing right in front of me, and I was like, 'You know what? Yeah I'm gonna do it.'"
She continued, "I just knew he was gonna pick it up because I threw it right at his feet. There was no way he could have walked by it...that is my true bra size and I threw it at his feet and I lost my mind when he actually picked it up and reacted the way he did."
She went on to say that her cup size has caused her to have some "back" and "upper shoulder" pain, but that they're "all natural."
"[Drake] reacted to one of my stories about somebody describing the bra," Veronica continued. "And what Drake was looking for...So he laughed at it, and I liked it and I don't know if I was too shocked to respond but there's a lot of things going through my head...I do not have an OnlyFans currently, I don't really have an intention too...but Playboy had actually reached out to me on my Instagram DM's and said, 'You know if you wanna apply we'll accept you right away.' So yeah, I did. I applied and they did accept me, and they wanna speak with me very soon."
In March, it was announced Playboy has relaunched its magazine as a digital platform that allows individual creators to charge a monthly for access to exclusive content, similar to OnlyFans' subscription platform.
Drake's ongoing It's All A Blur Tour with 21 Savage has been full of many eventful moments, including when an obsessed fan nearly tackled the 6 God while he was entering his New York hotel.
An enthusiastic Drake supporter jumped the barricade placed outside his hotel, and could be seen on video screaming, "Aubrey! Aubrey!"
"Yo, shorty, chill! It's not that serious!" another fan commented. Security was able to tackle the fan to the ground before she got too close to Drake, who just walked by without a glance.
Drizzy also reunited with his old flame Bernice Burgos for a quick photo while in New York. Their reunion inspired Drake to take a trip down memory lane on his Instagram Story, as he shared a throwback photo of them sunbathing together during their alleged romance back in 2015.