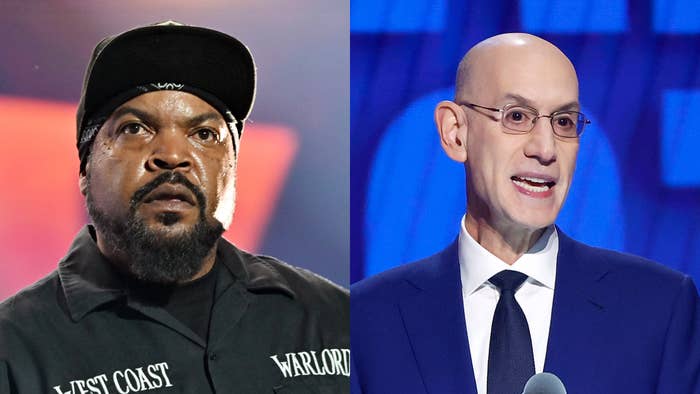 Ice Cube has once again criticized NBA Commissioner Adam Silver and the NBA for failing to live up to embracing change and acknowledging his Big3 platform.
On the latest episode of Tucker Carlson's Twitter show, the West Coast rap legend called out the NBA and Silver for coming up with several initiatives intended to bring change and social justice, while claiming haven't done much at all with what they've been pushing forth over the last few years. According to Cube, the NBA's initiatives are "pretty full of shit."
"The NBA is full of great slogans, and they write Black Lives Matter on the court, and they do all those things but pretty full of shit when the rubber meets the road," Cube said. "It's as easy as saying, 'We're gonna donate $100 million to it.' You know, it's like an easy thing to do. All they gotta do is call up the graphics guy and approve the comp."
He continued, "It's easy for them to put that on the court. It takes a little more effort to really care to work with a league like the Big3. You gotta really want to make a difference."
When Carlson asked Cube if he thinks Silver embodies the spirit of basketball, the rapper laughed off the statement while saying the NBA commissioner played for the "New York Lawyers" and that "he rode the bench" as a "water boy."
The 54-year-old's comments arrived after he previously called out Silver and the NBA in June for allegedly trying to shut down his Big3 league. The rapper discussed the claims in a video on Twitter in which he addressed the "gatekeepers" for trying to boycott the Big3.
"What club am I talking about? I'm talking about the club of gatekeepers that we all got to deal with," Cube said. "You know who they are, and they definitely know who they are."
As part of his self-described "Fuck the Gatekeepers Podcast Tour," Cube also went on The Joe Rogan Experience and accused Silver and his league of interfering with the Big3's business, from potential sponsorships to expansion.
"I'm not trying to compete in any way shape or form with the NBA. We are very complementary," Cube told Rogan. "So, I don't understand why they would do some of the things that's being done behind the scenes. Encouraging people to not sponsor us, encouraging networks not to play us."
He continued, "We've been able to survive but at a certain point it's just redundant and ridiculous," he shared on the podcast. "We got to fight back in some way, shape or form."