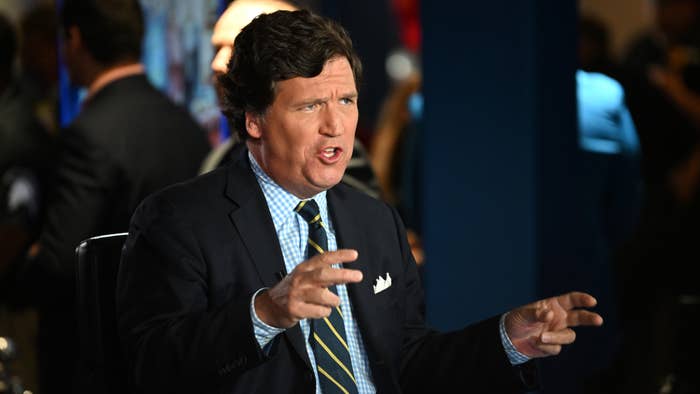 Tucker Carlson and Fox News have consciously uncoupled.
Monday, the network confirmed that it and Carlson have "agreed to part ways." In fact, his last show has already aired, with the statement confirming Carlson's final show was broadcast on Friday.
"We thank him for his service to the network as a host and prior to that as a contributor," a rep for the network said in a press release on Monday. "Mr. Carlson's last program was Friday April 21st. Fox News Tonight will air live at 8 PM/ET starting this evening as an interim show helmed by rotating FOX News personalities until a new host is named."
Complex has reached out to a Fox News rep for additional comment. At the time of this writing, Carlson had not publicly commented on the split.
Notably, news of Carlson's exit follows word that a $787.5 million settlement was reached in a legal battle with Dominion Voting Systems over the network's coverage of the 2020 presidential election, which saw Donald Trump losing to Joe Biden.
"We acknowledge the Court's rulings finding certain claims about Dominion to be false," a Fox News rep said last week when announcing the settlement. As noted in a recent Associated Press report, however, the actual final cost to Fox is not expected to hit the $787.5 million mark.
Carlson's legacy at the network can perhaps best be summed up in a 2021 piece from John Oliver in which the frequent conspiracy theory promoter's history as a "prominent vessel" for white supremacist ideologies was detailed. Revisit the segment in full here and/or below.