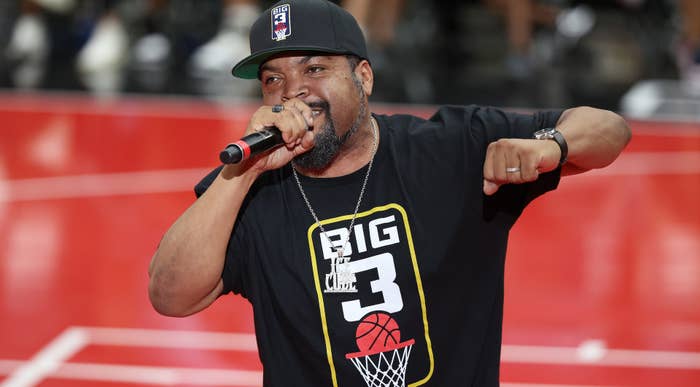 Ice Cube is accusing the NBA of attempting to squash his Big3 basketball league.
The rapper discussed the claims in a video on Twitter in which he addressed the "gatekeepers" for trying to boycott the Big3.
"What club am I talking about? I'm talking about the club of gatekeepers that we all got to deal with," Ice Cube said. "You know who they are, and they definitely know who they are."
At the end of his four-minute clip—which has been viewed over 13.4 million times—Cube candidly said, "Appreciate y'all, always support the Big3, hopefully I'm doing stuff that you guys dig. You know, I'm not doing this for me, I'm doing this for people that's bored as fuck in the summer with summer sports and want something cool like the Big3."
As part of his self-described "Fuck the Gatekeepers Podcast Tour," Cube went on The Joe Rogan Experience and accused NBA commissioner Adam Silver and his league of interfering with the Big3's business, from potential sponsorships to expansion.
"I'm not trying to compete in any way shape or form with the NBA. We are very complementary," Cube told Rogan. "So, I don't understand why they would do some of the things that's being done behind the scenes. Encouraging people to not sponsor us, encouraging networks not to play us."
Having said that, Cube maintained that he plans to fight back against the behemoth that is the NBA.
"We've been able to survive but at a certain point it's just redundant and ridiculous," he shared on the podcast. "We got to fight back in some way, shape or form."