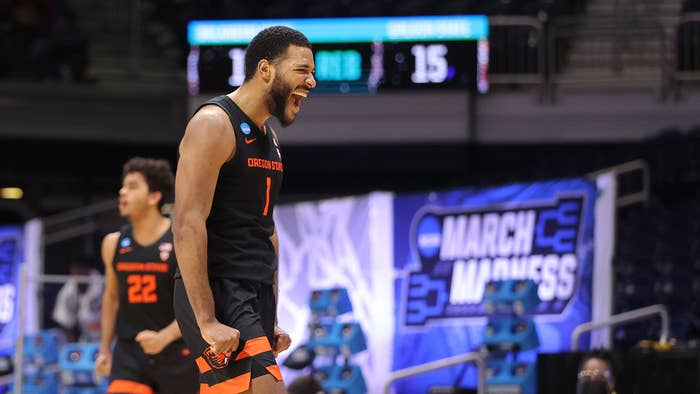 Maurice Calloo opens his phone, awaiting a text message from a familiar friend. 
It's Monday and the Oregon State Beavers are about to take on the Oklahoma State Cowboys, with a spot in the Sweet 16 on the line. The Beavers came off a 70-56 upset victory over the Tennessee Volunteers in the opening round. 
Ro Russell is the person who texted Calloo, as he does on all his gamedays. The founder of the Grassroots Elite AAU team in Canada, Russell coached Calloo during his high school days north of the border. Now separated, Russell and Calloo remain connected through technology, as the former coach sends words of encouragement to the young forward. 
"Coach Ro's been nothing but a blessing for me," Calloo said. "I still talk to him to this day, he always gives me good advice, positive criticism, and things to work on,"
"He's very coachable," Russell said. "He listens as he knows I'm trying to help him." 
Calloo comes off the bench for the Beavers. He provides the spark with his energy and athleticism. The stage wasn't too big for Calloo Monday night, taking on an Oklahoma State squad with Cade Cunningham, the projected number one pick in the 2021 NBA Draft.
The Beavers knocked out the Cowboys 80-70. Calloo put up 15 points and five rebounds, playing 27 minutes.
"I've been dreaming about this moment as a kid and praying for times like this to come. For the opportunity to actually be here, it's something I couldn't let pass by without me giving it my all."
The text exchange with Russell worked with Calloo. It's more than just the normal player and coach relationship. Russell provided Calloo, a kid from Windsor, Ontario, a chance to develop into a better player and human being.
Calloo seized on it and now is in the Sweet 16, one of nine Canadians left in the NCAA Tournament. The junior thrives on the opportunity to be a part of the next wave of young Canadians making headlines in basketball.
"Canadian hoopers are here," Calloo said. "We're trying to put more Canadian basketball players in the NBA, in universities, in prep school. This new wave is going to continue over the next few years. It's fun to watch."  
Windsor is a border town, with a tranquil riverside and lots of farmers' fields. Embedded within the sprawling countryside is a vibrant basketball community, a recent hotbed for young talent. Look no further than Mychal Mulder, playing for the Golden State Warriors. 
Calloo, along with his brothers Malik and Marcus, all possessed the passion for hoops. His family used to gather around the TV and watch the NCAA Tournament every March. Memories such as Kemba Walker's title run with the UConn Huskies still stand out in Calloo's mind.
He wanted to experience that reality. 
Inspired by his brothers, Calloo attended Catholic Central high school in Windsor. In his freshman year, he led Catholic Central to a WECSSAA championship. Despite the success, Calloo wanted more. He desired to move to the United States to pursue the prep school route, to get more attention from D-1 programs.
Enter Ro Russell and Grassroots Elite. The only Canadian AAU team, Russell worked with several top players from Canada, including Cory Joseph and Andrew Wiggins. 
Immediately, Calloo stood out to Russell. 
"He was a great shooter," Russell said. "He had a good command of the game because of his fundamentals and skill level. We worked with him to improve his ball-handling, his three-point, and mid-range shooting."
Russell recalls a tournament where Calloo played in Pittsburgh. He had five threes in the game, taking on a team that primarily played zone defense. Whether it was from the corner or the 45, Calloo converted the deep shots. After this game, Russell believed in Calloo's effectiveness as a player, particularly against zone and teams with traditional big men. 
With Russell's help, Calloo attended both Huntington Prep and Oak Hill Academies in America. A third-star recruit by Rivals.com and 247Sports, Calloo committed to Oklahoma State, the same program he beat to advance to the Sweet 16.
The move didn't pan out, forcing Calloo to the transfer portal. Because of the NCAA's eligibility rules, Calloo had to sit out a year. This incentivized him to enroll at Indian Hills Community College, playing JUCO basketball. The JUCO route is often for kids overlooked by D-1 programs to get a chance to play competitive basketball. For Calloo, this lit a fire under him to get back to a D-1 school. While at Indian Hills, Calloo showcased his prolific offense, posting 9.1 points and 3.9 rebounds per game, shooting 45.6 percent from the floor and 35.1 percent beyond the arc. Before the COVID-19 pandemic shut the season down, Calloo's Indian Hills team went 30-3, poised to make a deep run in the NCAA Tournament. 
Throughout this time at JUCO, Russell continued to text Calloo. "Stay ready," Calloo's former coach often said. The forward's play at Indian Hills caught the attention of Oregon State, who offered the Canadian a ticket back into the NCAA. 
For Calloo, he found the perfect fit with the Beavers.
"The coaches knew who I was as a person and a basketball player," Calloo said. "They really liked everything that I brought to the table for them. I felt like it was the right move for me to make and the system here fits my position as well." 
Calloo looks at the Oregon State program and sees a lot of himself. Talented, overlooked, and looking for something to prove. Wayne Tinkle, the head coach of the Oregon State Beavers, channels this underdog mentality with his guys. As four Pac-12 schools will compete in the Sweet 16 starting Saturday, Tinkle never hesitates in boasting the competitive nature of his conference. 
"We got some talented teams in our league and are putting everyone on notice," Tinkle said after the win against Oklahoma State. "I'm extremely happy for the Pac-12 conference. Maybe now we'll get some damn respect." 
Tinkle preaches the importance of making the most out of an opportunity when called upon. Being on the bench can be a challenge, particularly for someone like Calloo who craves the touches and playing action. But whenever he steps on the court, Calloo thrives in the spotlight, evidenced by his two performances thus far in the NCAA Tournament. 
"He's been an inspirational guy from day one, always very vocal and positive," Tinkle said. "There's been times he hasn't played a ton but he's worked very hard on the defensive end. That's where we needed him to make the most improvements and he's done a great job there. His teammates have so much confidence in him to come in and stretch the defense, hit shots from three. He's had a tremendous impact on our run because of his positive mindset all the way through. It's no surprise to us that he's having success at this point."  
"I've been dreaming about this moment as a kid and praying for times like this to come," Calloo said. "For the opportunity to actually be here, it's something I couldn't let pass by without me giving it my all. That's something that pushes me to go out there and try my best all the time." 
On Saturday, the Beavers will take on another upset team in the Loyola Chicago Ramblers, who defeated the number one seed Illinois Fighting Illini in the second round. 
The stage won't bother Calloo, as he continues to provide the energy off the bench. 
Like always, Russell will reach out to Calloo with motivational words. 
When called upon, Calloo will ball out, just like in his dreams as a little boy watching March Madness with awe.