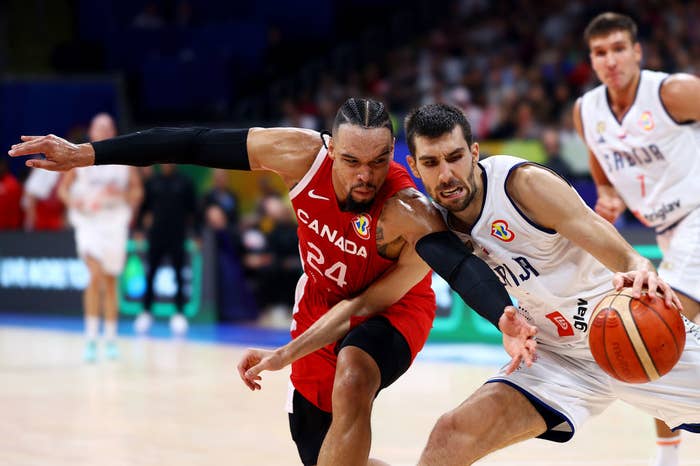 Dillon Brooks effectively silenced his naysayers after consistently dominating during Team Canada's Bronze medal run during the 2023 FIBA World Cup and Houston Rockets GM Rafael Stone wasted no time praising the recently signed 27-year-old wing.
"I'm really happy for Dillon," Stone said according to the Houston Chronicle. "Largely, he's the player that we thought we were signing. So, it's not at all surprising. But it's great. And more so than any player I can really remember in recent memory, there's a narrative about him that's odd and wrong. And I think kind of the whole world over the last week has kind of owned that he's a really good basketball player."
The narrative that Stone alluded to is that the team overpaid for an unreliable, inconsistent player. During the 2023 NBA Playoffs, Brooks, who then played for the Memphis Grizzlies, had refused to speak to the media following a loss to the Los Angeles Lakers.
When Brooks was set to hit free agency, Shams Charania of The Athletic reported that Brooks would not return to the Grizzlies "under any circumstances." Brooks' agent then blasted Charania and claimed he was the "leader of spreading false news and attacking players."
Considering the widely spread controversy, the Rockets were instantly clowned when they signed Brooks to a four-year $86 million deal.
Brooks silenced his haters during the FIBA World Cup when his high-level defence and consistent offence led them to the Bronze medal where he put up 39 points and went 7-8 from beyond the arc.
"The thing that he does at a truly-elite level, in a funny way is the one thing every fan and every coach says is the most important thing," Stone said. "Every single day, every single possession, he competes. And he's always ready. So it's kind of funny, that guy, who embodies that ethos, has taken as many shots in the past few months as he has. ... What goes around comes around. People are going to realize he's a very good player."
Following the conclusion of the FIBA World Cup, Brooks was named Best Defensive Player of the tournament.
"I'm the best perimeter defender in this tournament in the world, in the NBA," Brooks said.
With a new season on the horizon and several new additions to the Rockets including fourth-overall pick Amen Thompson and ex-Toronto Raptor Fred VanVleet, Brooks is aiming to restore his reputation at an NBA level as well. Stone continues to be thrilled at the idea of incorpor
"We want to be a team that no one wants to play," Stone concluded. "We want to be a tough team. We want to be a really good defensive team. To me, because we want to win a championship, that's how teams win championships. That is very much our goal. He's very much hitting the prime of his career. We're excited to have him."