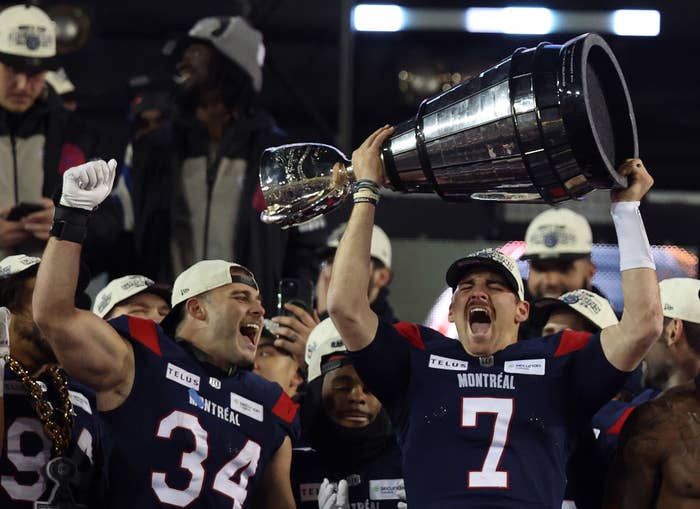 The Montreal Alouettes stunned the Winnipeg Blue Bombers at the 110th Grey Cup in Hamilton, Ontario yesterday, but a quote from one of the former's players caused a stir online
After the Alouettes won, defensive back Marc-Antoine Dequoy spoke to the Quebecois sports channel RDS to speak about the team's victory.
In his speech, Dequoy said the team wasn't expected to win, but he took a left turn when he spoke about the CFL neglecting the French language.
"They never believed in us man," Dequoy said in French. "You look everywhere, everything is written in English. You check TSN, it was written Toronto vs. Winnipeg [...] Keep your English! Because we're taking the cup and we're gonna bring it to Montreal. We're gonna bring it back to Quebec and we're gonna lift it at home. Because we're the fucking champions!"
Given that the debate between English and French is a very contested one in Quebec, it was only natural that many people reacted differently online.
Most people were generally on board with the CFL adding translated logos and promotions across Tim Hortons Field in Hamilton, Ontario.
HFTV, who originally posted the subtitled clip, said that many people on the Alouettes learned French, which wasn't necessary under league rules.
Georges Laraque, a Montreal-born hockey player who played for the Edmonton Oilers and the Montreal Canadiens, quoted the clip with a simple Drake gif where he screams "Let's go."
A Canadiens fan account jokingly propped up the idea of Geoff Molson trading away the entire hockey team for Francophone NHL players if only for added entertainment.
Despite many people agreeing with Dequoy, some found that the CFL didn't go far enough and that they should put more effort into tailoring their content and merch to both the Anglophone and Francophone markets.
"Why did the league produce championship caps for the Alouettes only in English?" one user asked in French.
Others on Twitter said they agreed with him but also laughed at his speech being split into both languages.
"Best part of this rant is that it's littered with Franglais," one person wrote.
While some took Dequoy's comments as a bash towards English, he followed it up by saying he meant no disrespect towards Anglophones and that he felt French was being disrespected at a national level.