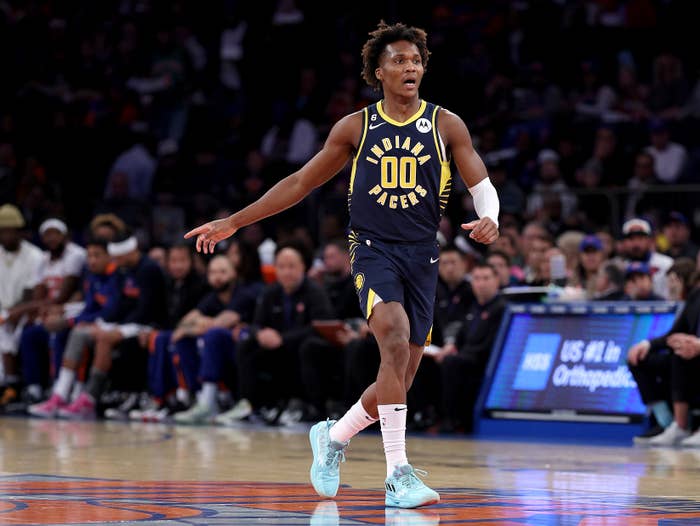 To celebrate Bennedict Mathurin's final day as a rookie in the 2022-23 season, his Indiana Pacers teammates pulled a practical joke on him.
As the Pacers walked to their parked cars in Indianapolis after a road trip to New York, the Montreal-born player found that his car had been wrapped in plastic.
Center Myles Turner filmed Mathurin's discovery as the rest of the team surrounded him as he attempted to rip the plastic off the vehicle.
"Oh, you got jokes, huh?" Mathurin yelled at his teammates at the end of the video, laughing off the epic prank.
The 20-year-old combo guard enjoyed a productive rookie season, averaging 16.7 points, 4.1 rebounds, and 1.5 assists on 43 per cent shooting. Mathurin was named a 2023 NBA Rising Star with fellow Canadian Pacers teammate Andrew Nemhard.
On Feb 13, Mathurin became the fastest Pacer rookie to hit 1,000 career points, passing Chuck Person, who previously set the record during the 1986-87 season.
Though the Pacers ended the year as a lottery team, they still exceeded expectations, finishing with 35 wins. They missed the play-in tournament by only 5 games.
Earlier this season at All-Star Weekend, Mathurin premiered a custom Adidas sneaker.