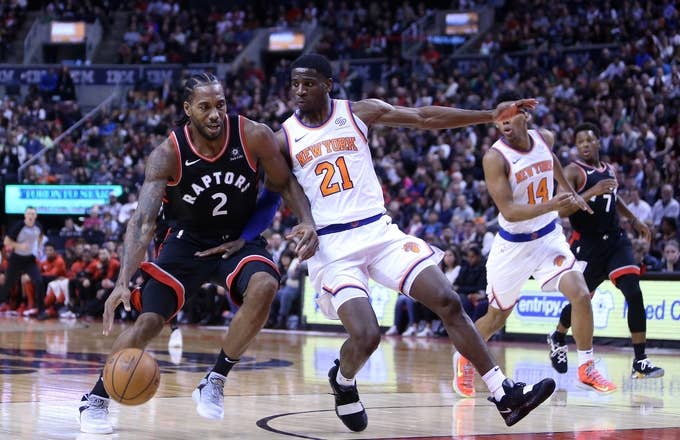 This year's NBA free agency features several big names up for grabs when June 30 hits. Kevin Durant potentially taking his talents to Madison Square Garden has been one of the hottest topics, but it appears the team is also exploring other potential opportunities.
Newsdaynotes the Knicks are actively pursuing Kawhi Leonard, as sources claim they are pushing for a meeting with the Raptors superstar as soon as negotiations open up.
In some ways, Leonard may seem like the more viable option. Durant is currently out with a right calf injury, and has been inactive since early May, while a more healthy Leonard has been putting up impressive numbers against the Warriors in the Finals. He is two wins away from his second NBA Championship, the same number as KD. Additionally, his reserved nature equates to less off-the-court drama, which makes him an attractive offer for the Knicks.
The Los Angeles Clippers may get in the way of the Knicks' plans since they are currently believed to be the most likely to sign Leonard.
Meanwhile, rumors suggest KD may land elsewhere. The Brooklyn Nets recently traded Allen Crabbe along with some draft picks to clear up cap space, and Kyrie Irving has reportedly expressed a mutually shared interest in joining the team. If D'Angelo Russell, who will be a free agent this summer, chooses to sign with another squad, Brooklyn would have two max slots available.
Still, the current Finals have to conclude before anyone announces their decision. The Warriors are looking to beat the Raptors in tonight's bout to avoid a 3-1 deficit.