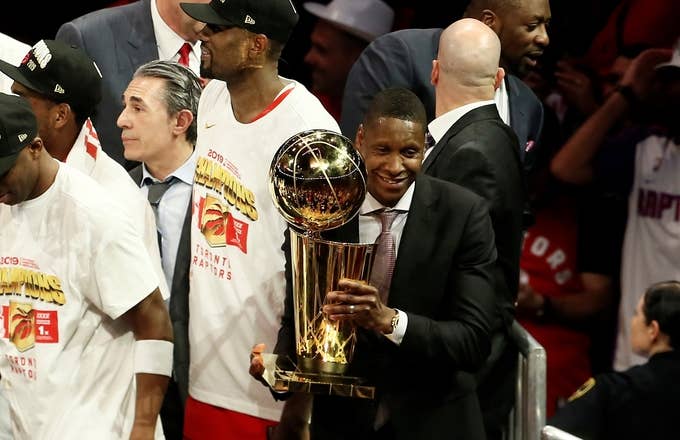 As it appears the incident between Masai Ujiri and a sheriff's deputy may result in a legal battle, the Raptors president has come forward to address the situation.
Per TMZ via SportsCenter, Ujiri has stepped forward to talk briefly about the incident, saying he intends to respect the judicial proceedings and trust in his lawyers. "My lawyers are updating me. Honestly, with that incident, I'm going to respect what the process is there and the investigation. I am confident about who I am as a person, my character, and as a human being. For now, I'll just respect their process there and wait for the next step."
When asked about rumors that suggested he was being unfairly targeted, he simply responded, "Honestly, I am going to leave all my comments until the whole investigation is done. I think that's the fair way and the right way to operate when things like this do happen. So, I respect authority and I'll wait until it happens."
It was a big day for Ujiri. As reported by Global News, the Raptors president talked with reporters on Tuesday morning, discussing the decision to trade DeMar Derozan to the San Antonio Spurs and the adverse effect it had on Kyle Lowry and the rest of the team.
"Honestly people say I know it was a tough period when DeMar was traded," he began. "And I know how both of them really took it hard and I apologize for that. And I saw the loyalty. I saw the loyalty and I saw who he really was and honestly, that's why I didn't react. Because I know how he is inside and what he thought basketball-wise and he just continued to grow and grow."
Ujiri then spoke about Lowry's behavior, adding, "Outside of Kyle coming in one day or two days here where he's moody or if he doesn't want to practice or something, he's never rude or he's never been disrespectful. He's just not that kind of a person, you know. He'll go about his way or he will go about his business. We just were not communicating all the time like we usually have during that period, and that's full transparency. After we had that conversation, everybody tells me he's a different person. I think he felt more comfortable—I think the whole team, everybody began to come together in a different way."
In regards to his current relationship with Derozan, Ujiri shared an anecdote from a matchup between the Spurs and the Raptors. "DeMar came into our locker room and, to show you the classy human being he is, he came up to me and he hugged me and asked me how my family was doing."
The 48-year-old exec also talked about his future with the organization amid speculation that he could leave. "For me, the blessing is being wanted here and finding a place that makes you happy, and finding challenges that really make you grow as a person," he said. "And this place has made me grow as a person. I identify with this place and I love it, so in my mind I'm here."