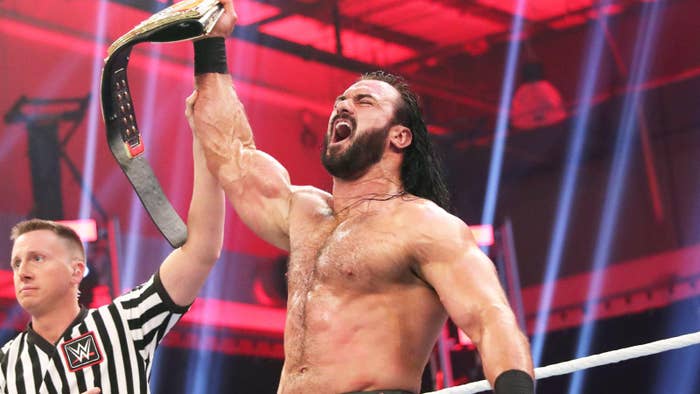 After Night One of WWE's WrestleMania 36 ended with The Undertaker defeating AJ Styles in a "Boneyard Match," it was hard to tell what we'd be in for during Night Two. The WWE has successfully pulled off an empty arena (and other offsite locations) WrestleMania, mostly with the help of these movie-esque matches they weaved into the broadcast. Overall, the quality of broadcast is still the same, but Night Two had some interesting matches booked.
Aside from Drew McIntyre taking on Brock Lesnar for the WWE Championship, you have Edge versus Randy Orton in a Last Man Standing match, as well as John Cena and "The Fiend" Bray Wyatt fighting in a Firefly Funhouse match, the latter of which many were anticipating to be...exactly what we got. For a pay-per-view that ended around 10:25 PM EST on a Sunday night, it sure gave us a lot to talk about. Here are our takeaways from Night Two of WWE WrestleMania 36.
Everything Edge does is scary
One of the longer segments of any of the WrestleMania 36 matches was Edge and Randy Orton's Last Man Standing match. Nine years ago this month, Edge retired from the WWE because of cervical spinal stenosis, and this match was his first singles match back (he did compete in the Royal Rumble earlier this year). Orton and Edge really pulled out all of the stops for this one; all kinds of conchairtos and sad looks before they piled more destruction on one another. Before the final blow, Edge gave a look that made me wish—similar to the Undertaker—that Edge did some longer form movie work for the WWE Network. There's a goldmine waiting to be collected in these kinds of matches. They obviously can't do the rigorous WWE touring (nor should they), and they are wont to craft these larger stories into their matches. Why not let them craft hour-long specials setting up premises and then just extended fight sequences? This won't be the last I'm talking about this.
The Street Profits really did that
Not a huge note to many, but The Street Profits (Montez Ford and Angelo Dawkins) won their first WrestleMania match, successfully defending the WWE Raw Tag Team Championship. They only started showing up on Raw back in July of 2019, and made it all the way to the Big Dance as champions, and won. That's a huge feature in their cap.
Title changes don't hit the same without a crowd
You almost wish that Drew McIntyre/Brock Lesnar match would've been held until they could do this in front of an actual crowd. Drew kicking out of the first F-5 at one would have been a MAJOR moment for fans at the show. I'm a proponent for the major championship matches ending shows, but Drew standing triumph to the screams of no one was took the wind out of his sails, sadly. He worked hard for that moment.
The WWE made the best out of a bad situation in the most WWE way possible
All-in-all, this WrestleMania was enjoyable. It looked shaky, and you can still have the debate over if this still should've happened now or not, but the two-night, audience-less WrestleMania...was actually enjoyable. It had its issues—while that Firefly Funhouse Match between John Cena and "The Fiend" Bray Wyatt was very intriguing, was it even a match?—Night Two had solid wrestling, capped off some of their stories (while stoking the fire for other stories for the future), and certainly was one of the most memorable WrestleManias of all time. They just pulled off WrestleMania during a pandemic. This is a story for the ages, and we were all able to see it, for good or ill.
It's interesting to question what this show would've been in front of an audience. Some things—the two huge major title changes—would have had bigger impacts. You have to wonder if they would have shot the whole Boneyard Match or the Firefly Funhouse Match, but those two matches were made for quarantine viewing. They threw all of the story the WWE has been crafting and turned it into a mega vignette. A short film or "special," if you will. I personally imagine these wouldn't have gone down at WrestleMania 36 in front of an audience quite the same way, but that's a dope example of the WWE taking a risk in the modern era and being able to churn out a number of memorable matches and moments.
Mania 37 better be lit
Hopefully everyone will be able to leave their houses by March 28, 2021, aka the date for WrestleMania 37, which is still scheduled to take place at the SoFi Stadium in Inglewood, California. The first Mania after the Mania no fans could attend? You know it's going to be a movie. Whole squad showing up out of the woodwork for how the WWE turns up the heat when they are in their element.