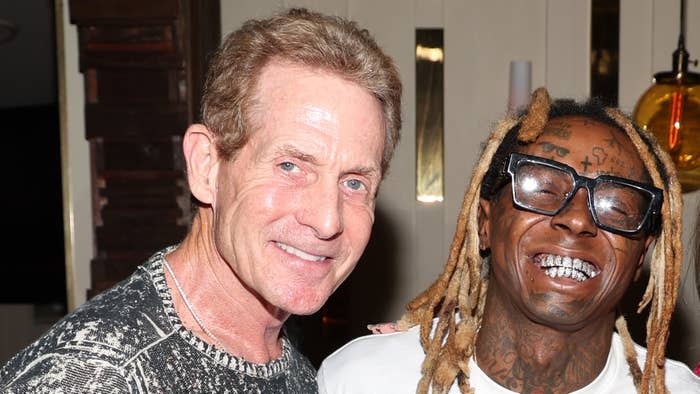 UPDATED 8/28, 9:45 p.m. ET: Lil Wayne kicked off the new era of Undisputed with his new theme song "Good Morning."
.Ahead of its debut, Skip Bayless hyped the track as being an "instant classic" and better than the original Undisputed theme song "No Mercy."
While speaking with Weezy F(S1) Baby about "Good Morning," Skip revealed that the rapper had been bringing up the idea of a new theme "for a couple years." Shannon Sharpe's departure and the subsequent hiatus paved the way for a new track.
Check out the new song above, and see Skip and Wayne's chat below.
UPDATED 8/7, 10 p.m. ET: Skip Bayless shared that Lil Wayne created a new theme song titled "Good Morning" for Undisputed when the show returns from its hiatus later this month.
"Instant classic," Bayless tweeted alongside a still from the video shoot.
Bayless believes "Good Morning" is better than Wayne's original Undisputed theme song "No Mercy."
"He outdid even his all-time great self," the 71-year-old wrote.
"Good Morning" is part of a new direction for the FS1 debate show without Shannon Sharpe. According to Andrew Marchand of the New York Post, former NFL cornerback Richard Sherman has agreed to become Sharpe's replacement.
While contract details are unknown, Sherman will verbally spar with Skip for about 50 to 100 shows per year, most of which will take place during the NFL season. The five-time Pro Bowler will also keep his role as an analyst on the Thursday Night Football studio show on Amazon Prime Video.
The new-look Undisputed premieres on Aug. 28.
See original story below.
Skip Bayless announced Thursday that Lil Wayne will appear on FS1's Undisputed every Friday.
Bayless said on his show that Wayne will participate in one segment, lasting about 12 to 15 minutes. The 40-year-old rapper could end up sticking around for longer, if he's "hot," "rolling," and has time on his schedule.
"He is so deep when it comes to sports," Skip said of Wayne. "He doesn't yell or scream, but he does get emotional. And you hang on his every word because, trust me, he has thought through every single word."
"I like to say that I see things and say things others don't; Wayne is my match," the Undisputed co-host continued. "That's why I love him so much. That's why we text so much about sports. We're kindred spirits, but we do see things differently, but very deeply."