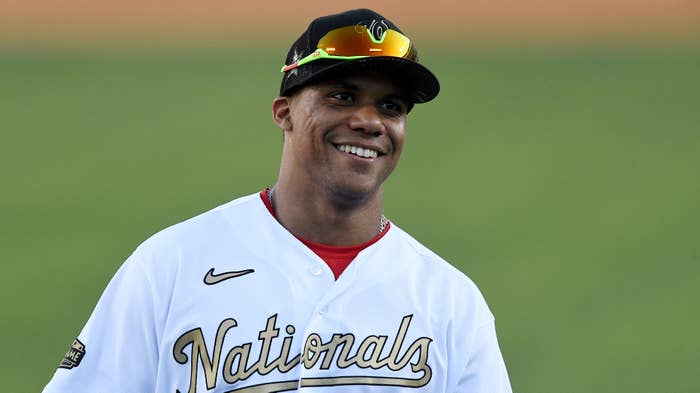 Juan Soto appears to be headed to San Diego. 
Jon Morosi of MLB Network reports the Washington Nationals have agreed to send Soto and first baseman Josh Bell to the Padres in exchange for a number of top-tier prospects and first baseman Eric Hosmer. According to The Athletic's Ken Rosenthal, the deal, as currently constructed, would require Hosmer waiving his no-trade clause, which reportedly includes the Nationals. It's worth noting that Hosmer and Soto share the same agent in Scott Boras. 
Jon Heyman of the New York Post reports the deal will get done one way or another, even if Hosmer chooses to exercise his no-trade clause. 
While the phrase "top-tier prospects" may not set off any alarms for the casual fan, MLB analyst Jim Bowden applauded the Nationals for their return, calling it the "largest prospect haul in MLB history."
Washington would receive 23-year-old left-handed starting pitcher MacKenzie Gore, who was called to the majors in April, and 21-year-old shortstop C.J. Abrams, who returned to the team from Triple-A last month. The remaining three players included in the deal are currently below Double-A, an indication that the Nationals are prepared for a long-term rebuild. However, with right-handed pitcher Jarlin Susana, and outfielders Robert Hassell III and James Wood, the Padres' No. 1 and No. 3 prospects, Washington believes they are headed in the right direction.  
News of the trade comes less than a month after Soto rejected a reported 15-year, $440 million offer. While the deal would have been the largest in terms of overall money, it would have positioned him outside the top 10 in annual earnings.