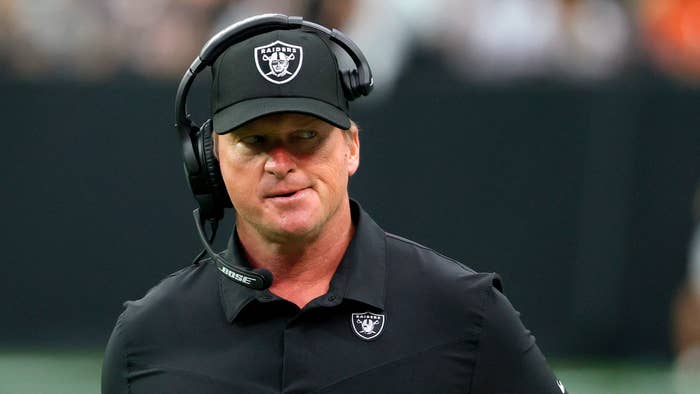 According to ESPN's Adam Schefter, Raiders owner Mark Davis stopped by the team facility to speak with Gruden earlier today, and after their meeting, both sides agreed to part ways. 
Gruden's departure comes shortly after additional emails obtained through a workplace misconduct investigation involving the Washington Football Team surfaced showing Gruden casually and frequently used misogynistic and homophobic language over the span of several years, New York Timesreports.
These latest uncovered emails were sent over a seven-year span, ending in early 2018. 
In email exchanges with former Washington president Bruce Allen, among others, Gruden called NFL commissioner Roger Goodell a "f****t" and a "clueless anti football pussy." Gruden acknowledged his offensive language in regards to Goodell, telling ESPN, "I was in a bad frame of mind at the time [in 2011], and I called Roger Goodell a [expletive] in one of these emails too. They were keeping players and coaches from doing what they love with a lockout…It just didn't sit well with me." 
Gruden issued an apology last week, claiming he doesn't "have a racial bone in my body." However, these latest unearthed emails go beyond being racist. He complained about Goodell allegedly pressuring then-Rams head coach Jeff Fisher into drafting "queers," a reference to the team drafting gay player Michael Sam in 2014. 
The Raiders' roster includes defensive end Carl Nassib, the first openly gay player to play in the NFL. Nassib came out in June, in addition to announcing a $100,000 donation to the Trevor Project, a non-profit aimed at suicide prevention among LGBT youth.
Gruden also allegedly sent photos to Allen and other men showing women in only bikini bottoms, as well as a picture of two Washington team cheerleaders. Gruden allegedly replied, "Nice job roger," to an email from Hooters co-founder Ed Droste containing a sexist meme of a female referee.
Gruden jokingly told Allen in an email to ask Bryan Glazer, who is part of the family that owns the Tampa Bay Buccaneers, a team he used to coach, to perform oral sex on him. Allen responded that Glazer would "take you up on that offer." In 2012, Gruden referred to then-vice president Joe Biden as a "nervous clueless pussy." 
Gruden signed a 10-year, $100 million contract with the Raiders in 2018.