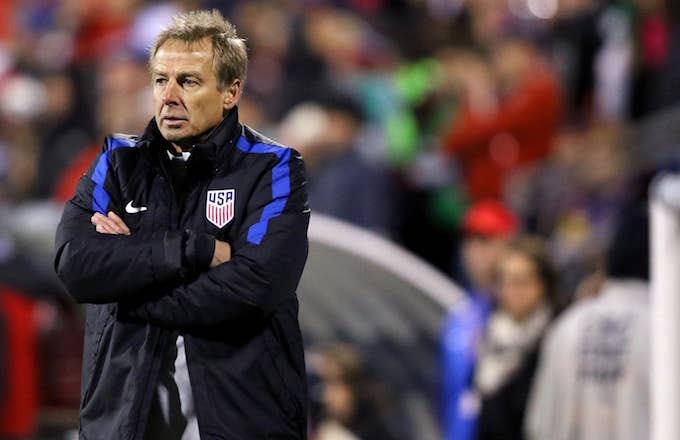 The United States Men's National Team has decided to part ways with Jurgen Klinsmann as the team's head coach. In a statement released earlier today, U.S. Soccer president Sunil Gulati acknowledged the decision to move on from Klinsmann while thanking him for his work with the club over the last five years.
"Today we made the difficult decision of parting ways with Jurgen Klinsmann, our head coach of the U.S. Men's National Team and Technical Director," Gulati said. "We want to thank Jurgen for his hard work and commitment during these last five years. He took pride in having the responsibility of steering the program, and there were considerable achievements along the way." 
Klinsmann's tenure with the USMNT did have some successful moments, including a trip to the Round of 16 in the 2014 FIFA World Cup, however, the last two losses to Mexico, 2-1, and Costa Rica, 4-0, in their World Cup qualifying matches raised some red flags about the team's direction. According to Sam Borden, European sports correspondent for The New York Times, U.S. Soccer doesn't have an immediate replacement in place for Klinsmann. but it is "likely" that Bruce Arena, who served as the USMNT head coach from 1998 to 2006, will take over in an interim role. 
The U.S. Men's National Team will not step onto the pitch until March when they play in two more World Cup qualifying matches against Honduras and Panama, respectively. 
Send all complaints, compliments, and tips to sportstips@complex.com.