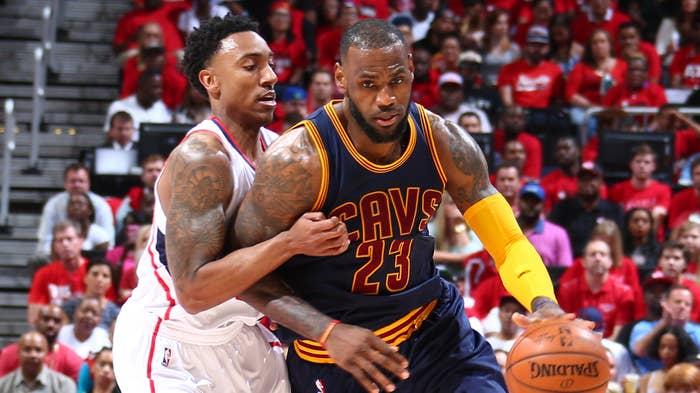 As LeBron James dribbled out the clock to secure the win in Game 3 of the 2016 Eastern Conference semis against the Atlanta Hawks, Jeff Teague delivered a strong shoulder check on the Cleveland Cavaliers star, sending him flying into the crowd.
In the wake of Draymond Green's headlock on Rudy Gobert, Teague was forced to address his own aggressive behavior on the Club 520 podcast.
"My fault, go James," the 35-year-old explained with a grin. "We was losing. Shit, I'm a sore loser, what the fuck? He was beating my—I ain't win a playoff game against that n***a ever. I was sick of the shit."
The Cavaliers were leading 119-108 with less than a minute remaining when the shove took place.
"The motherfucking fans in Atlanta cheering for him, he running down the court. I said, 'You know what bitch, I got something for you.' Shoulder checked the shit out that n***a, he went into the stands," Teague recalled. "I got so much hate mail—'If he would've been hurt, I would've killed you, bitch!' I'm like, I gotta get off the internet, that's when I first deleted Instagram."
LeBron and the Cavs would not only go on to complete the sweep of the Hawks, they ended up coming back from a 3-1 deficit against the Golden State Warriors to capture their first championship in franchise history.
See the full Club 520 episode below.