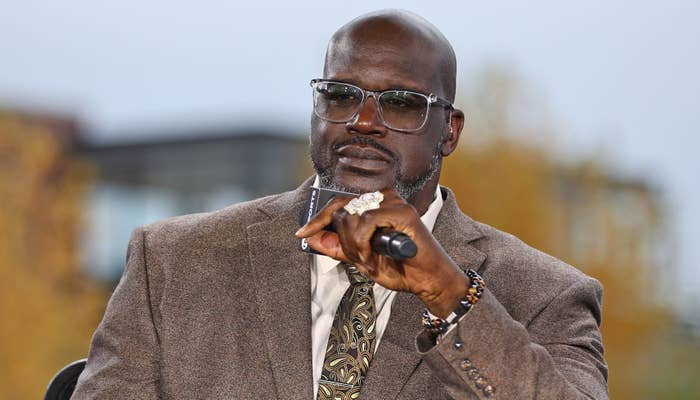 Shaquille O'Neal is defending Draymond Green for putting Rudy Gobert in a headlock during an on-court altercation this week.
On Wednesday, the NBA suspended the Golden State Warriors forward for five games without pay after Green choked out the Minnesota Timberwolves center in a game on Tuesday.
The league punished Draymond for "escalating an on-court altercation and forcefully grabbing" Gobert around the neck in an "unsportsmanlike and dangerous manner."
During a recent interview with the Los Angeles Times, Shaq came to Draymond's defense, admitting he "would've did the same thing" in an effort to defend his teammate. Green and Gobert's altercation took place early in the first quarter after Klay Thompson got into it with Minnesota's Jaden McDaniels.
"I'm from the old school, so you always stick up for your guys," Shaq explained. "Like, me and you are doing the interview right now—somebody come put their hands on you, I'm gonna beat them up 'cause you're my guy. But you get these people who say it was wrong—like, I try not to be a hypocrite. I would've did the same thing. I'm not gonna sit here and say he was wrong, he shouldn't have did it—he probably shouldn't have did it, but WWSD, what would Shaq do? Shaq would've did the same thing."
Shaq reiterated his stance on the Draymond-Gobert situation in a conversation with TMZ this week.
"I don't want to say, aw he shouldn't have did it.," Shaq shared. "I'd have did the same thing. If Rudy was there, I would have choked him out, too. When you do those things, the NBA is gonna do what they do. I don't want to say too harsh. Was it warranted? I don't know, but I'm not gonna criticize Draymond Green for something I would have did."