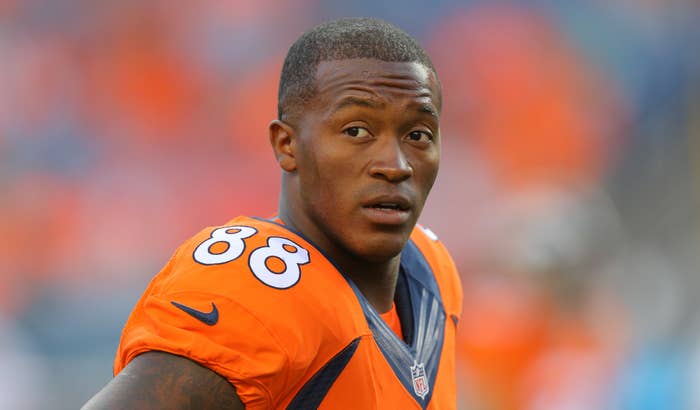 Doctors from Boston University have diagnosed late Denver Broncos star wide receiver Demaryius Thomas with chronic traumatic encephalopathy, or CTE, prior to his death last year, per ESPN.
"CTE itself does not cause death. You don't die from CTE," Dr. Ann McKee, neuropathologist and member of the Boston University research team, told ABC News. "What CTE does is it changes your behavior and your personality."
Thomas' family confirmed the former NFL wide receiver would go through sudden changes in behavior. "His mood would change, and he would also isolate himself sometimes," his mother Katina Stuckey Smith recalled. "He was, like, 'Mom, I don't know what's going on with my body. You know, I gotta get myself together,' and he said, 'I don't feel like myself anymore."
Ken Belson of the New York Timesreports those close to Thomas during the last year of his life noticed "memory loss, paranoia and isolation that are hallmarks" of CTE. Thomas' father Bobby told the Times that his son "never left home without a gun" due to his increased sense of paranoia, while Smith said he admitted "his peripheral vision was diminished" following his retirement. 
Belson alleges Thomas' preparations for a potential NFL comeback a year prior to his passing were halted over an increased dependence on medical treatments such as anti-seizure medication and ozone therapy. 
Thomas was found dead in his Georgia home on Dec. 9, just over two weeks away from his 34th birthday. The Fulton County Medical Examiner's Office has yet to determine his cause of death, but his family has long suspected that seizures stemming from a 2019 car crash played a part. 
Dr. McKee believes his struggles with seizures most likely contributed to his death, but mentions that, along with CTE, Thomas had been dealing with "two different conditions in parallel" in the last few years of his life.